HYBE's revenues grew 44.1% YoY to 410.6 billion South Korea Won in Q1 2023.
That's according to a new investor filing published by the South Korea-based entertainment giant on Tuesday (May 2).
Those quarterly revenues for HYBE's Q1 (the three months to end of March), convert to approximately $306 million.
The company's adjusted EBITDA in Q1 was 72 billion South Korea Won ($53.6m).
HYBE, the home of K-pop stars Seventeen, Tomorrow x Together and BTS, reports that its key revenue driver in Q1 2023 was its 'Artist Direct Involvement' business segment, which grew by 53.9% to 234.49 billion South Korea Won ($174.8m).
The company's second-largest source of revenue in Q1 2023 came from album sales, which grew by a whopping 185.1% YoY to 184.28 billion South Korea Won ($137.4m).
---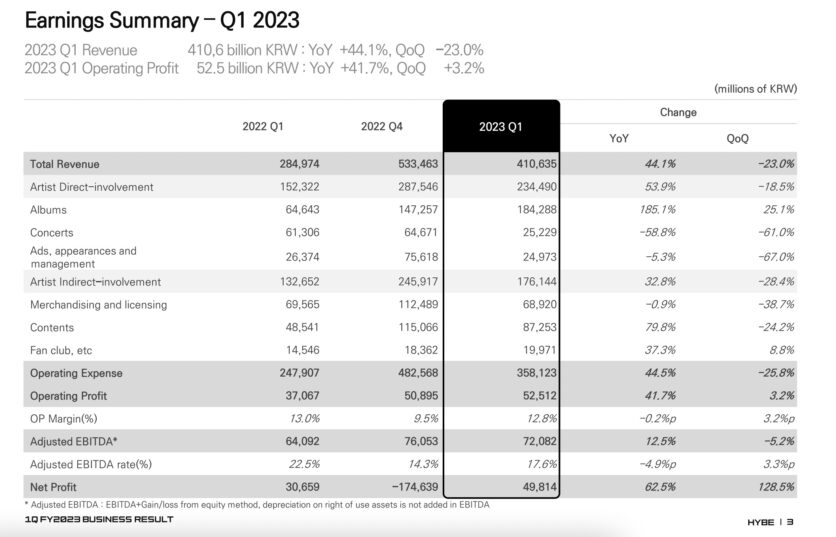 ---
This segment was driven by solo releases from the likes of BTS members Jimin and Suga as well as strong album sales from Tomorrow x Together and Seventeen.
Other artist highlights noted by HYBE for Q1 included projects from New Jeans and Le Sserafim.
HYBE's third-largest revenue source in Q1 came from its 'Artist Indirect' Business line.
This business line sees the company use the name and likeness of its artists such as BTS without requiring the band's active participation.
HYBE's 'Artist Indirect' revenues grew 32.8% YoY to 176.14 billion South Korea Won ($131.3m).
Elsewhere in HYBE's investor filing for Q1 2023, the company reveals that its concerts revenue fell 58.8% YoY to 25.22 billion South Korea Won ($18.8m).
Revenues from ads, appearances and management, meanwhile, declined 5.3% YoY to 24.97 billion South Korea Won ($18.6m).
Merchandise and licensing revenue also fell, by 0.9%, to 68.92 billion South Korea Won ($51.3m).
Plus, HYBE reports that it generated 87.25 billion South Korea Won ($65m) in 'Contents' revenues, which was up 79.8% YoY.
---
The company's results for Q1 reveal that its 'Fan club etc.' revenues, derived from the Weverse superfan app activities, grew 37.3% YoY to 19.97 billion South Korea Won ($14.89m).
---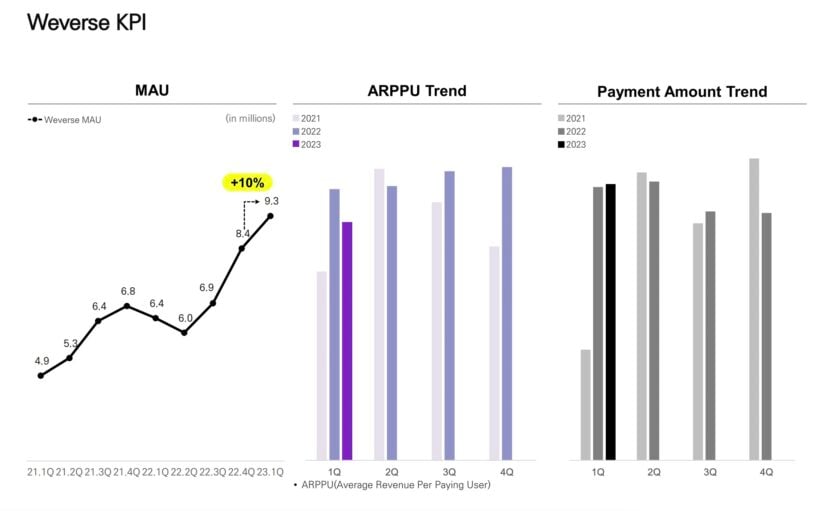 ---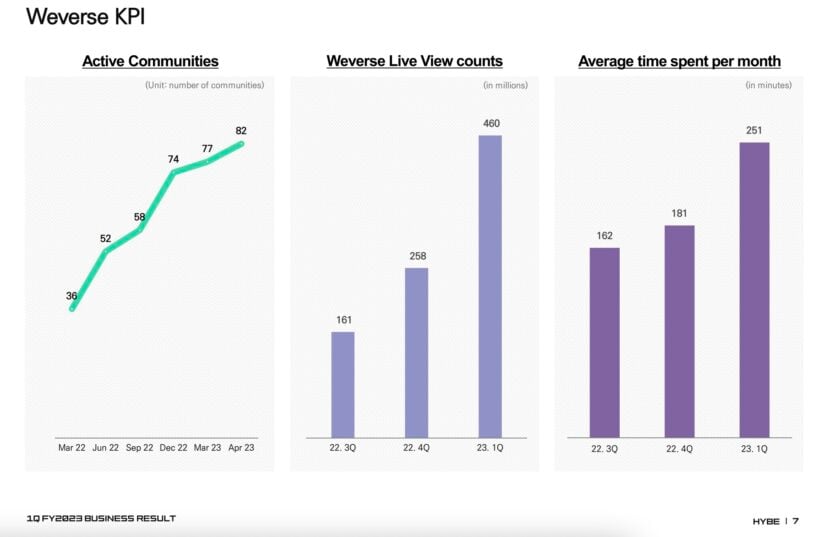 ---
HYBE reveals that its Weverse Monthly Active Users grew 10% versus Q4 2022 to 9.3 million MAUs and that as of Q1, the app's users were spending an average of 251 minutes per month in the app.
The company reveals in its investor presentation that it plans to launch a subscription-based membership tier on its app in Q3 2023, following other launches this year including its own digital currency Jelly, a 'Weverse DM' service for private chat between artists and fans, and merch designed by fans.
Last month, it was reported that artists signed to HYBE rival SM Entertainment, including EXO, Girls Generation, Red Velvet and aespa will join the Weverse platform in September of this year.
---
Elsewhere in Q1 at HYBE, in February, HYBE America, led by CEO Scooter Braun, agreed to acquire Atlanta rap powerhouse QC Media Holdings or Quality Control, home to acts such as Lil Baby, Migos, Lil Yachty and City Girls.
The deal was worth $300 million in total, according to Korean regulator filings – with $250 million of that figure paid in cash, and the rest in HYBE stock. (Raine Group is understood to have priced QC.)
Music Business Worldwide