SM Entertainment's artists will be joining Weverse, the mobile app and web-based superfan platform built by rival K-pop company HYBE.
The platform brings together artist-related content such as music videos, teasers, movies and live streams. It also has a merch platform known as Weverse Shop.
SM's artists – which include acts such as EXO, Girls Generation, Red Velvet and aespa – will move onto the Weverse platform in September of this year, according to a press release from Kakao Entertainment, as cited in Korean news media.
The news arrives just a few weeks after the end of an intense corporate battle between HYBE and SM Entertainment.
Kakao Entertainment's parent company, Kakao Corp., last month became SM's largest shareholder, after a high-profile fight against HYBE for control of the music company.
HYBE, the company behind K-Pop superstars BTS, announced on March 12 that it was giving up its fight against Kakao Corp. for control of SM Entertainment.
Kakao, owner of the popular messaging app KakaoTalk, had made a bid for SM Entertainment at 150,000 Korean won (approx. USD $113) per share, outdoing HYBE's bid of 120,000 won ($91) per share.
It had originally looked like HYBE could take over its biggest rival after SM's founder, Lee Soo Man, sold his stake in the company to HYBE, giving it a 14.8% share of SM.
But Kakao emerged as the winner in the bidding war, with a 39.9% stake in SM. HYBE pared its stake in the company back to 8.8%, hinting at the time that it was working on a platform deal with SM.
That deal has now come to fruition, in what could prove to be a major win for HYBE, regardless of its failure to take control of SM Entertainment.
The expansion of its Weverse platform to include SM artists could result in significant growth for the Weverse user base, at a time when HYBE is looking to expand globally, particularly in the US market.
At the end of 2022, Weverse had more than 8.4 million monthly active users (see below), up 21% versus the prior quarter.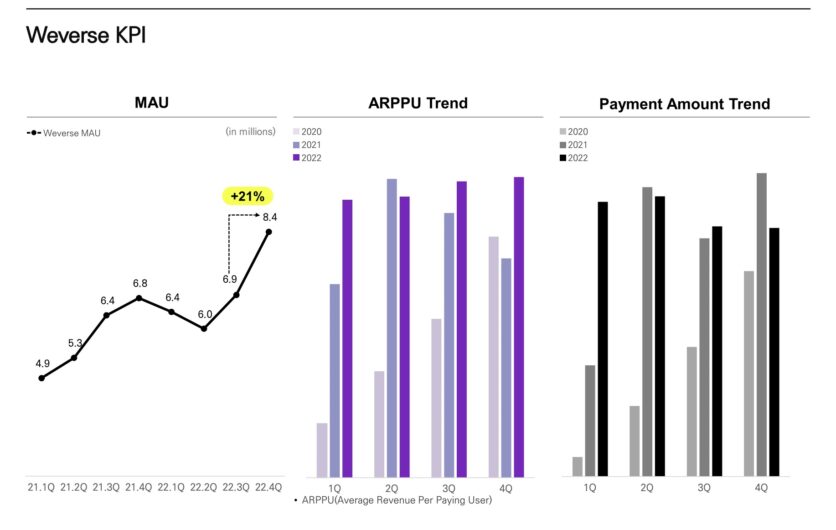 ---
HYBE has made serious investments in the US, most notably its $1.05 billion purchase of Scooter Braun's Ithaca Holdings in 2021.
Also, on February 8, Braun – now the sole CEO of HYBE America – announced that his firm had acquired the company best known as Quality Control (QC), the Atlanta-born hip-hop specialist created by local legends Pierre "P" Thomas and Kevin "Coach K" Lee.
The deal was worth $300 million in total, according to Korean regulator filings – with $250 million of that figure paid in cash, and the rest in HYBE stock. (Raine Group is understood to have priced QC.)
---
At an investor presentation earlier this year, SM Entertainment announced its own plans to expand into the US market, with an as-yet undetermined 200-billion-won ($151m) purchase of a music company.
SM has suggested it wants to get involved in the hip-hop and R&B side of the industry.
SM is just the latest K-pop label to join HYBE's Weverse. YG Entertainment, another large player in the Korean market, has also moved artists onto the platform, and in 2020, HYBE opened its platform to Universal Music Group (UMG) artists.
News reports out of Korea on Monday suggest that the move to Weverse will mean the end of SM Entertainment's rival platform, Kwangya Club.
However, it won't be the end of bubble, a platform run by SM subsidiary Dear U that allows users to send private messages to artists for a monthly subscription fee.
"SM Entertainment will upgrade its communication with global fans with its existing one-on-one messaging platform bubble, in addition to the new community opening at Weverse," Kakao Entertainment said in a statement quoted in Korean media.
Weverse has proven to be a major success story for HYBE, allowing it to weather two storms that rocked its business:
The pandemic, which shut down live music in 2020, and
The announcement last year that HYBE's biggest act, BTS, is going on hiatus – an event that caused the company's share price to plunge 25% in a day.
HYBE – at the time still known as Big Hit Entertainment – saw its revenue grow in 2020 despite the shutdown of live music, a fact that global CEO Lenzo Yoon attributed to the success of its "platform-based ecosystem," i.e. Weverse.
In 2022, HYBE generated 67.1 billion won ($51.9m) from its fan club activities (including Weverse), up 47.1% YoY.
---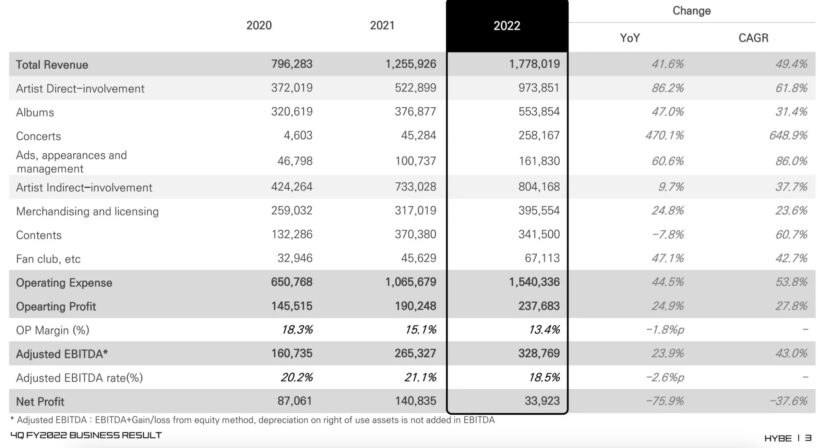 ---
HYBE reported in February that its revenue for FY 2022 across all business segments grew by 41.6%, to 1.77 trillion won ($1.29bn).
Music Business Worldwide