The MBW Review gives our take on some of the music biz's biggest recent goings-on. This time, we examine the huge net losses swallowed by Pandora this year, which look on course to top $300m. The MBW Review is supported by FUGA.
---
Where on earth is all of Pandora's money going?
MBW revealed yesterday that the digital music platform had already posted a whopping $253m in net losses this year.
That's despite overall revenues growing 20% in the first nine months of 2016 to $992.2m.
Naturally, fingers will be pointed at the money Pandora pays music rights-holders, and it's true such 'content acquisition costs' have risen at the company this year.
According to its latest SEC filing, Pandora paid out $552.2m to labels and publishers in the nine months to end of September 2016 – up 18% on Q1-Q3 2015.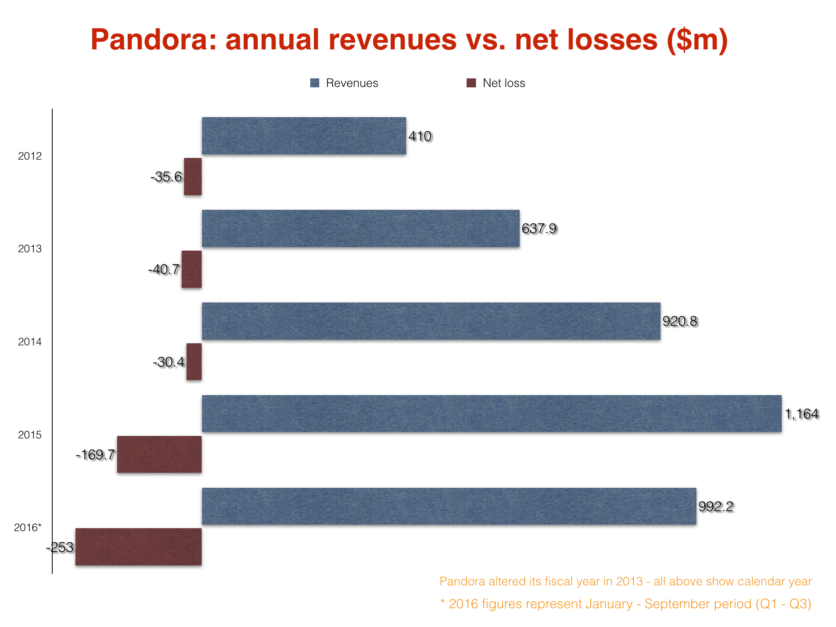 Another growing expense has been product development: no surprise considering Pandora has already introduced two new products this year (ad-funded and $4.99-a-month), with a fully on-demand Spotify rival coming in Q1 2017.
Product development costs in the first nine months of 2016 hit $103.3m, rising by a substantial 83% on the same period of 2015.
---
Combined, then, music rights and product development ate up $655.5m at Pandora in Jan-Sept.
That's a big chunk of change, but still only 66% of the firm's total revenues in the period.
So how has the service managed to rack up a net loss of quarter of a billion dollars?
One additional expense in particular will raise some eyebrows at rights-holders: the stock-based compensation handed to Pandora executives.
Especially because the company has spent more on rewarding employees with these benefits in 2016 than it has developing its own product.
---
The level of stock compensation at Pandora has been a bugbear of its critics for some time – notably songwriter and musicians' rights activist David Lowery, who has described the loss-making platform's bosses as 'vampires sucking the company dry'.
The firm's latest results won't do much to dissuade such censure.
In the first nine months of 2016, Pandora spent $103.8m on stock-based compensation – around $2.9m every single week.
This figure was not only more than it spent on product development across the period, but up 30.6% on the equivalent figure in 2015.
That 30.6% uptick, remember, is bigger than the growth in money the firm paid out to rights-holders – up 18% in the period to $522.2m.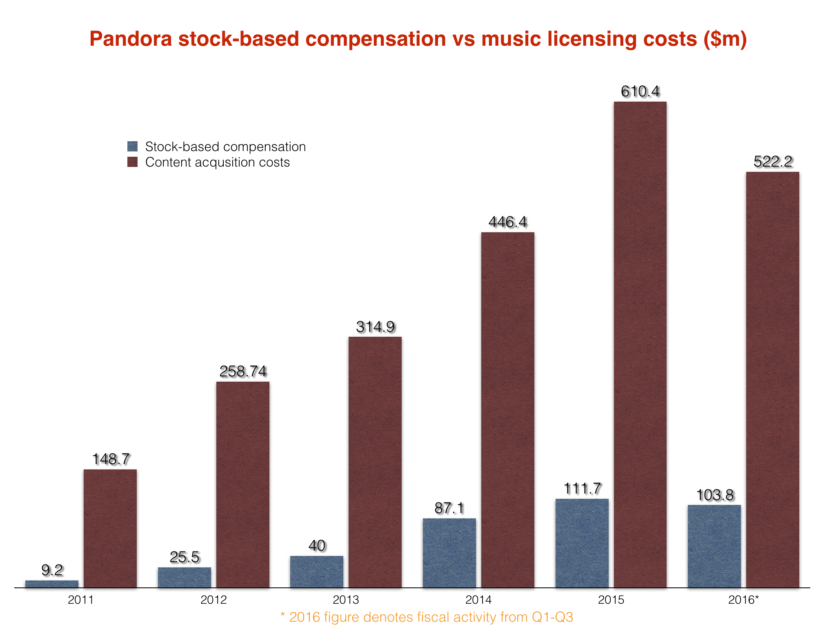 ---
Yesterday, MBW reported that since 2012, Pandora has racked up more than half a billion dollars in cumulative net losses.
Check this out: in the same time period, it's spent almost $370m in stock-based compensation.
These are not the actions of a fiscally conservative company.
Take, for example, Apple: in its last financial year (12 months to end of September 2016), the Cupertino giant paid out $4.2bn in stock-based compensation. That was 1.9% of its total $215.6bn annual revenue.
Pandora's $103.8m stock compensation in the first nine months of 2016 equates to 10.5% of its Q1-Q3 revenue ($992m). (Click on tables below for a clearer view.)


---

So who's benefiting from Pandora's employee perks?
We can spot some recipients by looking at Pandora's 'insider investment' SEC filings from recent weeks:
This stock distribution is, remember, on top of basic salary and other benefits.
At a time when Pandora is making efforts to improve its reputation amongst rights-holders, its internal generosity with stock makes for a controversial picture.
Especially when rumors continue to swirl about its potential sale… and those net losses keep getting heavier and heavier.
---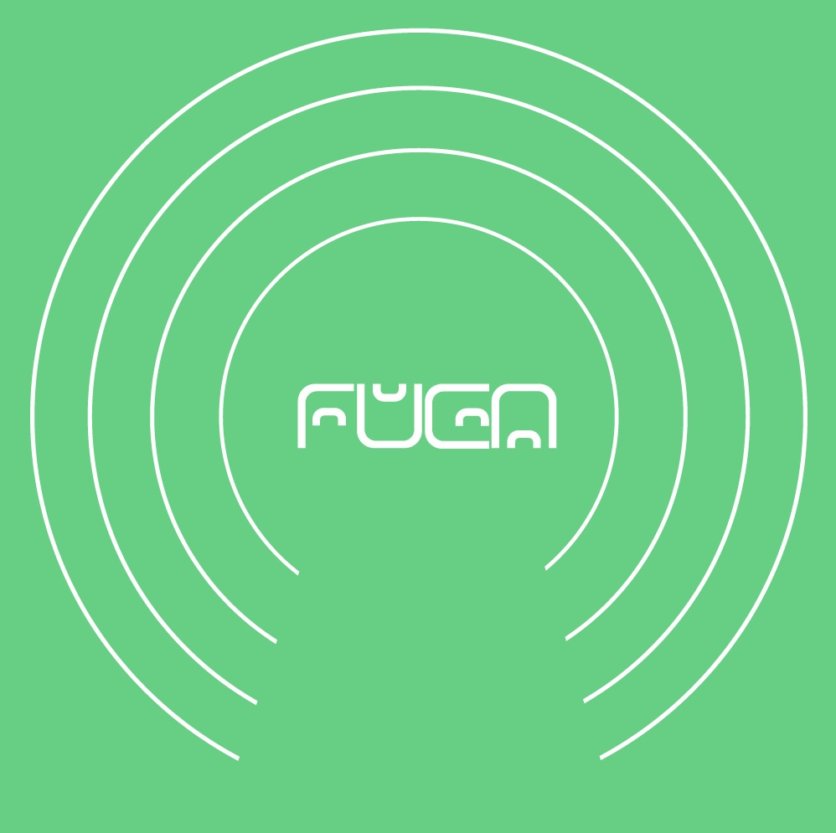 The MBW Review is supported by FUGA, the high-end technology partner for content owners and distributors. FUGA is the number one choice for some of the largest labels, management companies and distributors worldwide. With a broad array of services, its adaptable and flexible platform has been built, in conjunction with leading music partners, to provide seamless integration and meet rapidly evolving industry requirements. Learn more at www.fuga.comMusic Business Worldwide