Pandora's active listener base just fell below 78m people for the first time in two years – as its 2016 net losses surpassed a breathtaking quarter of a billion dollars.
The US-based platform attracted 77.9m active listeners at the close of Q3, down from 78.1m in the same three-month period (July-Sept) of 2015.
It was the second consecutive quarter in 2016 that the company's listener base suffered a year-on-year decline.
(In the same Q3-Q3 time period, Spotify's global user base grew by around 20m people –  and now far outstrips Pandora with over 100m listeners.)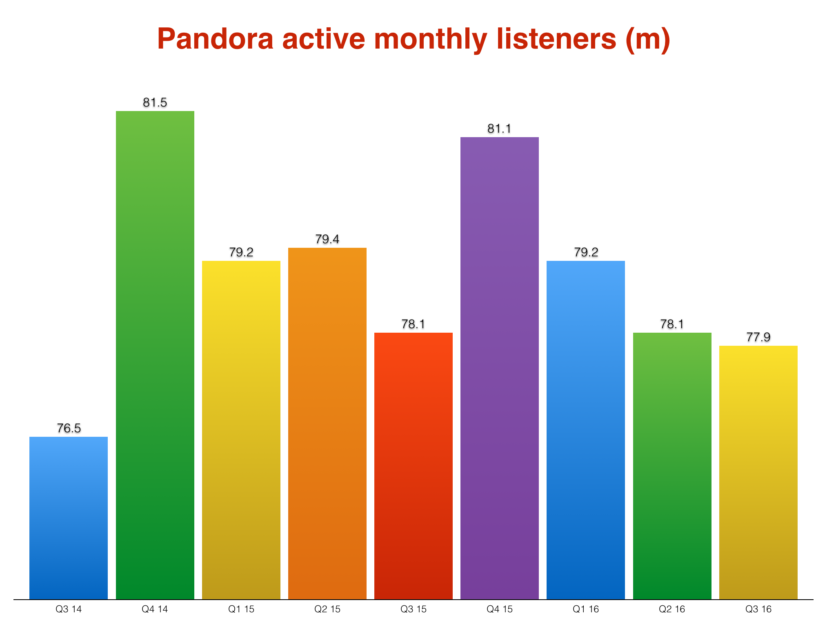 Despite Pandora's listener decline in Q3, Pandora's quarterly revenues increased 13% year-on-year to $351.9m.
Advertising revenue was up 7% to $273.7m, while 'subscription and other' revenue fell by 1% to $56.1m.
Ticketing service revenue stood at $22.1m – up 25% year-over-year, but small beans compared to the $450m Pandora paid for ticketing company Ticketfly in October last year.
Meanwhile, total listener hours grew 5% to 5.4bn in Q3, compared to 5.14bn for the same period of the prior year.
---
But that's pretty much where the good news ended – because Pandora posted a net loss of $61.5m in Q3 2016, bringing its total net loss for the first nine months of the year to a whopping $253m.
Gulp: since the start of 2012, Pandora has posted more than half a billion dollars in cumulative net losses.
One reason Pandora's bank balance was hit in Q3 this year: direct licensing agreements with labels and publishers for its range of new product offerings, two of which (ad-funded and $4.99-a-month) launched in the US last month.
"Pandora's transformation continues with the launch of compelling new products and partnerships that open up significant revenue streams."

Tim Westergren, Pandora
Pandora told investors today that it signed deals in September which included minimum guarantee payments with rights-holders, 'some of which were paid in advance'.
In connection with these advances, Pandora's prepaid content acquisition costs increased $93.3m in Q3.
However, total quarterly content acquisition costs (ie. licensing fees paid to labels and publishers) actually fell overall, down $36.9m year-on-year to  $174.3m.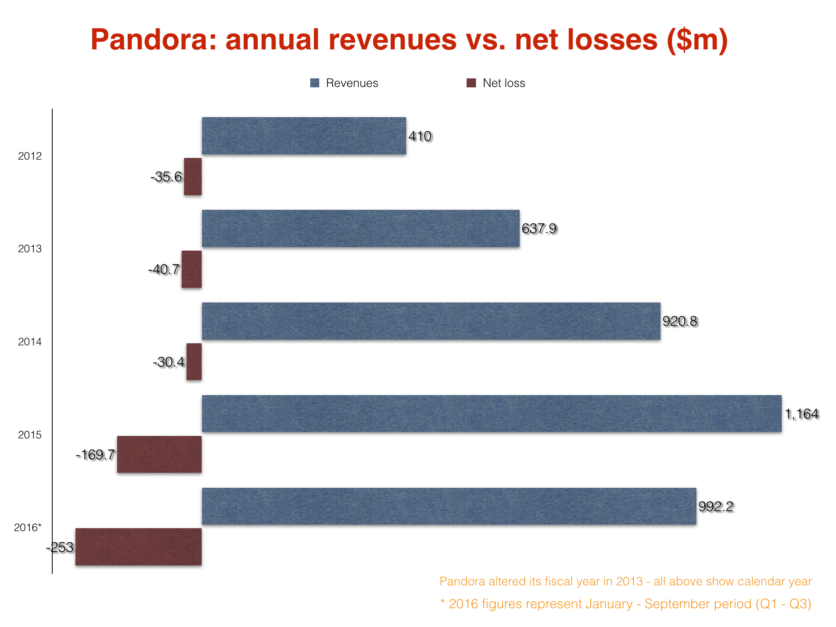 ---
During the third quarter of 2016, Pandora borrowed $90.0m under its credit facility to 'enhance our working capital position'.
It ended the quarter with $264.0 million in cash and investments, compared to $311.3m at the end of the prior quarter.
"Pandora's transformation continues with the launch of compelling new products and partnerships that open up significant revenue streams," said Tim Westergren, Founder and CEO of Pandora (pictured).
"Only Pandora is uniquely positioned to create deeply personalized and easy to use listening experiences that delight and engage listeners.
"A great product that's effectively monetized is the cornerstone of success in digital music streaming."
Click on the table below to see Pandora's full set of Q3 results.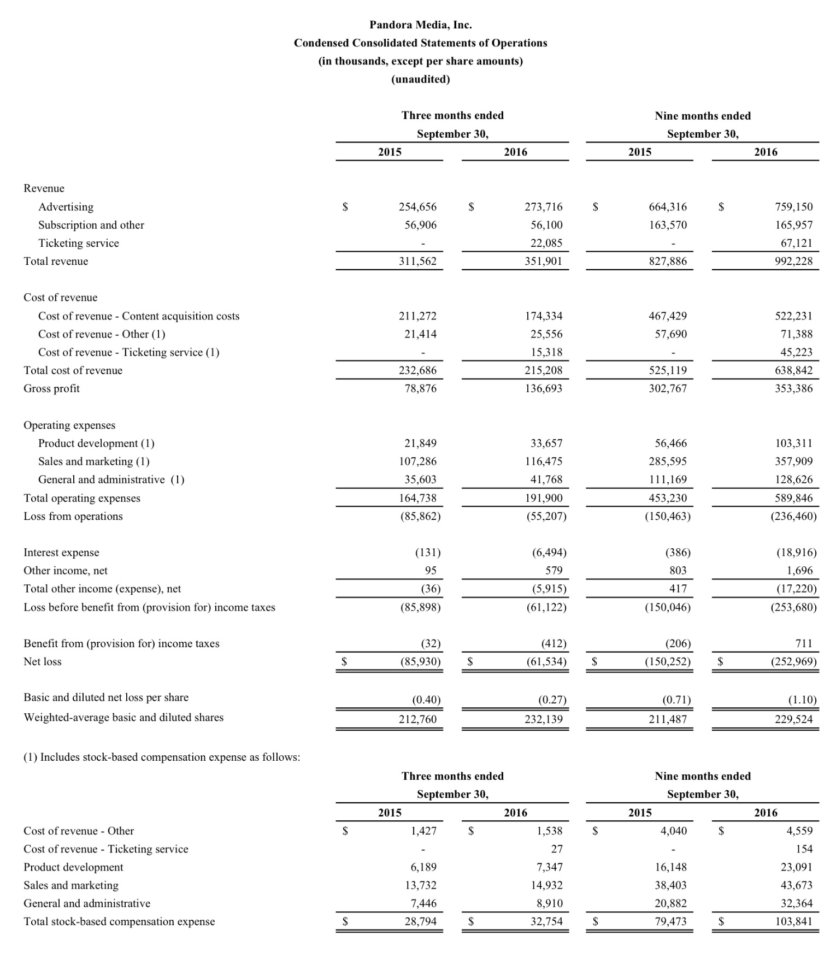 Music Business Worldwide