MBW Explains is a series of analytical features in which we explore the context behind major music industry talking points – and suggest what might happen next…
---
What's happened?
Spring/summer 2022 was a buoyant period for the global recorded music business.
The sector's trade body, IFPI, had just published its annual Global Music Report (GMR) showing that worldwide record biz wholesale revenues in 2021 were up by USD $4 billion YoY.
Then, in June 2022, came Goldman Sachs, with an update of its own paper (and arguably the most influential tome in existence for music business investments): Music In The Air.
In the wake of IFPI's glad tidings about 2021, Goldman upgraded its forecasts for the global recorded music biz's future prosperity.
MBW's headline at the time captured the celebratory mood: 'Goldman Sachs: The global music industry is going to be worth even more than we thought.' 
Goldman predicted in its updated report that the worldwide recorded music business would generate USD $27.9 billion in annual trade revenues in 2022.
However, IFPI confirmed yesterday (March 21) that the real revenue number for the global recorded music biz in 2022 was $1.7 billion smaller than this Goldman forecast, at $26.2 billion.
Happily, the reality isn't nearly as gloomy as that comparison suggests.
It's just a bit complicated.
---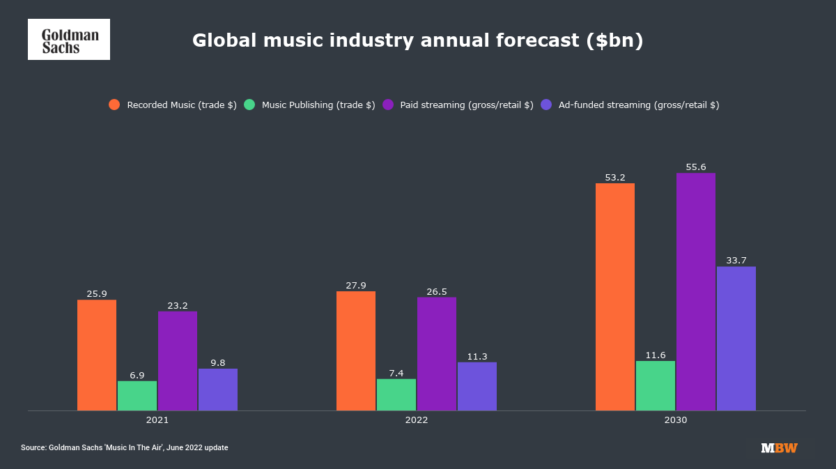 ---
What's the context?
First, we have to talk about that ever-fascinating topic… currency conversion, and IFPI's decision to play around with it in the name of consistency.
Each year, IFPI's Global Music Report (GMR) presents the annual global music biz revenue stats in US dollars (USD), converted from receipts taken in countries all over the world.
In each GMR report, IFPI chooses to restate all the previous years' figures in line with the latest year's USD exchange rates. This is its preferred method to reach 'constant currency'.
In the case of 2021 vs. 2022, this approach had an especially dramatic impact, because of the unusually high strength of the US dollar (on average) vs. other currencies last year.
This partly explains why, in its latest Global Music Report, IFPI has cut down 2021's global revenue figure by almost $2 billion vs. where it stood previously.
In last year's GMR, IFPI said that 2021's global record biz revenue figure was $25.9 billion; in the new re-statement, that number has been slashed to $24.0 billion (see below).
---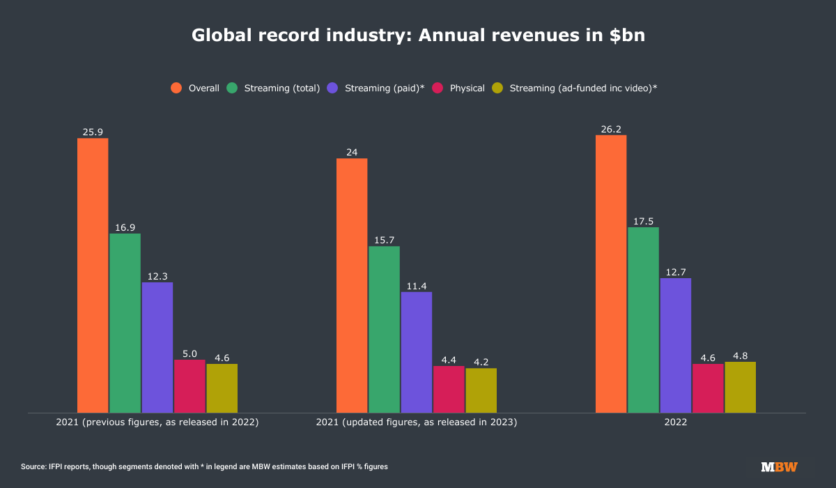 ---
There's an additional factor in IFPI's restatement for its latest edition of the GMR, too: Russia.
For obvious reasons, IFPI says it's proven challenging to determine accurate music biz data from Russia for the year 2022.
As a result, it's removed revenue from Russia from 2022 and all prior years, once again, in a bid to ensure consistency of reporting.
This is no small adjustment: According to IFPI figures in its previous GMR, Russia contributed over $328 million to 2021's annual industry wholesale revenues.
Russia was also the 13th biggest country worldwide that year in terms of its global record industry revenue contribution.
Explaining the impact of these changes on the latest Global Music Report figures, an IFPI spokesperson told MBW: "The 2021 published revenues in last year's GMR were USD $25.9 billion, compared with the restated value of $24.0 billion in this year's report. This is largely owing to removing Russia and retranslating the revenues at 2022 FX rates.
"[Our] currency restatement process is in line with Generally Accepted Accounting Principles (GAAP) and company reporting processes."
(Not everyone is a huge fan of IFPI's annual GAAP-style 'constant currency' restatement model, and the changes it makes to previously published data. Respected analyst and Midia founder, Mark Mulligan, for one, has publicly called it into question.)
---
What happens now?
Guess what? IFPI's updated/restated annual revenue number for the global recorded music biz is probably the biggest factor in informing Goldman Sach's forecasts in its own, oft-updated, Music In The Air paper.
IFPI data provides the 'anchor' numbers upon which Goldman builds its future predictions for the global music business.
The upshot: we can expect the next version of Goldman's Music In The Air (likely released later in 2023) to take this into account. As a result, the investment giant's USD-based predictions for the music business, as well as its retrospective numbers for 2021 etc., will almost certainly be lowered in accordance with IFPI's new data.
(Also true: A lot of commercial business has been executed in the music industry over the past year while basking in the sunny glow of Goldman's prediction that the global recorded music would generate nearly USD $28 billion in 2022.)
---
A final thought
With the impact that IFPI's currency adjustments – and the removal of Russia's revenues – have had on the latest GMR numbers, probably the fairest way to compare the latest IFPI results (in 2023) vs. Goldman Sachs' 2022 forecast is by sticking to percentage YoY growth, rather than monetary figures.
As MBW reported on Tuesday, the latest GMR reports, post-currency restatements, that the global music industry grew by 9.0% YoY in terms of wholesale revenues in 2022 (to $26.2 billion), and that subscription streaming was up by 10.3% YoY.
That 9.0% YoY rise (again, in percentage terms) was actually bigger than the % figure Goldman Sachs predicted in its Music In The Air report last year: Goldman suggested that wholesale global recorded music revenues would rise by 7.7% YoY in 2022 in that report (from $25.9bn to $27.9bn).
(Goldman also made specific predictions about streaming, but these were on a retail, rather than trade basis, so we're ignoring them for this piece. IFPI's subscription streaming trade revenue figure for 2022 was USD $12.7bn.)
Remember that Goldman's headline-grabbing Music In The Air update was published in June 2022. That was obviously before the second half of last year, when a macro-economics-induced downturn in digital advertising growth at the likes of Google/Alphabet and Meta played out. This likely had a negative knock-on effect on music streaming advertising revenues.
With that context, a 9.0% YoY rise in total global music industry revenues in 2022 might not be the most spectacular increase, nor one without its concerns, but it's a solid result – that points in the right direction.Music Business Worldwide