Strong growth in streaming revenues couldn't stop the recorded music business's official worldwide income dropping under US $15bn for the first time in recent memory in 2014.
New statistics from the IFPI show that overall global record industry revenues dipped by just 0.4% last year – but that was enough to pull the annual tally down from $15.03bn to $14.97bn.
The biggest culprits for the fall were an 8.1% decline in revenues from physical format sales (to around $6.89bn, according to MBW calculations) and an 8.0% decline in download sales (to around $3.56bn).
Single track downloads declined by 10.9% in the year, while digital albums sales saw revenues drop by 4.2%.
'Mobile personalisation' sales – essentially ringtones – fell by 17.9% to around $206m.
The IFPI's numbers – presented in its new Digital Music Report – take record sales into account in addition to streaming income (ad-supported and premium). They also count sync revenues and performance rights money collected from broadcasters and public venues for the use of recorded music.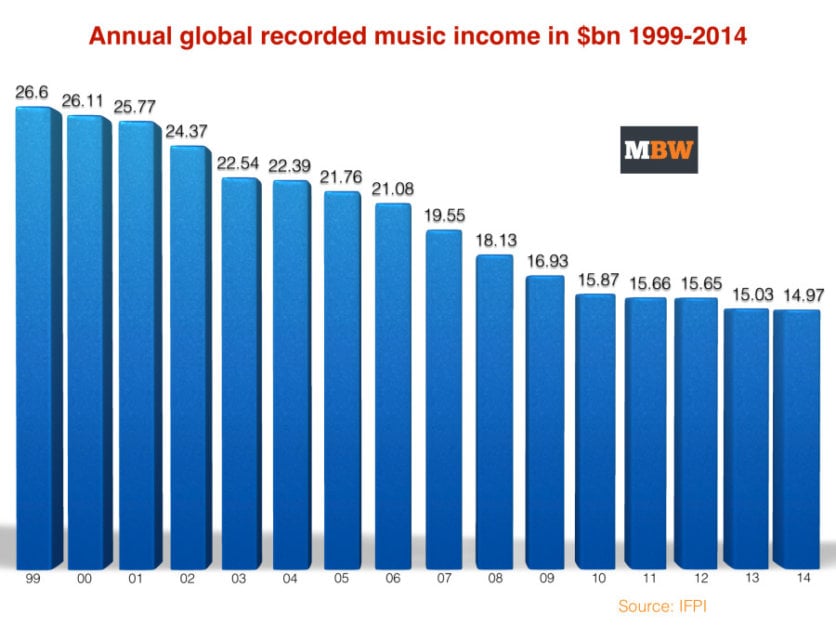 Another first for the industry in 2014 was that digital and physical music consumption contributed the same proportion of total revenues for the first time (46% apiece), pulling in around $6.85bn each.
At least, they did so long as you accept an important new stipulation.
The IFPI has decided to start reporting SoundExchange collections in the US – ie. artist and label payouts from digital and satellite radio services such as Pandora and Sirius XM – as 'digital' income rather than performance royalties. (As a result, performance rights collections in the US have been set to nil in the IFPI's numbers.)
Considering SoundExchange paid out $773.4m to rights-holders in 2014, this obviously provides a significant boost to 'digital'.
In fact, SoundExchange collections alone make up around 11.3% of 2014's total 'digital' figure and 5.2% of the overall global industry income from all revenue streams.
If you discount SoundExchange's payouts from the industry's $6.85bn total 'digital' income in 2014, you find that like-for-like digital revenues grew just 3% last year – up from $5.9bn (2013) to $6.077bn (2014).
Instead, the IFPI has gone about things a different way, retrospectively adding SoundExchange collections to 2013's digital income, which it says results in 6.9% annual growth – from $6.4bn to $6.85bn.
Interestingly, if the IFPI reported 2014's overall global income pie without the SoundExchange alteration, physical would remain dominant, claiming 46% of revenues. Digital would take 41% and sync/performance would claim 13%. (See third chart below.)
(You can read the IFPI's rationale for this reporting change at the end of this article.)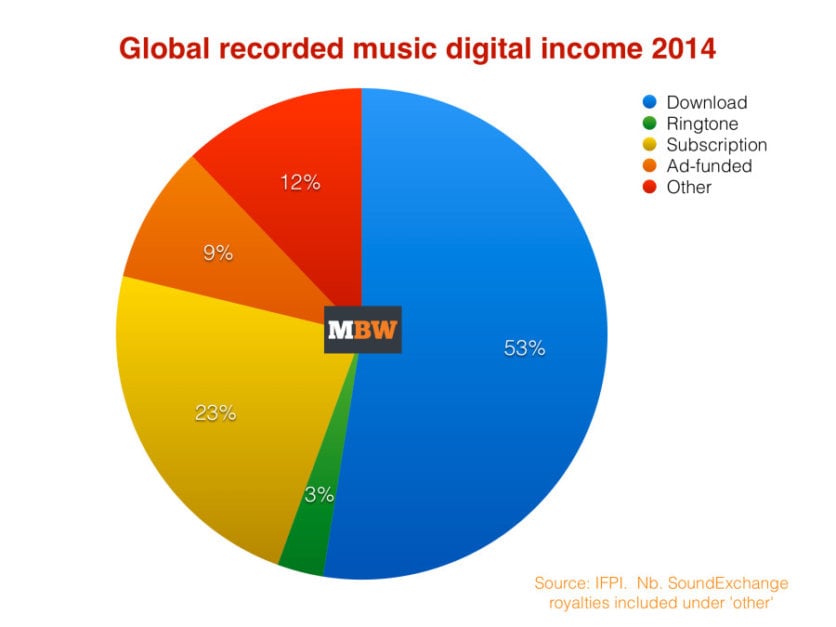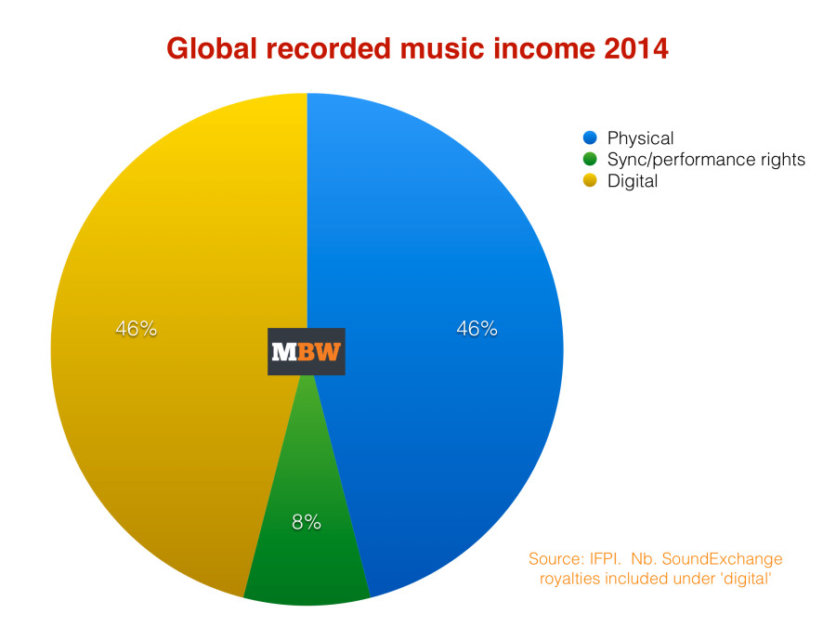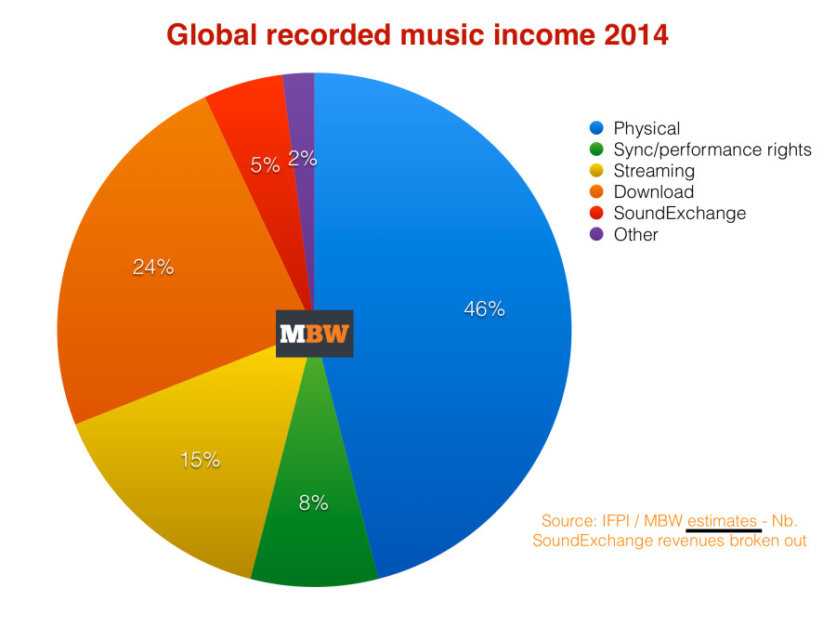 Streaming IN FOCUS

Global subscription streaming revenues rose 39% to US $1.57bn in 2014, and now make up 23% of digital revenues globally, up from 18% in 2013
That's significantly ahead of ad-funded or 'freemium' streaming users, who contributed 9% of total digital revenues, says the IFPI.
Ad-funded income – from Spotify's free tier as well as the likes of YouTube and Vevo – equated to around $641m in 2014.
The IFPI says this ad-funded figure was up year-on-year by 38.6%.
In total, ad-supported and subscription streaming revenues now account for 32% of global digital revenues, up from 25% in 2013.
Combined, MBW believes that ad-funded and premium streaming contributed somewhere in the region of $2.2bn to the industry in 2014.
That would equate to 14.7% of total global industry income on all fronts – less than a third of the 46% share claimed by physical formats.
According to MBW's analysis, here's how much of total streaming income freemium and premium services have claimed in the past two years.
(Approximate total global music streaming income, according to MBW calculations =  $2.21bn in 2014 and $1.59bn in 2013.)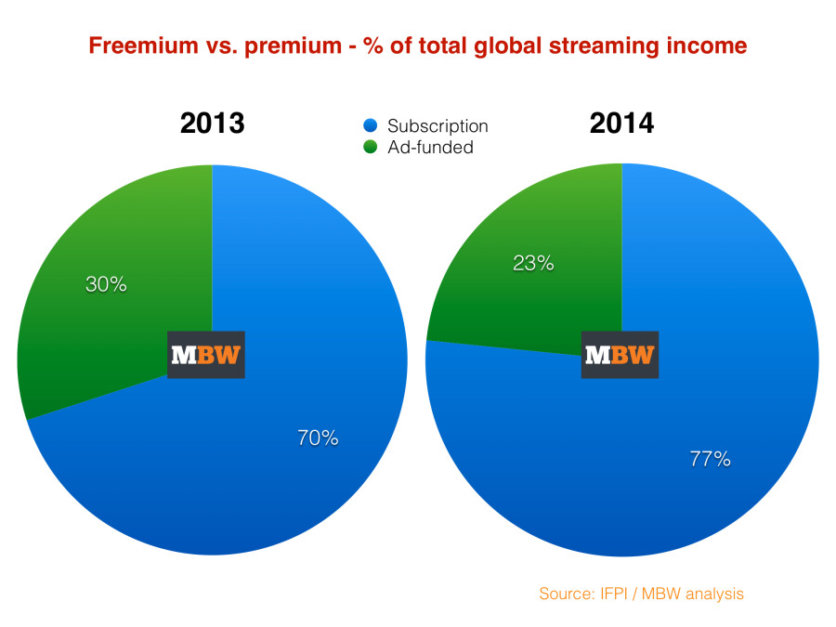 OTHER Global highlights from IFPI's Digital Music Report 2015
Despite sales of physical dropping 8% worldwide, a robust physical market share was still recorded in countries such as Austria (65%), France (57%), Germany (70%), Japan (78%), Poland (71%) and South Africa (62%).
Vinyl accounted for 2% of global revenues with sales increasing 54.7 per cent in 2014
Total Performance rights revenue increased by 8.3% (despite the omission of SoundExchange numbers from the US as 'performance') and now accounts for 6% of total industry revenues or US$948 million. This figure included some one-off revenues as a result of litigation.
Synchronisation revenues – income from the use of music in advertising, film, games and television programmes – increased by 8.4% worldwide in 2014 with big gains in markets such as France (+46.6%), Germany (+30.4%) and Japan (+33.5%).
The US recorded music market increased in value by 2.1%. In Canada, however, the overall market fell by 11.3%, with physical (-20.8%) and digital (-3.9%) posting declines.
Latin America continued to grow strongly in 2014, with overall recorded music revenues up 7.3 per cent as sharply rising digital income offset a decline in physical format sales. Latin America has been the fastest-growing region for music sales for the last four years and now makes up 4 per cent of the world market compared to 3 per cent in 2013.
Asia saw revenues fall by 3.6 per cent. There was strong growth in South Korea (+19.2%) and some smaller markets such as China (+5.6%), Indonesia (+16.3%), and Singapore (+4.7%). Japan saw digital revenues increase by 4.9%, driven by strong subscription revenues, but the market declined by 5.5% overall.
India 'continues to underperform', with a market decline of 10.1 per cent.
Europe saw a market decline of 0.2% in 2014, but was varied: Germany saw growth of 1.9% while France (-3.4%) and the UK (-2.8%) saw declines. There was growth in Spain (+15.2%) and a number of smaller European markets including Czech Republic (+4.6%), Denmark (+2.0%), Hungary (+7.8%), Iceland (+0.7%), Ireland (+8.5%) and Slovakia (+13.5%).
Nb: The IFPI's explanation of why it's now counting SoundExchange collections as 'digital' income and other performance royalty-related reporting changes: IFPI has amended the methodology and scope of its coverage of performance rights revenues globally and in the US for 2014. Globally, performance rights revenues now refer to distributions made to record companies (including non-recurring distributions) in the same year they reach record company accounts. Previously, IFPI reported performance revenues, excluding non-recurring distributions, one year in arrears. In the US IFPI has for the first time reported SoundExchange distributions under 'Other Digital' and included artists share in the reported revenue. The change aligns IFPI's worldwide reporting with the RIAA reporting practice for the US. It reflects the fact that a significant proportion of SoundExchange revenues comes from personalised streaming services (such as Pandora) that are elsewhere reported directly by the companies inclusive of artists share. In the light of this change, US performance rights now have a nil value. Historical performance rights revenues have now been restated to reflect these changes and to provide equivalent year-on- year comparisons.Music Business Worldwide