Drake's Apple-exclusive album Views has smashed the week-one streaming record in the US market.
According to market monitor BuzzAngle, tracks from Views clocked up 247.9m streams in the States in its opening seven days after being released on April 29.
That was more than double the previous record for week-one streams, set by Beyonce's Lemonade with 115.5m plays the week before.
The vast majority of those plays would have taken place on Apple Music, where Views was officially a streaming exclusive.
However, they will have also taken into account plays of three singles from the album – One Dance, Pop Style and Hotline Bling – which are available on other services including Spotify.
Views was also available as a full-album download on iTunes, where it sold 851,670 in its opening week according to BuzzAngle.
Apple Music retains a worldwide streaming exclusive of Views for another week.
It will land on other services this Friday (May 13) – a week longer than expected.
Views isn't only top of the official charts in the US, either.
It landed at No.1 in the UK's Official Albums Chart market on Friday (May 6).
Notching up over 78,000 chart sales, Views the UK's second fastest-selling album of 2016 so far, behind David Bowie's Blackstar.
The record is also top of the most popular download chart on Kick Ass Torrents.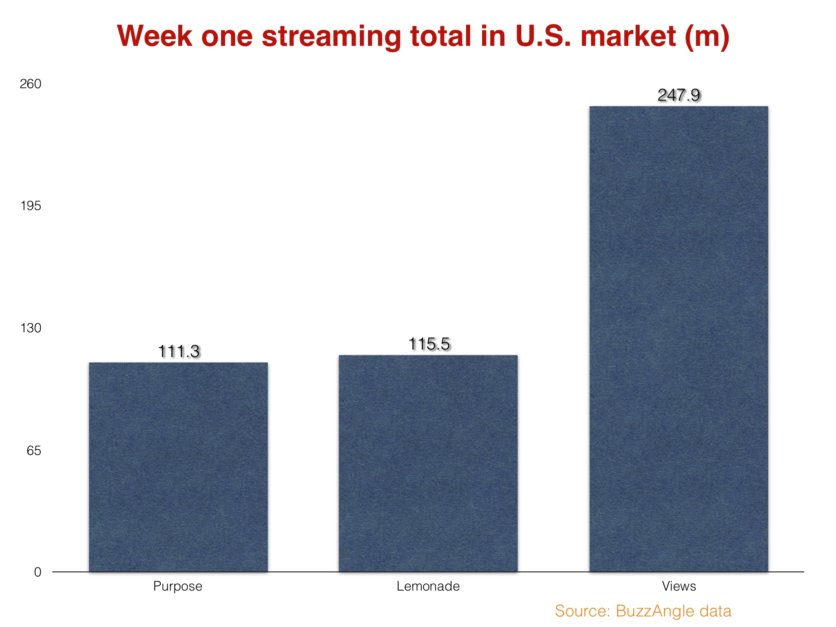 Music Business Worldwide