The week-one streaming numbers for Drake's Certified Lover Boy are in.
And, as forecast by MBW, the 21-track set just became the biggest album of the year on Spotify… but couldn't quite out-do the global first week performance of the artist's own Scorpion back in 2018.
In the end, CLB was around 63 million streams short of Scorpion's record-breaking week-one tally.
We've crunched the numbers on Drake's chart-eligible streams on Spotify, as published on SpotifyCharts.com. (These public-facing figures show the total number of plays of a track within the parameters of Spotify's chart rules. Those rules cap each individual's daily plays of any single track at ten, in order to lessen the effects of chart-gaming.)
Scorpion accumulated 559.02 million global Spotify chart streams in its first week, after being released on June 18, 2018.
That remains the biggest ever album debut on the platform.
Certified Lover Boy ended its first week – having been released on Friday, September 3 this year – with 497 million global Spotify chart streams, according to MBW's calculations.
---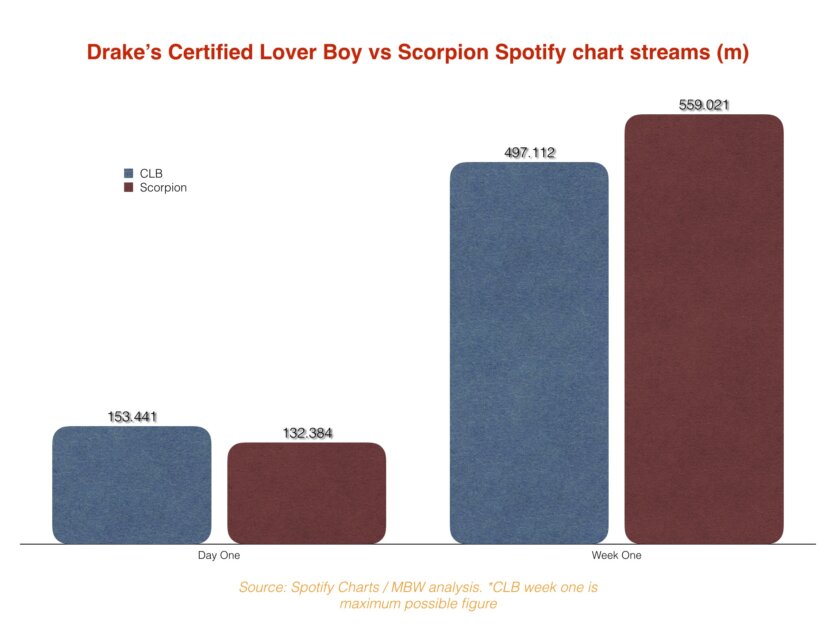 ---
That was enough to comfortably take the second-biggest-ever album debut crown on Spotify, snatching it away from Kanye West's Donda, which was itself released on August 29 this year.
Certified Lover Boy enjoyed the biggest-ever first day on Spotify globally, with 153.4 million chart streams versus Scorpion's equivalent day-one figure of 132.4 million.
However, Certified Lover Boy's popularity dropped off throughout the course of its first week, dropping to just over 40 million daily plays by its seventh day of availability.
---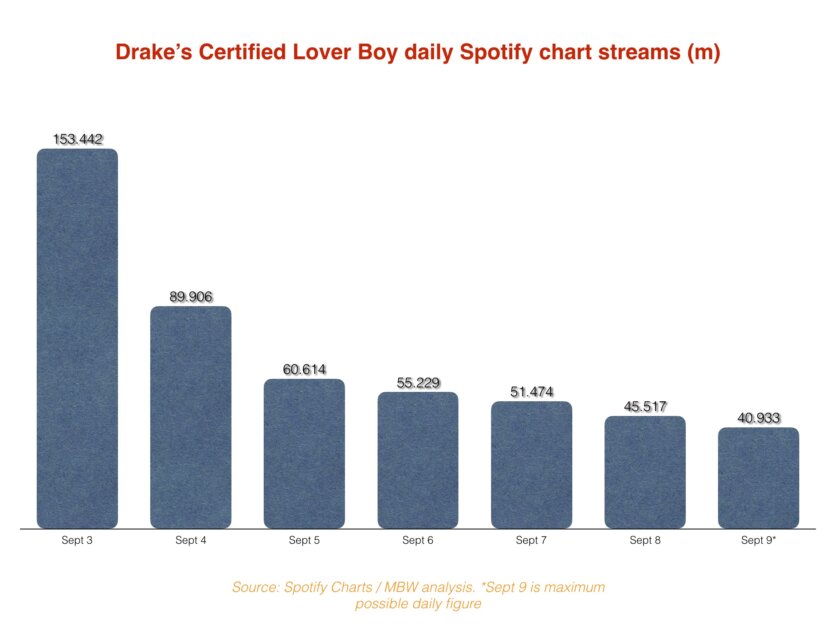 ---
It's worth noting that on an average-streams-per-track basis, Certified Lover Boy actually had a bigger first week than Scorpion.
That's because Scorpion holds a whopping 25 tracks, while Certified Lover Boy has a smaller track-count of 21.
Therefore, the average number of plays of each of Certified Lover Boy's tracks during its first week (23.7 million) was bigger than the equivalent metric for Scorpion (22.4 million).
Perhaps the most interesting thing about the Certified Lover Boy vs. Scorpion comparison – as noted in MBW's in-depth analysis last week – is the size of the addressable audience Drake has to play to on the platform.
When Scorpion was released in mid-2018, Spotify had 180 million monthly active users (MAUs) globally, with 83 million Premium subscribers.
"And you know what I'm on, blowing past ya, owning masters."

Drake on his new recorded music setup, via track The Remorse on Certified Lover Boy
At the close of June (Q2) this year, those figures had more than doubled, with 365 million MAUs on Spotify including 165 Premium subscribers.
Certified Lover Boy hit No.1 on various key global music industry charts in the past week, including the UK's Official Album Chart, the Billboard 200 in the US, and ARIA's album chart in Australia.
On the US Billboard chart, Scorpion debuted with 613,000 album-equivalent units in its first week, setting the record for most first week sales of 2021 in the States.
Certified Lover Boy is Drake's first studio album on his own OVO label, via Universal Music Group / Republic Records.
He raps on the album's track The Remorse: "And you know what I'm on, blowing past ya, owning masters."
Drake's previous five studio albums – from 2011's Thank Me Later onwards – were all released on Young Money / Cash Money.
---
* The Remorse is currently Certified Lover Boy's least-popular track on Spotify. So much so that on September 9 (CLB's seventh day post-release), it actually dropped out of the Spotify 200 chart, meaning its stream-count for that day is unavailable on SpotifyCharts.com. Due to this, MBW has used a maximum stream-count rule for that track on that particular day in our calculations above, using the daily stream count of the chart's 200th track instead (as it stands that The Remorse couldn't have been bigger than this track that day). Even discounting The Remorse entirely doesn't make a material difference: Even if we attribute zero streams to the track on September 9, CLB's total daily stream count lands at 40.175 million, versus the 40.933 million we've given it above.Music Business Worldwide