Spotify rival Deezer is officially a publicly-listed company.
The music streaming service made its stock market debut in its home country of France on the Euronext Paris this morning (Tuesday July 5), after combining its business with I2PO, a Special Purpose Acquisition Company (SPAC) based in France.
The company's public listing comes seven years after the plug was pulled on its previous attempt at an IPO.
Deezer becomes this year's latest music streaming service to become a publicly listed company via a SPAC merger, following MENA-focused Anghami's recent IPO on the NASDAQ in New York.
On a fully diluted basis, the I2PO merger gave Deezer a pre-money equity valuation of EUR €1.050 billion (USD $1.095bn at current exchange rates).
That valuation corresponded to an enterprise valuation of approximately €1.075 billion ($1.11bn), I2PO confirmed in April.
Speaking at the bell-ringing ceremony in Paris this morning, Deezer CEO Jeronimo Folgueira said that "as a proud French tech Unicorn, going public in Paris for us was really important".
He added: "This is a historical day for our company."
As reported by Reuters this morning, Deezer's shares opened at EUR €8.50 ($8.75), but fell to €7.950 ($8.19) by 07:39 am GMT.
---

---
At the time of writing (11:30 am GMT/ 12:30 CET),  the company's share price had fallen to €6.50 ($6.70).
According to Deezer's investor relations site, as of today (July 5, 2022),  Access Industries owns the biggest chunk (38.06%) of the company's share capital with 44,753,926 ordinary shares, while telecoms giant Orange Participations S.A. owns the second largest, with 9,561,723 ordinary shares, or 8.13% of the firm's share capital (see below).
---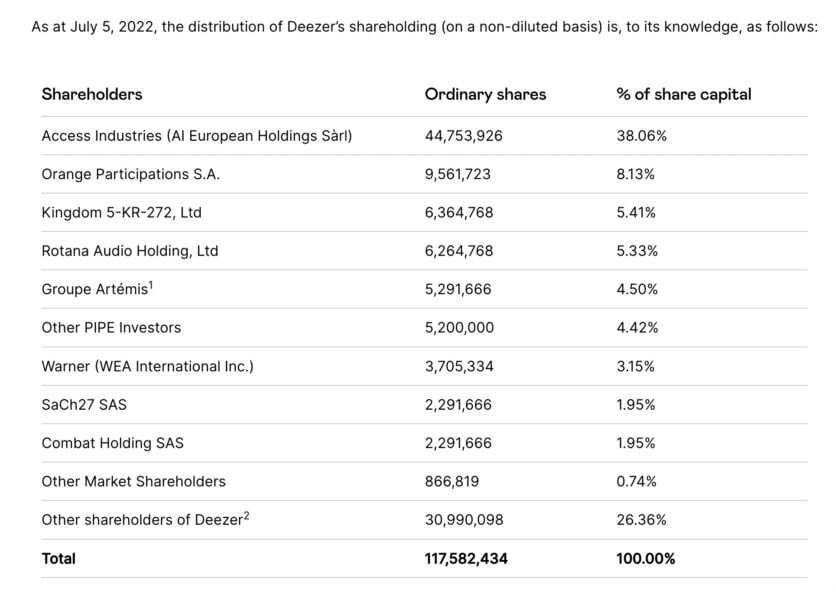 ---
As reported by MBW in April, now that the merger between Deezer and France-based SPAC I2PO is complete, the combined company will benefit from cash previously held by I2PO, in addition to cash raised through a PIPE (Private Investment in Public Equity).
The prospectus for this PIPE was approved by the French financial markets authority, the Autorité des marchés financiers (AMF), in June.
This PIPE was subscribed to by most of the pre-existing shareholders of Deezer including Access Industries, Universal Music Group, Warner Music Group, Orange, Kingdom Holdings, Eurazeo and Xavier Niel, as well as a group of long-term French and international investors including Groupe Artémis, Bpifrance and Media Participations.
According to Deezer's merger prospectus, the music streaming service had 9.6 million subscribers in 2021, including 5.6 million B2C (direct) subscribers and 3.9 million B2B subscribers.
Deezer generated revenue of EUR €400 million in 2021.
---
Speaking at the bell ringing ceremony this morning, Deezer CEO Jeronimo Folgueira explained that Deezer "feel[s] that it's the right time for us to become a publicly listed company," adding that, "in the last year since I joined, we started to reposition Deezer with a new strategy to capture share in the fast-growing music streaming market that still has plenty of potential".
Said Folgueira, at this morning's bell-ringing ceremony: "This is a historical day for our company and I would like to start by thanking everyone that made this day possible, starting with our original team led by founder Daniel [Marhely] that's here with us and some of the original employees that still work with Dezeer today, the shareholders of Deezer that have been supporting us for many years led by Access Industries, our strategic partners such as Orange that have also been instrumental in our success, but most importantly for all the Deezer employees current and former that have worked really hard for the last 15 years to make this a success and take this to where it is today."
"We believe that we are in a really good position to take the company to the next level, and as a publicly listed company, really get the most out of our opportunities."

Jeronimo Folgueira, Deezer
Added Folgueira: "We are focusing on large markets and we are focusing on replicating the very successful model we have in France of our hybrid B2B to C model and doubling down on differentiation, creating a really unique product built on innovation and great customer experience.
"This transaction also shows, not only the support we have from our shareholders, but also the belief from new shareholders, on our vision, our strategy, and also the potential for value creation that Deezer brings.
"We already see some of the results of our new strategy with our growth having accelerated substantially in the last year and reaching double digits in Q1.
"We believe that we are in a really good position to take the company to the next level, and as a publicly listed company, really get the most out of our opportunities."Music Business Worldwide