US-based performance rights company BMI (Broadcast Music Inc.) posted record-breaking revenue and royalty payments to songwriters, composers, and publishers in the year ended June 30.
Payouts to songwriters, composers and publishers in the recent fiscal year rose 10% year over year, or by $136 million, to $1.47 billion.
Overall revenue (collections) jumped 16%, or by $212 million, to $1.57 billion, the company said Tuesday (September 13).
The pace of growth was faster than the 8% YoY increase in royalties distributed by BMI last year (FY2021), as well as the firm's 7% YoY rise in revenue last year.
BMI claims that for the seventh straight year, the company's results represent "the highest reported public performance revenue and royalty distributions of any music rights organization in the world."
"We had an exceptionally strong year thanks to the incredible popularity of the BMI repertoire, allowing us to deliver the highest royalty distributions in BMI's history," BMI President and CEO Mike O'Neill said.
One particular bright spot in BMI's results was its strong revenue from digital sources, which accounted for 48% of the company's domestic total.
Digital licensing revenue jumped 35% YOY to $572 million, fueled by growth across all digital sectors including from subscription video-on-demand services such as Netflix, Disney+, AppleTV+ and Peacock.
In the recent fiscal year, BMI inked new digital audiovisual agreements with Roku, Vudu, Equinox+ and Snapchat, among others, expanding BMI's digital revenue sources.
---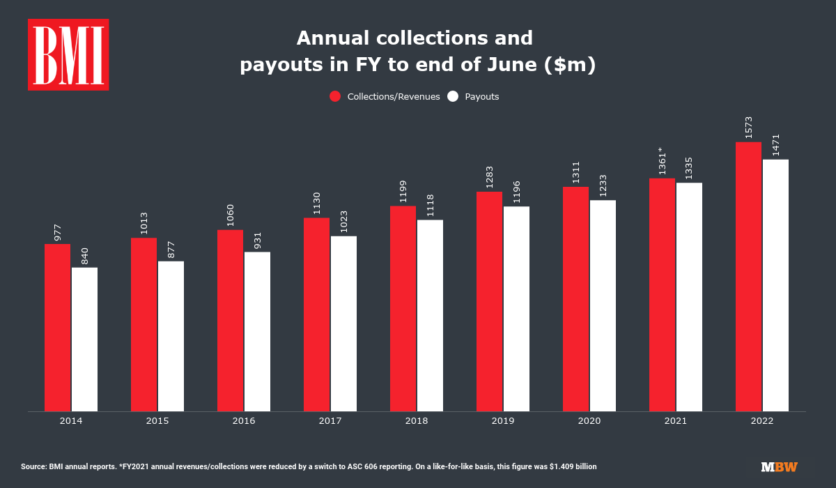 ---
The strength in BMI's digital licensing revenue buoyed the company's results as total domestic media licensing revenue only grew marginally from the previous year.
This segment, which covers the company's cable & satellite, broadcast television and radio services, registered a 2%, or $7 million, increase in revenue in the recent FY to $479 million. But the recent FY's performance marked a rebound from the 11% decline in revenue last year due to the impact of the COVID-19 pandemic on advertising, among other factors.
Of the total, revenue from cable and satellite services was flat at $270.3 million in the recent FY, while radio revenue edged up 6% to $114.2 million. Revenue from broadcast television also barely moved from last year at $94.3 million.
BMI's robust digital segment growth was further highlighted by the 7% increase in the number of digital audio-visual performances that it processed in the recent FY. The figure totaled 260 billion. Overall, BMI processed about 2.23 trillion performances, up 13% from a year earlier.
The number of licensed musical works by BMI also jumped 10% to 20.6 million.
In the recent FY, BMI welcomed 100,000 new songwriters, composers and publishers, taking the company's affiliate membership number to more than 1.3 million. The full-year additions, however, was softer than the 120,000 increase in the previous FY.
The recent year's new signings include Griff, Karol G, Kid Culture, The Kid LAROI, and Troye Sivan. BMI also extended its agreements with Anuel AA, A$AP Ferg, J Balvin, Metro Boomin, Doja Cat, Ramin Djawadi, Eminem, Omer Fedi, Tony Morales, Willie Nelson, Thomas Newman, Tayla Parx, Michael Pollack, Sting and Brian Tyler, among others.
Elsewhere, BMI's revenue from its general licensing segment — consisting of businesses like live concert venues, bars, restaurants, and fitness centers — climbed 10% to $140 million, close to pre-pandemic levels as businesses recover from pandemic-related curbs.
International revenue climbed 13% to $382 million, owing to the company's strong repertoire overseas despite the unfavorable impact of foreign exchange rates due to the strengthening of the US dollar, the company said.
"Providing this financial stability to our outstanding creative community is a gratifying culmination of BMI's efforts every day on behalf of our songwriters, composers and publishers," O'Neill said.
"Moving forward, we will continue to maximize the value of our affiliates' music and ensure that our company is well positioned to deliver growth for our creators and copyright owners well into the future," the executive added.
BMI's total distributions of $1.471 billion include domestic and international royalties as well as distributions from direct deals between BMI publishers and digital service providers that BMI administers on their behalf.
Those direct deals, which make up approximately 3% of BMI's overall distribution, totaled $49 million, or $36 million less than the previous year.
That number is lower, said BMI, because certain licensing partners have decided to forego direct deals and have come back to BMI to handle their licensing needs.
---
BMI's results came just weeks after the company was reported to be laying off "just under 10%" of its workforce, or around 30 employees. In an internal memo written by O'Neill that was obtained by Billboard, the executive told employees that the company is reducing its workforce "through a combination of headcount reduction and not filling a number of current open positions. This impacted most departments and is effective immediately."
It also comes as Bloomberg News reported that BMI had abandoned its planned multi-billion dollar company sale.Music Business Worldwide