BMI (Broadcast Music Inc.) has pulled the plug on a planned multi-billion dollar company sale, saying the transaction "is no longer an avenue we are considering," Bloomberg News reported Friday.
Sources familiar with the matter said interested parties like private equity firms and technology providers tabled offers for the company but some backed out, while other offers did not meet BMI's requirements.
Bloomberg's sources said the music rights collection firm set a price tag of up to $2 billion or $3 billion for certain potential buyers. BMI executives had hoped to sell for at least $1.5 billion as the company's 2021 revenue exceeded $1.4 billion, with powerhouse artists such as Ed Sheeran, Sam Smith and Rihanna, according to the report.
BMI has been gearing up for the potential sale months earlier and even enlisted Goldman Sachs as an advisor in March to help review strategic opportunities. CEO Mike O'Neill announced the strategic review to company employees through an internal note, where he said "outside advisors" have been hired to assist in the review.
According to the report, the sales talks included BMI's proposals on restructuring and new strategies such as cost-cutting and a revised payment scheme for artists. The company also discussed potential acquisitions to diversify its business and ways to increase its market share in performing rights, Bloomberg said. 
---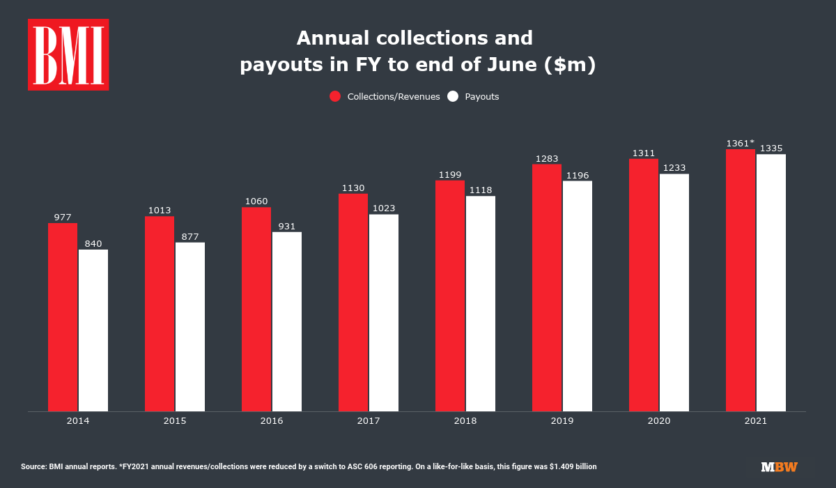 ---
BMI already reigns as a major player in performing rights, with $1.361 billion in annual collections for the 12-month period ending June 30, 2021.
For comparison, its close rival ASCAP reported annual collections of $1.335 billion for the calendar year 2021.
From its FY 2021 collections ($1.361bn), BMI paid out $1.335 billion to its members; ASCAP's payout in calendar 2021 stood at $1.254bn.
But BMI's position as a market leader and even its revenue growth over recent years were not enough to fetch bids that will match its target valuation.
While the company said it is no longer pursuing a sale, it did not mention anything about options for other strategic transactions.
Bloomberg said a spokesperson for Goldman Sachs declined its request for a comment, but BMI has reiterated that its strategic review covers opportunities other than a company sale.
"We've been clear from the start that as we explored strategic opportunities for BMI, we were going to evaluate all options that would support our affiliates and grow the value of their music," a spokesperson for BMI said.
BMI reported that in its FY2021 (to end of June last year, remember), its affiliate membership grew 11% to 1.2 million, with nearly 120,000 new songwriters, composers and publishers joining its org.Music Business Worldwide