BMG's annual revenues hit EUR €866 million (USD $911m) in 2022 – climbing by €203 million, or 30.6%, year-on-year.
The Germany-headquartered music firm's latest fiscal results were revealed today (March 30) by its parent, Bertelsmann.
Those results showed that BMG's annual operating EBITDA rose by over €50 million (+35.4%) YoY in 2022 to reach €195 million ($205m).
We've become used to seeing BMG's annual revenues rising by tens of millions of Euros a time in recent years – but not by hundreds of millions.
In fact, 2022's rise of €203 million represented the fastest YoY growth in the company's history, since it was founded as 'new' BMG in 2008.
This YoY revenue leap didn't damage BMG's profit margin, either: The firm's EBITDA margin in 2022 stood at 22.5%, up by nearly a point on 2021's annual margin of 21.7%.
---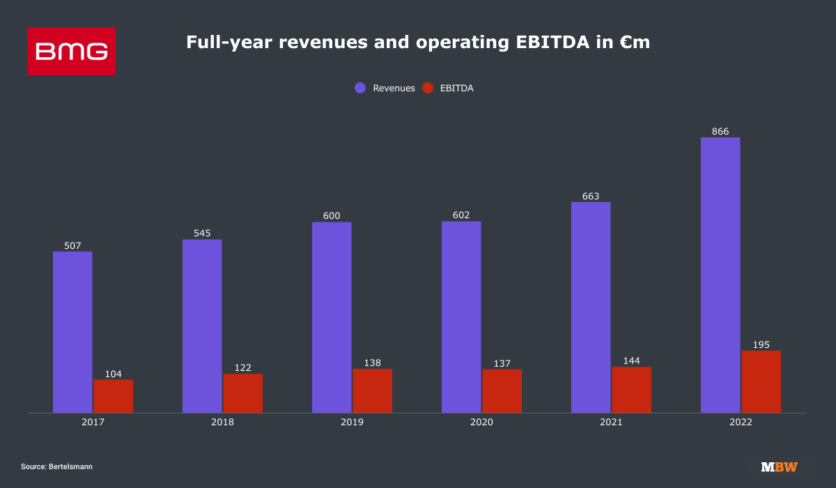 ---
In its annual fiscal report, Bertelsmann attributed the strong growth in BMG's 2022 revenues and EBITDA to "organic growth in its recorded and publishing businesses… supported by an investment offensive".
That "investment offensive" involved a record €509 million ($535m) being spent on the acquisition of music catalogs plus artist signings in 2022, said Bertelsmann.
Within that figure, confirmed Bertelsmann, BMG spent €380 million ($400m) on acquiring music catalogs – versus €281 million in the prior year (2021).
In 2022, said Bertelsmann, BMG spent €188 million buying music catalogs in the United States, with €113 million spent on catalogs in the United Kingdom, €27 million spent on catalogs in Germany, and €52 million spent on catalogs in various other countries.
During 2022, BMG made 45 acquisitions in the music catalog sector; purchases included the catalogs / licensing rights of artists such as Peter Frampton, Jean-Michel Jarre, Fools Garden, Harry Nilsson, Simple Minds, Primal Scream, and Chris Rea.
BMG also acquired German music label Telamo in 2022.
BMG's growth shouldn't just be chalked down to catalog buys, though: Bertelsmann says that organic (i.e. non-acquisition-driven) YoY growth in revenues at BMG stood at 22.8% YoY in 2022.
Over half (53.9%) of BMG's annual revenues in 2022 were generated in the United States. A further 8% were generated in Germany, while 12.2% were generated in the UK.
BMG had approximately 1,111 employees at the end of 2022, vs. 1,058 at the end of 2021, according to Bertelsmann.
BMG's recorded music business's revenues grew by 38% YoY in 2022; the firm's music publishing business increased by 26% YoY, said Bertelsmann.
The firm's biggest revenue-generating projects on the recorded music side included releases by Jason Aldean, Louis Tomlinson, Mötley Crüe, 5 Seconds of Summer, Backstreet Boys, Buena Vista Social Club, Kylie Minogue, and Bryan Adams.
New recordings deals / extensions were struck in the year with artists such as Rita Ora, Logic, Julian Lennon, Marteria, Stefflon Don, Nickelback, and Jason Aldean.
In the publishing business, the catalogs of Bruno Mars, Mick Jagger and Keith Richards, Juice WRLD, Kurt Cobain and Roger Waters in particular generated high revenues, said Bertelsmann.
In publishing, BMG inked new deals/renewals in 2022 with writers such as Halsey, Elvis Costello, Robin Kadir, Bazzazian, Slowthai, Jessie Reyez, Afrojack, Montez, and Lucry.
In Germany, the BMG subsidiary Undercover staged 441 live shows and concerts last year, with "high ticket sales", added Bertelsmann.
---
BMG is the second large-scale, non 'major' music company to announce a 30%+ YoY revenue rise this month.
On March 15, Paris-headquartered Believe confirmed annual revenues for 2022 of €760.8 million (USD $800m), up 31.8% YoY.
In February, another of the biggest non 'majors', South Korea-headquartered HYBE, announced annual revenues for 2022 of USD $1.37 billion.
---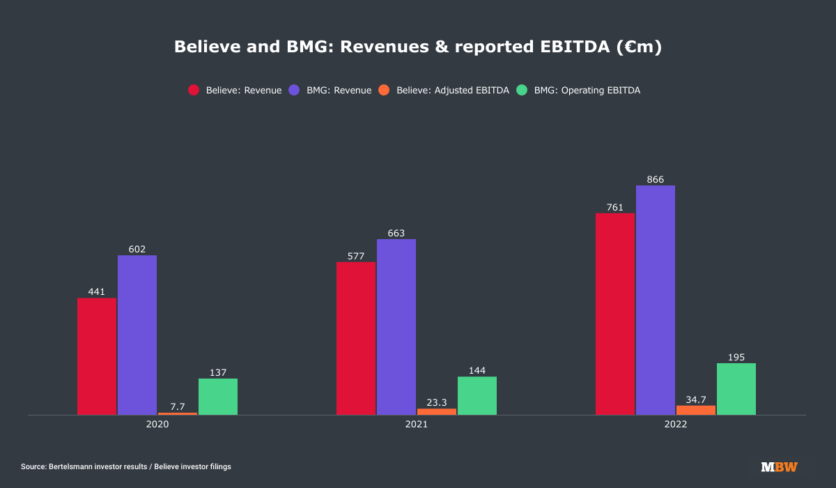 ---
BMG recently announced a major leadership change at its company.
As confirmed in January, at the close of 2023, long-running BMG CEO, Hartwig Masuch, will step down from the role.
He will be succeeded by current BMG CFO, Thomas Coesfeld.
Writing to staff in January to announce the news, Coesfeld paid tribute to Masuch's achievements, adding: "In 2023 [BMG has] grown to more than 1,100 people – and still hiring.
"We have a profitable company with a catalogue and roster of many of the greatest names in music. And I am determined we will grow even bigger and more successful under my leadership."
---
All EUR-USD conversions in this report made at the average annual rate published by the USA's Internal Revenue Service (IRS).Music Business Worldwide