XL Recordings (and its co-owner Beggars Group) made a major music rights 'acquisition' in 2021… but didn't have to do anything to obtain it.
Earlier this year, Beggars confirmed to MBW that the US recording rights to Adele's first three albums (19, 21, and 25) had reverted to XL Recordings in the United States in 2021.
That marked the end of an extensive licensing agreement between XL and Sony Music/Columbia in the territory.
As a result, XL now owns the recorded rights to Adele's first trio of albums globally on streaming services, and doesn't have to share any consequent revenue with a licensing partner.
(After leaving XL/Beggars following 25, Adele signed a direct global deal with Sony/Columbia – a licensing agreement via her own Melted Stone Ltd – for recent album 30 and future recordings.)
Now we know how UK-headquartered Beggars Group performed as a business in 2021: According to a fresh filing on UK Companies House, Beggars Group generated GBP £79.98 million last year, up by  29.7% YoY.
That figure includes Beggars' share of various joint venture businesses including XL Recordings, Matador and Rough Trade, in each of which Beggars owns 50%.
(Amongst other operations, Beggars also owns 100% of 4AD, and runs its own publishing company in Beggars Music.)
Beggars' operating profit (including joint ventures) in 2021 was up by 54.5% YoY to GBP £10.03 million from £6.49 million in the prior year (2020).
That represented the second year in a row that Beggars' operating profits have nearly doubled: They were up by 77% in 2020.
---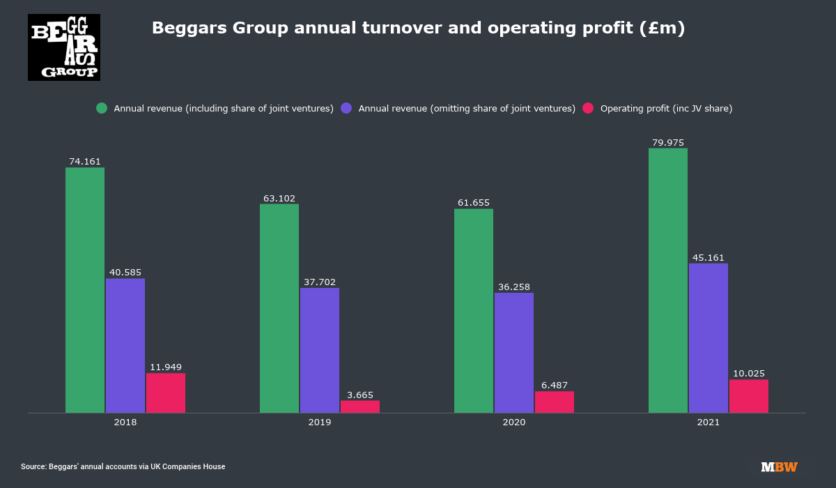 ---

---
Beggars said in its annual financial report: "[In 2021 we] continued to develop own new content for online marketing. We delivered 33 new releases (2020 – 32) across our labels with many of those achieving critical success in various end of year polls.
"In addition, we continued to unlock our catalogue by working with independent retail on vinyl re-issue activity and with our streaming partners on campaigns geared towards a global fanbase.
"We remain committed to treating artists fairly and have developed several industry-leading policies to reflect that."
"This activity, as well as continued growth in DSP subscriber numbers and relentless demand for vinyl in general, has led to significant growth in catalogue income streams. The shortage of vinyl pressing capacity remains a major challenge, as do supply chain issues and the increasing cost of freight.
"We remain committed to treating artists fairly and have developed several industry-leading policies to reflect that which have become a key component in what the company represents."
When Beggars' share of joint venture companies is omitted, the firm generated £45.16 million in 2021 (see below).
(Some £34.97 million of this figure was generated outside the UK, according to Beggars' accounts; £10.19 million was generated within the UK.)
Group operating profit without those joint ventures (including XL) was £3.73 million; that figure leaps up by a further £6.30 million when Beggars' shares in joint ventures are included in the figures.
Of that £6.30 million, Beggars' accounts reveal, the vast majority – £5.90 million – was provided by XL Recordings.
UPDATE: In a separate UK Companies' House filing, it's now been revealed that XL Recordings generated £56.875 million in 2021, up 47% YoY.
XL Recordings' operating profit in 2021 stood at £14.283 million.
---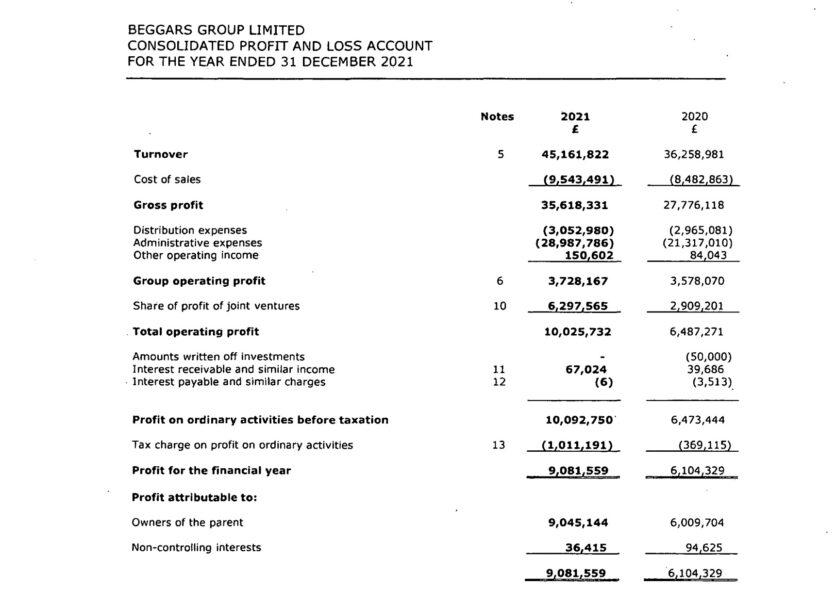 ---

---
Beggars started 2021 with £25.45 million in cash; it ended the year with GBP £34.38 million in cash.
The firm employed 152 people directly in the year on average, up from 142 in 2020.
Beggars is 100% owned by its Chairman, Martin Mills.
The company paid out a £1.0 million dividend in 2021, but did not pay out a dividend in 2020.Music Business Worldwide