Beggars Group, one of the world's leading independent music rights companies, has revealed its financial report for the calendar year of 2020.
The UK-headquartered firm owns 50% stakes in labels such as XL Recordings, Matador and Rough Trade. Amongst other operations, it also owns 100% of 4AD, and runs its own publishing company in Beggars Music.
Across the course of 2020, according to a new fiscal filing, Beggars Group turned over GBP £61.66 million ($79.2m), inclusive of its share of joint venture partnerships like XL, Matador etc.
That figure was down slightly on the £63.1 million Beggars turned over in 2019.
However, the firm's operating profit (also including joint ventures) was up 77% year-on-year to £6.49 million ($8.3m).
---

---
The key reason for this jump in profits?
Beggars explained in the fiscal filing that 2020 was "a difficult year for promoting new releases, given that many of our acts were unable to travel and do in-person promotion or tour due to Covid restrictions".
The firm said it upped its online marketing activity in reaction to these obstacles, but added: "A by-product of not being able to promote new releases to the extent we would have liked is that we have seen significantly reduced marketing and promotional expenditure across all labels which has worked its way through to the bottom line, compared to the previous 'normal' year. We believe this will be the case for the duration of the pandemic."
Interestingly, Beggars and its labels released 32 new albums in 2020 – including Miss Anthropocene from Grimes on 4AD and Set My Heart On Fire Immediately from Perfume Genius (pictured) on Matador – but actually released more albums (40) as re-issued or remastered catalog LPs in the year.
"Perhaps not surprisingly at a time when many of us have spent more time at home, our catalogue revenues have increased as people discover or remember classic repertoire," reads Beggars' filing. "We have seen a significant growth in vinyl sales of our catalogue across the group and across almost all major territories. We are committed to promoting our catalogue on vinyl formats with our retail partners and pleased for the records to find a new audience."
Beggars was particularly happy with the performance of vinyl in 2020. "Streaming has continued to grow during the pandemic, but the surprise story was the surge in vinyl and the rapid growth of individual record store online sales," reads its filing.
That being said, Beggars notes that the "shortage of vinyl pressing capacity" was one of 2020's "many major challenges".
According to Beggars' accounts for 2020, the company didn't pay out any dividends to its shareholders in the year. (Beggars Chairman Martin Mills owns 100% of the company.)
---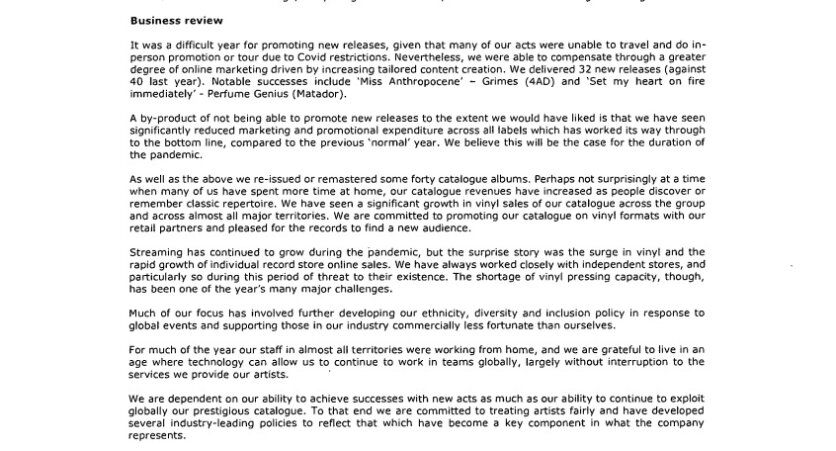 ---
Another interesting note within Beggars' annual report concerns a Parliamentary report from the UK's Department For Culture, Media, and Sport (DCMS) Committee released earlier this year.
The infamous report, which surmised months-long investigation into the economy of music streaming, was largely notable for its bashing of the major record companies – even calling for an investigation into the market power of the 'Big Three' in the UK.
Beggars Group applauds much of what was written in the DCMS report, especially concerning "fairer treatment of artists" and calls for unrecouped balances to be written off for heritage acts – something Beggars has done for its roster for many years.
However, Beggars also suggests that the report "ignored submissions" regarding the A&R risk-taking of labels, especially for a class of artists who "succeed on a smaller scale" than blockbuster acts.
"We are concerned that the DCMS recommendations could have unintended consequences by undermining parts of the current business model," writes Beggars, "and the [role] that we and other independent labels play in breaking new music."
Beggars adds, with a touch of drama: "If certain of those recommendation[s] were put into law, this would have a significant impact on our ability to continue to operate under our current structure."
Beggars may be referencing recommendations in the DCMS report that backed "equitable remuneration" for lean-back (non-interactive) plays on streaming services.
In essence, this model would see 50% of the money generated by non-interactive plays on services such as Spotify paid through directly to artists, rather than via a label (which can currently use this cash to recoup against advances).
---

---
XL Recordings: 2020 results
In addition to Beggars Group's fiscal results for FY 2020, the company's subsidiaries / partner labels have also filed separate public accounts for the period in the UK.
The largest of these labels is XL Recordings. (Remember: Beggars Group owns 50% of XL; XL in turn owns 50% of Young Recordings – formerly Young Turks Recordings.)
In 2020, XL generated £32.56 million ($41.8m) in total turnover, down very slightly on the £32.78 million it generated in 2019.
However, following similar trends to Beggars Group's own finances, XL's operating profit jumped in 2020, up 24% YoY to £7.36 million ($9.5m).
---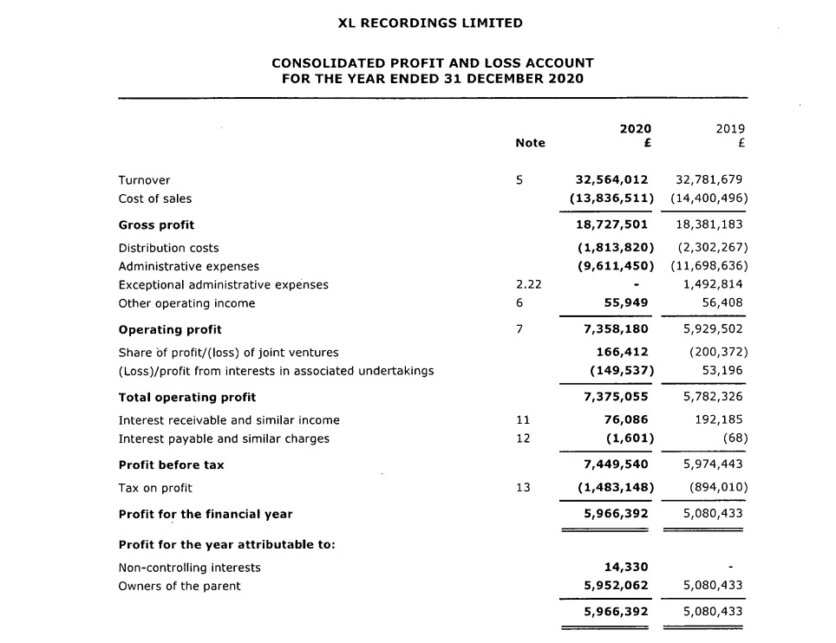 ---
XL only released six frontline albums in 2020 – the same number it released in 2019 – meaning that much of the £32.56 million it generated across the year would have come from catalog releases.
XL's catalog includes Adele's first three albums in most of the world (excluding North and Latin America), plus records by The Prodigy, Dizzee Rascal and more.
XL Recordings paid out a £10 million annual dividend to its shareholders in 2020, according to its annual report.
This money would have been split equally between its two 50% shareholders – Beggars Group Ltd and XL founder, Richard Russell.Music Business Worldwide