Latin music superstar Bad Bunny continues his streak of breaking records, this time with his latest album, Nadie Sabe Lo Que Va A Pasar Mañana, becoming the most-streamed album on Spotify in a single day in 2023 so far.
The achievement was announced by Spotify on Friday (October 13) via its social media channels.
This 22-track LP, whose title translates to Nobody Knows What Is Going to Happen Tomorrow, follows the success of his 2022 release Un Verano Sin Ti, the biggest album in the world in 2022.
---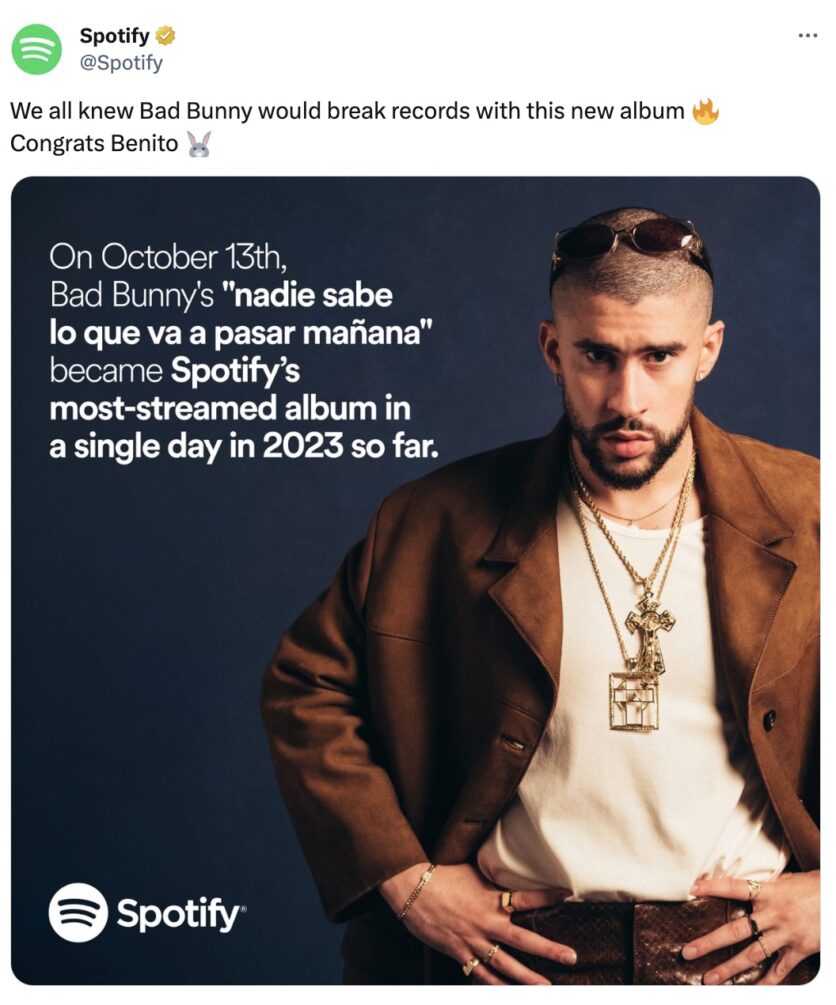 ---
The early success of Bad Bunny's new LP on Spotify follows a year (2022) in which the artist generated more than 18.5 billion streams on the platform, cementing his spot as the most-streamed artist for three years in a row on Spotify.
He was also named Apple Music's Artist of the Year in November 2022 in recognition of what the platform says is his "artistic excellence and influence on global culture in 2022″.
Bad Bunny has 12 tracks in Spotify's Billions Club, more than any other artist in the platform's history.
Leading up to the album's launch, Spotify strategically placed cryptic billboards in cities worldwide, teasing the album's title, Nadie Sabe / No One Knows, fueling online speculation and heightening anticipation among Bad Bunny's fan base.
Released on Friday (October 13), the new record includes tracks such as Monaco, Mr. October, Cybertruck, Teléfono Nuevo, Acho PR, and Thunder y Lightning. The LP opens with Nadie Sabe and concludes with Un Preview.
---
Latin music generated $627 million in gross revenues in the US in the first half of the year according to the Recording Industry Association of America's (RIAA) Mid-Year 2023 Latin Music Report.
Published last month, the report shows that on a retail basis (money spent on streaming subscriptions, as well as physical and digital music), Latin music revenues grew 14.8% YoY in the US in H1.
Latin music's share of overall US recorded music revenues grew from 7.1% in the first half of 2022 to a new high of 7.5% in the first half of 2023.
Meanwhile, according to Luminate's newly-released Latin Music Report, on-demand audio streaming of Latin Music in the US jumped by 22.2% YoY in the first 34 weeks of 2023, to 57.9 billion streams. That compares with a 13.3% YoY increase in streamed music in the US as a whole.
---
After raising grossing hundreds of millions of dollars on his tour last year, Bad Bunny ventured into sports management earlier this year, launching a new sports management agency, called Rimas Sports with his manager and Rimas Entertainment CEO Noah Assad.
Music Business Worldwide