Across its mere seven years in existence, Tap Management has steered the career of an international star, Lana Del Rey, while developing a major UK breakthrough artist (and double-BRIT winner) in Dua Lipa.
The London-based firm – which has now set up shop in the US, UK, Australia and Germany – runs a successful publishing arm, and recently announced plans to build up its very own record label.
Tap was founded by Ben Mawson and Ed Millett, who were crowned Managers of the Year at the UK Artist and Manager Awards in 2017, where Lana Del Rey delivered a passionate and considered tribute to the duo, praising their "principles, ethics and goals".
---
The beginnings of Tap Management arrived in 2009 after Mawson, then a practicing lawyer at SSB, met Lana Del Rey, ostensibly to help get her out of recordings and publishing deals she'd signed early on in her career.
That working relationship turned into management – before Mawson realised he needed help. He teamed up with Millett, who was then working at London-based Crown Management.
"At the time when Ben and I were talking about what we wanted to set up, streaming wasn't really happening yet," recalls Millett.
It had only been a year since Spotify's public UK launch – but Tap was already noticing change in the industry.
"Managers were doing more of the development work for artists, while labels were doing less, signing stuff later with less money," adds Millett.
"Ben and I wanted to be in a position where we could provide all the services [that a label would traditionally provide] to an artist ourselves. Lana was almost like a test case – we developed her with what we had at that time."
---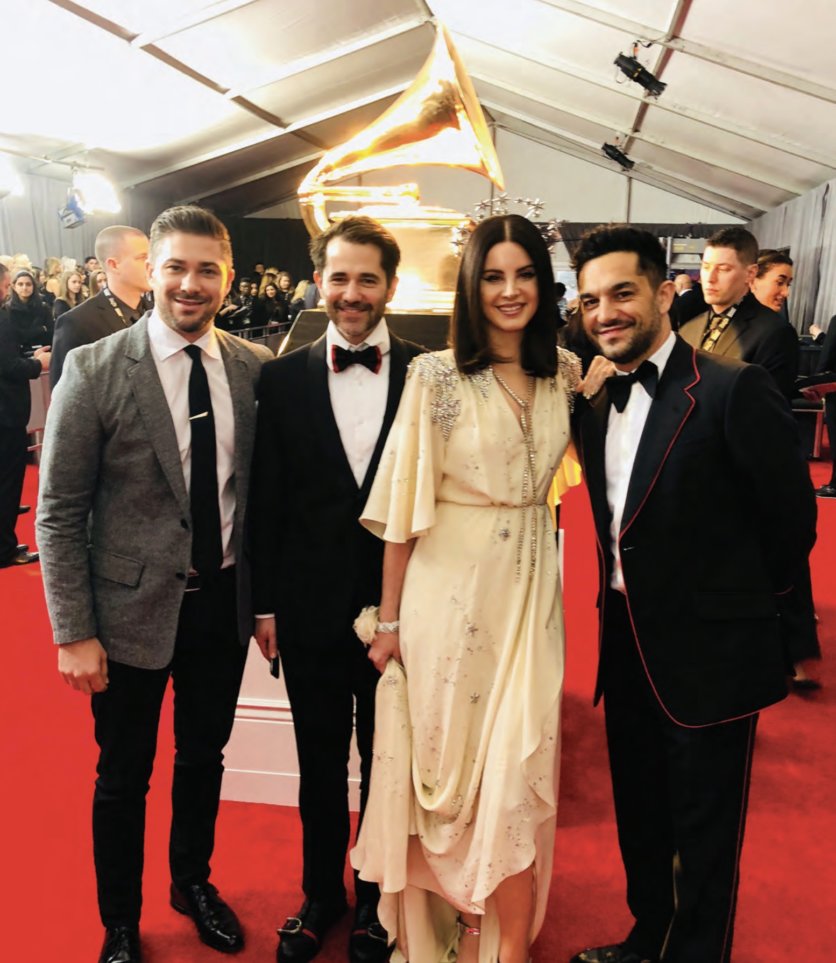 There was initially no label interest for Del Rey until she released Video Games alongside a self-made video.
Millett and Mawson hired an online PR, released the single on vinyl and iTunes and crossed their fingers. It went viral, Fearne Cotton played it on BBC Radio 1 and Del Rey suddenly had multiple label offers.
Tap eventually signed Del Rey to Polydor in the UK and Interscope in the US. She has subsequently released four albums, including three UK and two US No.1s. Tap met a then-17-year-old Dua Lipa in 2013 when she was holding meetings with various management companies.
While competing for her signature, Mawson and Millett immediately invited her into writing sessions – where what would become one of her standout singles, Hotter than Hell, was created.
"That's what's so amazing about Dua," says Mawson. "We've seen artists who might get half a good song out of 10 writing sessions; with Dua, one in five or one in four is a banger. She gets results out of other people as well, because her personality is so engaging and she is so charismatic. She definitely has that special something."
Last year, Dua Lipa hit No.3 in the UK with her self-titled debut LP, which has since gone Top 10 in the US. (She has also, for the past few weeks, owned the Official UK Singles Chart by featuring on the Calvin Harris smash, One Kiss.)
Lipa's video for UK No.1 hit New Rules recently reached 1bn plays on YouTube, shortly before the artist swept the BRIT Awards, taking home gongs for British Female Solo Artist and British Breakthrough Act.
"Dua has left everyone in her wake and that's partly because she's worked so hard and is always looking to improve."
Of those BRIT wins, Millett says: "I wasn't that surprised because [Dua] has just eclipsed everyone. This time last year we were scoping out the competition like, Who is there?
"She has left everyone in her wake and that's partly because she's worked so hard and is always looking to improve. Every day she gets better which is why things have moved really quickly for her."
---
Tap's label, quietly launched in November, exists as a joint venture with Universal Music, and the firm's publishing arm is administered by UMPG.
Tap has recently hired three respected UK execs to help boost its executive firepower: Director of Marketing Hannah Neaves joined from Atlantic; Anna Neville, who was previously at Beggars Group, has been named GM & Director of Business Affairs; and Senior Manager Tony Beard brought La Roux and Rat Boy over from Maverick.
In addition, Phil Sales has joined from Three Six Zero, bringing Sasha and Disciples to Tap with him.
Tap's early label clients include London artist Col3trane, who was developed by the firm's management side before being upstreamed to Interscope in the US. He remains on Tap's label in the UK.
Other priority projects for Tap this year include Grace Carter and Dermot Kennedy, and the company has recently signed Ellie Goulding as a management client following her split with First Access.
Millett and Mawson found an hour in their busy schedules to sit down with MBW to chat about Tap's success, the launch of their label, as well as a few thoughts about the music business at large…
---
How has the role of artist development evolved in the past few years?
Ben Mawson: Back when I was a lawyer, everyone was saying that management companies were the new labels, as record companies were less and less interested in projects that didn't have most of an album finished. There is the occasional exception but mainly it's moved further in that direction.
[Record company] A&R exists but it's diminishing. A lot of stuff arrives at labels when it's up-and-running – that's the healthiest time to sign something. Major labels have their place, but artists can very easily put their own music out and get a much better deal. Labels are generally in a much better place to help when things are already rolling.
Ed Millett: Dermot Kennedy (pictured inset) is a case in point – he self-released seven songs, Spotify and Apple got behind him and he has income to fund his career and touring. Streaming has made it possible to launch an artist and have them make an income without having them sign a deal, and it's also global straight away.
If you've got good music, it gets to people. You don't even need to pay a publicist. It makes sense to sign a [label] deal when you've got to start spending proper marketing money. But by that stage [of development], the producers have typically created an identity with the artist.
Those relationships have been built, so it's often quite hard for a label to come in and make those decisions. What you need at that point is muscle, manpower and money. Then it comes down to a conversation about the state of record deals.
If we've already done the [A&R] work, taken the risk out of it, and Dermot arrives at a record deal when he's already making good money each month, what risk are labels taking to warrant a traditional deal?
---
So record label deals end up becoming more akin to a label services agreement?
Ben: Whether or not it's an actual label services deal [in structure] is a deal point. But I definitely don't want to be too hard on labels. For example, Dua signed to Warner [Bros] relatively early – she had a couple of big songs, but not New Rules, and that was unusual. It was to the credit of [UK label A&R] Joe Kentish that he wanted to get involved that early.
When I was a lawyer, I used to say to artists that the best way to get a record deal and give yourself the best chance of success is to look like you don't need one, and get things rolling yourself. That's our motto at Tap, generally speaking. And these days it's more possible than ever. You can shoot a video on an iPhone, press a button and upload music. People can find your music so easily, you can become viral with no team thanks to social platforms. That's a powerful tool.
Ed: When artists are figuring out their identity and music, keeping it within a small management team allows that artist to really experiment and build relationships with a few people. If you go into a label system too early, the minute you open that door you've got 50 opinions from people trying to justify their position – and if you're not singleminded as an artist you get lost in that.
You're suddenly wearing certain clothes because someone has pulled a favour [with a brand] and you've got all these other deals going on. It's such a risk as an artist to enter that machine unless you're absolutely ready. So what we do is make sure that all of our artists who enter that environment have a really strong sense of self, both musically and visually, which is partly why they are successful.
---
What are your management principles?
Ben: We don't leave anything to anyone else. We hope that third parties are going to add value, but we don't count on it happening and we try to ensure that everything an artist possibly needs to become successful is catered for by us individually, or by people we've employed. So when there are weak spots at a label – maybe we lose a member of an artist's label team when someone leaves – we are self-sufficient.
A good label adds real value but we don't count on anyone else for our artists to be successful. In management, you've got to be really passionate and driven because you're on a percentage and 20% of nothing is nothing. There is no safety net in what we do – we are putting our necks on the line for people we believe in all the time.
Ed: All day you're thinking two steps ahead for an artist. I'm obsessed with the tiny things; I'm constantly on artists' socials, making little suggestions [to the Tap team] that someone else could probably do but I can't wean myself off it because it's so important.
I think about every single detail and how people are perceiving that artist when they go out into the world. You have to have the time to be obsessive, otherwise you're not doing your job properly.
---
You've got offices around the world – how does that impact what you offer artists independently?
Ed: We've always had an eye on the global nature of music and we don't want to be a 'UK company'. Now more than ever it's so important to start America at the same time as everything because it drives all your Spotify numbers.
We get tonnes of support across our roster in Australia, where we have an office set up by Angus & Julia Stone's manager, who was a promoter. We also sign quite a lot of things direct in Germany because it's a great market, they can take stuff to radio and make it work and don't have to wait for the UK to drive things.
That worked for Dua, for Lana and for Grace Carter, who is directly signed to Sony out there and signed to Universal everywhere else.
Ben: Lana got her record deal in Germany first – it's such a huge market. You can have a career just in Germany and be very successful. Everyone used to be kind of obsessed with the Radio 1 playlist but we've always tried to be as global as possible and put an emphasis on all of the important territories.
---
If you're thinking about the US first, does that mean you're shopping for a label deal over there before the UK?
Ed: We have a direct relationship with Spotify and Apple over there. We used to have a management-allocated person and a label-facing person, and [Spotify] are now merging those people so there's one person that speaks to label and management for each artist.
What that means is, we have a UK person and a US person at Spotify for each artist who you send the music to, they hopefully support with playlisting and you build the story from there. You don't necessarily need a label to do all that.
---
How about radio?
Ed: Radio in the US happens so far down the line now, and it's getting like that in the UK. How do you get on the Radio 1 playlist? There are hardly any entry points anymore.
Dermot is a case in point, he's just sold 1,600 tickets in a few hours in London, he's selling out 1,000-capacity venues all around the world with no radio, no press, it's all done through streaming. He's up to 100 million streams on Spotify.
---
Is streaming a wholly good thing for the music industry?
Ed: There are a lot of negative views about streaming, but I don't share them. I have negative views about some label deals on streaming because that money does not go through to artists. All of that noise about Taylor Swift not going on Spotify was shooting the wrong guy.
The money is coming from the streaming services but it's going into labels and those [catalogue] deals are based on a completely different model – selling one item.
---
You've recently launched a label, what are your ambitions for that?
Ben: Our ambition generally is to have successful artists. Whether we are the managers, publishers or label is really just a rights and legal contract thing. Launching the label wasn't really about being a label, it was about having another vehicle for successful artists.
---
And what's the deal with Universal?
Ben: The label is a JV with Universal. So for anyone we sign for records, once we do the development work, we can upstream it to any label within UMG. For Col3trane, we have chosen Interscope in the US and we're going to be the UK label ourselves. We've spent about six months working on that one so it's been a pretty quick turnaround.
We've now got three or four others we're about to sign or offer on; some we manage, some we don't. The JV with Universal is only for the label – the artists that we manage can sign to anyone, there is no restrictions on that.
---
Do you have any ambitions to grow your publishing arm?
Ben: We definitely want to expand the publishing side. We're looking to be very active as publishers, and we're looking forward to working with third party managers, adding our management perspective if it's needed, but not being involved on the day-to-day level.
There are only so many people you can manage until you drop dead! We want to give total dedication to those we manage but I think we can also add value as part of a team, whether it's as publisher or label.
---
Dua Lipa has been hugely successful – what's the plan for her going forward?
Ben: At Warner, at the beginning, I was going in and expressing urgency about just how much of a superstar she had the potential to be. Someone who works in international said to me recently, 'I remember you were saying to me a year ago that we were competing with Rihanna and I've realised that now we really are.'
Warner have been great and they are all really focused on taking [Dua] to where we've always thought she could go, which is to be the No.1 female artist in the world, not just the UK. I really do think she's got that in her. If she progresses development-wise the way she has over the last two years, in the next two years she's going to be the biggest artist in the world.
---
Why did you decide to sign her to Warner Bros.?
Ed: Dua was really smart – she signed to Warner Bros partly because they didn't have a big female pop artist and they needed one. They really wanted her, so she had the focus of the team from day one.
---
When you signed to Warner Bros. UK, Miles Leonard was President and now Phil Christie is. And in the US, Tom Corson stepped in at the beginning of this year…
Ben: Phil is great and everything is stable now. It was a bit different at the start! They've got an amazing radio person in Jane Arthy, Phil [Christie] and Joe [Kentish] for A&R and Alex Burford for brand marketing – it all works well. We are really pleased that Tom Corson has joined from RCA and he has already made a difference. And Dua is signed to Tap for publishing.
Ben: When we're looking to keep an artist out of the label system – to have the power of building it up independently first – you need a means to do that. With Dua, I wanted to get her out of her job, she was working as a waitress in a cocktail bar, quite literally, and going to bed at 3am and needing to get up again for a session. So we gave her a monthly salary, which I think she's still on, to get her out of the job.
She was 18 and didn't need too much money to live off so that's where that came from. It works well for those [management clients] of ours that we publish, in the sense that we don't [take a] commission from their publishing as managers, so there is a saving there for the artist.
Ed: It's not about setting up a publishing company that is trying to compete with another independent publisher. It comes down to flexibility. We are administered by Universal on a short-term deal, so if we are not happy with that – which we are – we can move to a different company. Dermot has the same deal with us too. It keeps control around the artist, they can effectively change publishers if it's not working.
---
During Lana's speech at the A&M Awards in London last year, she praised you both for having shared principles and gave a nod to the #MeToo movement. As managers of two leading female artists, do you have conversations about sexism and equality, and do those tie into marketing decisions?
Ed: The way we look after artists is a partnership and the whole point is to empower someone, to finesse them and help them get even better. Everything they do is coming from them. We've never put Dua or Lana in a position where they're told, 'You need to be sexy.'
Ben: We look after them, but they are strong-willed and opinionated females. Dua won't let anyone over-sexualise her. Lana was shot nude for GQ and there was outcry from some people saying it was in some way demeaning, but she was like, I'm having a laugh! Lana is a very strong woman – she doesn't let anyone walk all over her, and Dua is the same. They are totally in charge of their creative.
---
Do you have any opinions on the ongoing allegations about sexual harassment in the music business?
Ben: One thing that would be good is to get an independent collective of people from different labels and walks of the industry to openly discuss these issues and try and come up with solutions.
There are two main things: (i) Do women have equal opportunities in the music industry?; and (ii) Is there an issue of harassment taking place, which is a principle of modern employment law?
---
Final question, what are your ambitions for Tap and the artists you look after?
Ed: We want to work with more artists and break more artists. We're not really set up to do small independent stuff, we want global success with everybody. But we don't have the objective to become a massive corporate management company, it's always going to be relatively boutique.
Ben: Lana is going to keep putting music out. She's got another album in the works and her fanbase is as rabid as ever. For Dua, the sky is the limit; she wants to end up performing in stadiums.
Ed: Dermot Kennedy is such an unusual and unique proposition, every time we put anything on sale it sells out. We've just sold out three shows in Australia in a few days and he's never done anything over there, it's all based on Spotify.
---
Is that a model for artists in the future, or is he an exception?
Ed: I don't think I know the answer yet because it's all so new.
---

The above interview was featured in the Q1 2018 edition of Music Business UK magazine – a weighty quarterly title from the MBW team which is available via an annual physical or digital subscription.
For more details and to book your annual subscription starting with our upcoming Q2 2018 issue, visit MBW's online store through here.Music Business Worldwide