Prepare yourself for Apple-geddon.
For the past ten months, Apple Music has been facing the same question from the upper echelons of the music business: when are you going to go big on marketing?
Unlike Spotify, Apple doesn't have to rely on investment bucks to fuel its promotion – it can turn to its $200bn-plus in cash reserves.
So far, though, Apple Music's advertising push has only occasionally reached mainstream levels – certainly when compared to the likes of its Beats by Dre devices.
That's all about to change.
According to Bloomberg, Apple Music is getting an overhaul at WWDC in June – the San Francisco event which the Cupertino giant used to launch the service last year.
(MBW has also been told by label sources that a major redesign is coming, but pegged for a 'pre-September' public launch.)
Following what Bloomberg calls a "management shakeup",  Apple Music's new look is being overseen by content head Robert Kondrk and Nine Inch Nails frontman Trent Reznor. Apple's renowned design boss Jony Ive is also involved, along with Jimmy Iovine and Eddy Cue.
The revamp will focus on making the app more intuitive, according to the report, while Apple "also plans to better integrate its streaming and download businesses and expand its online radio service".
By the end of this process, says Bloomberg, "The changes will be accompanied by a marketing blitz to lure more customers to the $10-per-month streaming service."
Music to the major labels' ears.
But what will this new app look like? We have some ideas.
First, trustworthy Apple insider site 9 To 5 Mac reports that the platform is going to get a notably black and white user interface.
"For instance, the user interface in the albums view will no longer change in appearance based on the color of a particular album's art," it notes.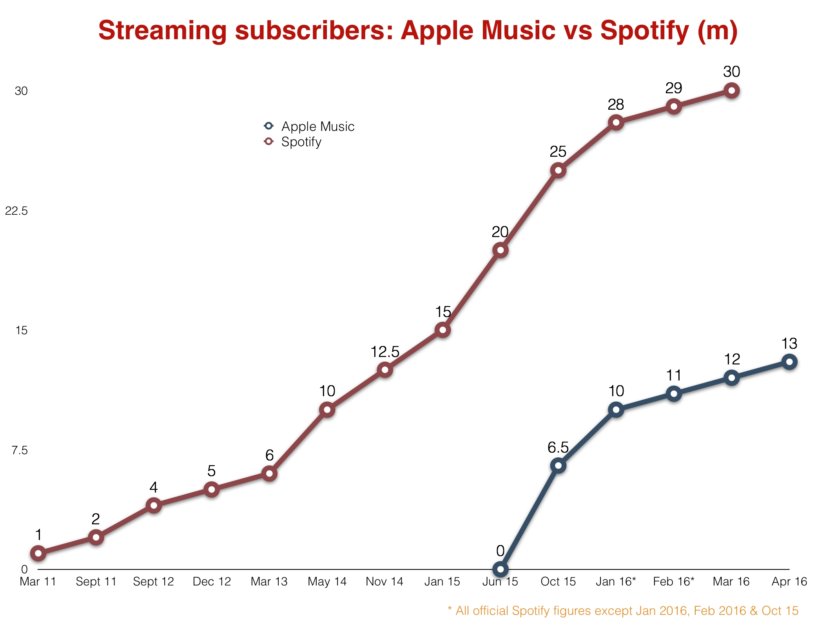 The site's sources add that album artwork will be presented in a "huge" way – and become a larger part of the interface.
"The new interface will also make use of additional 3D Touch shortcut previews and better promote the ability to share songs," it adds.
9 To 5 Mac reports that Apple's Connect channel – the direct-to-fan element of the service whose performance has disappointed certain major league managers – will remain largely unchanged.
That contrasts slightly with what we heard from Dave Bianchi of Various Artists Management (Charli XCX, The Libertines) back in February, when he said on a panel:
"I've seen what's coming next with Apple Music and I think that's going to be far more of a manager/band/label direct-to-consumer [platform].
"From what I understand, it's going to be a little bit like MySpace – every person's page on Apple Music is going to be a little bit like that.
"The technology companies are understanding that direct relationship has to be given back to the [artist]."Music Business Worldwide