On June 8, 2015 the music and tech world's eyes were glued to a live stream from San Francisco's Moscone Center.
Apple's Worldwide Developers Conference was almost over, when Apple boss Tim Cook, with three words – Steve Jobs's classic "One More Thing" grand finale signaller – changed the digital music landscape.
The world's richest company then sent one of the globe's biggest artists out on stage to publicly endorse its new music streaming service, Apple Music – and one of its key differentiating features, direct-to-fan social tool, Connect.
As Drake walked out to cheers and applause wearing a vintage Apple varsity jacket, chest emblazoned with the company's rainbow logo, Apple's new Spotify competitor was made instantly cool; and Connect was made instantly credible.
"The dream of being a new artist like myself five years ago, and connecting directly with an audience has never been more close and reachable than right now," evangelized Drake, pacing from stage left to stage right.
"We encourage you to spend the time on your body of work," he added, punching his left hand into his right hand to emphasize his message. "Spend the time on your craft, assemble the right body of work.
"And instead of having to post your stuff on all these different and sometimes confusing places, it all lives in one, very simple, very easy place, and that is Connect."
"Instead of having to post your stuff on all these different and sometimes confusing places, it all lives in one, very simple, very easy place, and that is Connect."

Drake
When Drake high-fived Apple's Senior Vice President of Internet Software and Services Eddy Cue (or as Drake calls him, "that Boy E Que") and walked back behind the curtain to update his Instagram account, we were all left convinced.
In a world where every streaming service is desperate to differentiate itself, Apple had something really unique. Connect could have been hugely influential.
Except it wasn't. Four years on, Connect is no more – but just how big could it have become, had Apple committed more readily to its relationship with music fans, and its growth?
---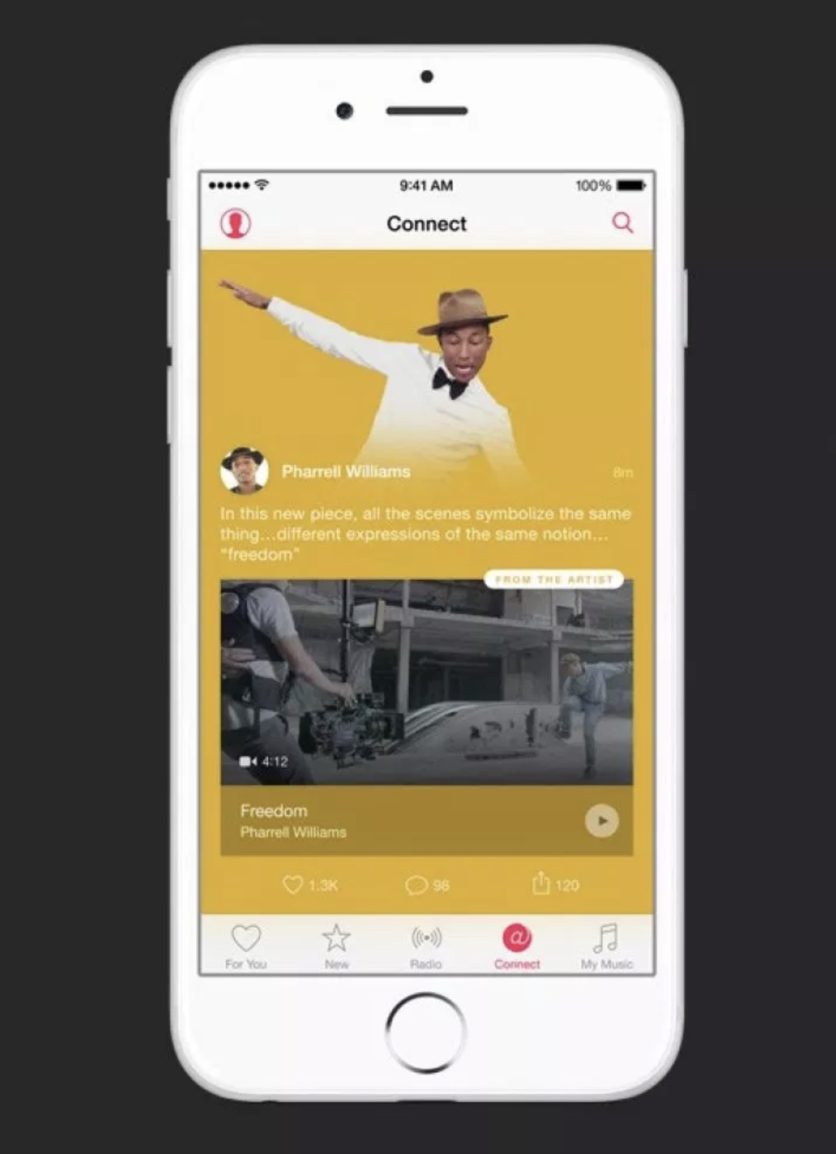 At its core, Apple Music Connect was a social media platform embedded into the Apple Music ecosystem. Artists could use it to share lyrics, exclusive photos, videos or even release their latest song directly to fan followers from their iPhone.
Fans could then comment on or 'like' something an artist posted, and share it themselves direct to iMessage, Facebook, Twitter and email. Artists could develop followings, just like they can on the aforementioned social media platforms, and also respond directly to a fan's comments.
As such, Connect was sort of an Instagram–SoundCloud-Facebook-Twitter-YouTube hybrid. This is why Jimmy Iovine, Apple's former Head of Music Operations, described Connect at the time as one of Apple Music's three key differentiating elements, alongside human-curated music streaming and the 24-hour Beats 1 radio station.
On the day of Apple Music's launch at the Worldwide Developers Conference in June 2015, Iovine echoed Drake's words regarding the "confusing places" to post content online, and described the music industry as "a fragmented mess".
"You want to stream music, you can go over here; if you want to stream some video, you can check some of these places out; you want to follow some artists, there's more confusion for that," he said. "So I reached out to Tim Cook and Eddy Cue and said, 'Guys, can we build a bigger and better ecosystem with the elegance and simplicity that only Apple can do?'"
Iovine – who has always had a knack for backing pursuits that were somewhat ahead of their time, like Farmclub – appeared to be the key (maybe only) senior Apple exec that saw Connect's long-term potential.
He told the WWDC audience that "this is going to be very powerful for musicians".
"Can you imagine being an up and coming artist and being able to share your music on the biggest platform in the world that people already have?"

Jimmy Iovine
Speaking to Wired in August 2015, Iovine acknowledged that there was much work to do to build Connect to the point of being a truly influential social media platform for artists, admitting that it "will be the piece of the service that comes along last, or later".
"We have to prove [Connect's value to artists], and we will slowly prove that," he explained.
---
Despite Apple Music starting from scratch in June 2015 (seven years after Spotify's arrival), thousand of artists clearly recognized Connect's potential value upfront.
Tim Cook told investors in Apple's Q3 2015 earnings call that over 15,000 artists had signed up to Connect, barely a month after launch.
This initial popularity with the artist community would have been helped by the fact that several high-profile case studies were shown off at WWDC, including a video of Chris Cornell using Connect to post lyrics of an unrecorded song, and a video of Bastille debuting new material from inside the studio.
Yet the 15,000 figure appears to be the last time Apple made a public statement on Connect's user figures. In fact, by September 2015, just three months after launch, artist engagement on Connect was starting to look worryingly sparse.
Like Ping, Apple's previous failed attempt at launching a social network, it seemed clear early on that, despite its early promise, Connect was looking doomed to fail.
Apple finally shut down Connect in December 2018, telling users it was "streamlining music discovery"; but, in reality, the feature had already been a noticeably low-priority aspect of Apple Music for the past three years.
---
Apple Music Connect bombed for a number of reasons.
Social media works because it enables content to go viral. Apple tried to apply a 'locked door' philosophy to a format that thrives on being open, encouraging virality and rewarding it.
Look at recent successes like Lil Nas X, whose record breaking No.1 mega smash Old Town Road partly has TikTok (a two year old social media platform) to thank for its global commercial triumph. (Don't forget the role that Instagram played in connecting Lil Nas X with the exec who signed him to Columbia Records, either.)
Virality = $. The way Connect was set up didn't allow for this to happen. Why would an artist in 2015, either unknown or household name, have wanted to spend time creating content for a minuscule audience on Connect when they could reach potentially tens of millions on Twitter, Instagram, Facebook, YouTube or now, TikTok?
Furthermore, not only did artists have no motivation to post content on Connect, but fans weren't incentivised to engage with it.
Social media feeds narcissism. All active social media users, whether they admit it or not, crave to grow their follower counts and for their posts to be retweeted, shared, liked and viewed.
This pursuit of validation is one of the reasons why social media proves so addictive – and Connect simply didn't offer it.
There was no way that an artist like Drake could engage with every single one of his fan's comments, yet those same fans could get a huge response from say, posting a video of Drake from the front row of an arena gig on Twitter.
---
Could Apple have changed its approach to Connect and, instead of canning it altogether, allowed it to realize its potential?
That would have required deeper, more open integration with other social media services, for one thing.
But there are also the essential factors of patience, and investment – neither of which Connect seemed to get following its initial faltering.
Food for thought: when Apple Music and Connect launched, in June 2015, Instagram had between 300m and 400m monthly active users worldwide; by summer 2018, that number had surpassed a billion. It's expected to top 1.5bn by the end of this year.
Apple Music, a paid-for service, remains comparatively tiny. But the fact remains: in June 2015, when Connect was announced, Apple Music had zero users; now, it has over 60m. That's not in the same league as TikTok, Instagram or even Spotify, but it's not inconsiderable, either.
Those 60m people also consist of an audience of people serious enough about music to pay $9.99-a-month for it.
Could this audience, with an 'open' platform at their disposal, become a hugely influential 'firestarter' faction, igniting global conversations across Insta, Twitter, Facebook et al? Conversations centered on artist content… which exclusively dropped first on Apple Music Connect?
---
This status for Connect, as the first point of global social chatter about artists, would certainly have played well for Apple's own ambitions to ratchet up its global subscriber numbers.
To succeed, it would have required Apple giving users access to popular social features that have proven to be all-important since Connect's launch; features like posting short form video, or the ability to monetarily 'tip' artists, or tools to easily share playlists between fellow Connect users (an perk which NetEase Cloud Music's 600m users are able to enjoy in China).
With these improvements made to Connect, could it have maximized its viral potential? And in doing so, could it have given Apple Music a key differentiator in a music streaming landscape where, post-superstar exclusives, all on-demand audio services regularly face criticism for offering, essentially, the same catalog and features?
In summer 2015, Apple Music's combined premise of securing artist exclusives and encouraging artists to autonomously upload never-before-seen content to Connect – be that lyrics, live performance videos, or new material – was a recipe for irritating labels and publishers; the rightsholders whose music gives streaming services its lifeblood didn't like this lack of control one bit.
Yet you wonder, in a 2019 pop music business under the grip of Instagram and TikTok's virality stranglehold, wouldn't the record labels now prefer Apple Music – a service which persuades tens of millions of fans to pay artists and rights-holders every month – to have a horse in this race?
---
Oh, just One More Thing…
What might be the most valuable benefit that Apple Music lost by killing off Connect?
The data. This is especially true now, with Apple Music trying to woo artists with its analytics suite Apple Music For Artists (AMFA), which MBW understands Apple is claiming to be "the best available" in the market.
This boast could have been an indisputable fact, if Connect was allowed, and encouraged, to grow to its full potential.Music Business Worldwide