After a turbulent couple of years, Amuse is still in the game.
The Swedish independent music distributor / artist services firm has posted net revenue for 2021 of 261.6 million SEK (approximately USD $25.6m at current exchange rates).
That was up by 61.5% YoY, versus 161.9 million SEK in 2020, according to financial results filed in Sweden for the company's 2021 calendar year ended December 31, and obtained by MBW.
In addition to growing its revenue last year, the firm also managed to reduce its operating loss by some 33%.
Amuse's annual operating loss narrowed in 2021 to 48.4 million SEK ($4.7m) – down from 72.7 million SEK ($7.1m) in 2020.
As reported in Amuse's new financial results, which you can read here, the firm's 2021 operating expenses grew to 314.9 million SEK ($30.7m).
That was up significantly year-on-year: Amuse's annual operating expenses in 2020 stood at 236 million SEK ($23m),
The company's earnings report reveals that – within these operating expenses – its 'Direct Operating Costs' soared to 235.5 million SEK ($23m) in 2021 (see below).
---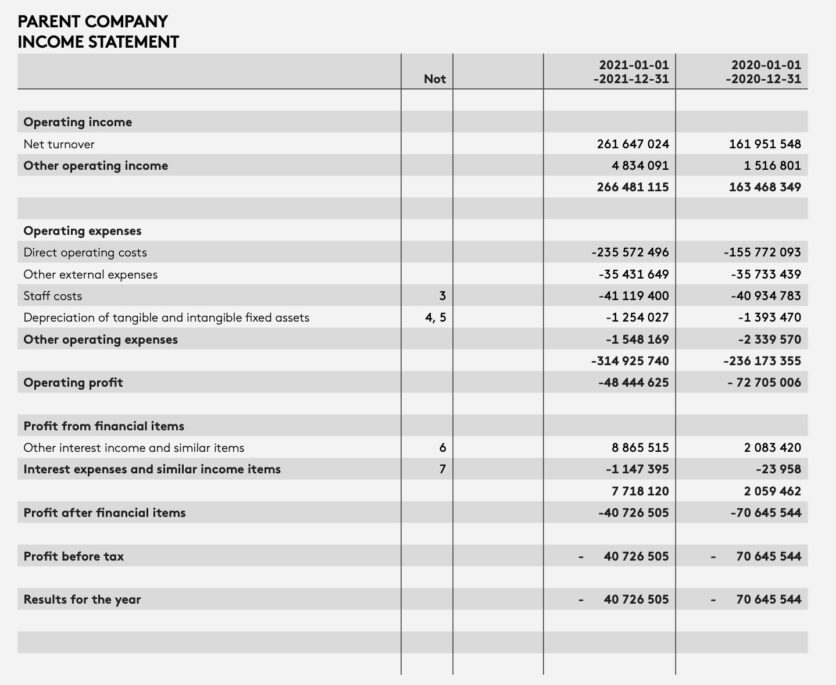 ---
MBW reached out to Amuse CEO Roshi Motman to discuss the firm's numbers.
She told us that the rise in 'Direct Operating Costs' was "directly related to the royalties we process", adding that "in other words, this increase is tied to the expansion of our services and user base".
Motman also says that Amuse expects this number to be "even higher going forward, of course in combination with a continued trend of improved overall profitability".
Within the report, Amuse reveals that it is now majority-owned by UK-based investment firm the Bridford Group.
Motman, who took on the CEO role in January following the departure of Amuse's co-founder and Chairman Diego Farias, told MBW over email: "Bridford and Amuse have had a strong relationship since the launch of [Amuse] in 2017, and Bridford was one of our first investors."
Added Motman: "As the company has grown, Bridford has remained one of our main supporters and financial backers, leading to them eventually becoming the majority owner as of last fall."
Commenting on how being part of Bridford Group's portfolio impacted Amuse's business over the past 12 months, Motman told us: "It is very powerful to have a majority investor and partner that has supported the vision and mission of Amuse since day one."
---
Amuse's business model was originally based on a two-tier premise that included free distribution, plus an in-house record label.
The idea was to dig through its own data to sign rising stars coming up via the firm's free tier to its record label.
The company explains on its website that its "label team uses the music consumption data flowing through our distribution service to discover, sign and build rising talent".
It adds: "We partner with select artists that we believe in, offering tailored, flexible deals that can include advances and, at times, support services".
In March 2020, Amuse launched Amuse Pro, a premium tier offering DIY artists more advanced tools, on top of the basic (and free) digital distribution option, for $59.99 per year.
Amuse also offers a service called 'Boost' for $24.99 per year that promises to "boost" releases "with faster deliveries and more streaming services".
---
According to written comments from CEO Roshi Motman within Amuse's new financial report, much of the company's growth in 2021 was driven by its label business.
Motman cites signed artists such as Yot Club, 80purpp, Serhat Durmus and Vundabar as showcasing "both revenue and proof-of-concept".
Commenting on her predictions for this part of the company's business over the next 12 months, Motman told MBW that, "as the independent market grows, being able to offer customised, artist-friendly services that adds value will be key".
Added Motman: "We consider the "old" way of doing label deals obsolete. We'll continue to work with managers and artist teams to establish setups where artists can remain in creative control whilst still being able to grow their audience with the help of smart services and marketing.
"Our distribution and label services will continue to go hand-in-hand. Our distribution service provides us with an opportunity to service the growing self-releasing market.
"It also makes it possible for our proprietary tech to discover promising talent earlier than any competitor, and to make educated decisions on how we can help them grow with the help of our label. That remains the core of the idea behind Amuse."
---
In addition to its distribution and artist services, Amuse also offers artist financing via its "Early Access" and "Fast Forward" tools.
Early Access, according to Amuse, "gives artists access to upcoming royalties as small as $10 USD from weeks to months earlier than stores' payout".
The other financing option, Fast Forward, analyzes artists' streaming data to calculate and pay out advances. Amuse claims on its website that it has paid over 6,500 advances totaling $2.3 million so far.
(As reported by MBW in 2019, Lil Nas X was offered a $1 million-plus advance from Amuse CEO Diego Farias before signing his break-out track Old Town Road to Columbia Records.)Music Business Worldwide