A fledgling coalition of industry groups and unions working to defend human creators' interests in the age of AI says it has expanded its membership by 50% in a matter of a few weeks.
The Human Artistry Coalition (HAC), launched at the South by Southwest (SXSW) Conference in Texas in mid-March, says it now has more than 70 members worldwide.
The coalition doesn't oppose AI technology as such; it says its goal is to ensure that AI develops "in ways that strengthen the creative ecosystem while continuing to recognize the unique and irreplaceable role of human artistry in culture and the arts."
Amongst the group's original members are the Recording Industry Association of America (RIAA), which represents over 1,600 recorded music companies, including the big three – Sony Music Entertainment (SME), Universal Music Group (UMG) and Warner Music Group (WMG).
HAC's ranks also include SAG-AFTRA, a union representing 160,000 artists worldwide, including recording artists, movie and TV actors, journalists and radio personalities.
HAC's new members include music industry groups in various countries, including Argentina, Austria, Canada and Germany.
The group's formation comes amid a veritable explosion in AI technologies following the release late last year of OpenAI's ChatGPT app.
As numerous businesses race to jump into the AI game, either as creators of the technology or users of it, a growing number of people and organizations are raising concerns over what AI's development could mean for human creators and workers.
A recent report from investment bank Goldman Sachs estimated that about 300 million jobs worldwide could be automated using AI technology, and around two-thirds of all jobs in the U.S. and Europe "are exposed to some degree of AI automation."
Those concerns are particularly acute among music creators, who are facing a rapid rise in AI music-making apps such as BandLab and Moises, which now boast tens of millions of users.
China's Tencent Music Entertainment recently released more than 1,000 tracks featuring AI-generated vocals, one of which now has more than 100 million streams.
Meanwhile, music streamer Anghami says it aims to build a catalog of 200,000 A.I.-generated songs.
The question of copyright has become central in the debate about AI in creative industries.
Of the seven principles that the Human Artistry Campaign has put forward for guiding the development of AI, three concern themselves specifically with copyright:
Use of copyrighted works by AI apps should require authorization and licensing.
Government should not allow copyright or IP exemptions that would allow AI to "exploit creators without permission or compensation."
Copyright should only protect "the unique value of human intellectual creativity."
While creators worry about being sidelined by technology, recording industry companies worry about what this could mean for their business.
"What many people don't realize is that most of these AI systems acquire their essential base of 'knowledge' from vast quantities of copyrighted content, without seeking consent from, nor providing compensation to, those who actually produce and own this indispensable source material," Michael Nash, Executive Vice President and Chief Digital Officer at Universal Music Group, said in a recent op/ed for MBW.
"In some cases, this is used to produce outright fakes. Often, it simply produces a flood of imitations — diluting the market, making original creations harder to find and violating artists' legal rights to compensation from their work."
---
Still, some see AI as a potentially positive force in music – at least for artists, if not for labels and publishers.
In a recent op/ed for MBW, Ran Geffen Levy, the CEO of Israel's Amusica Song Management and Chief Future Officer at OG.studio, argued that AI could shift the balance between music creators and their labels and publishers.
"It's not a big stretch to imagine an AI … plugin that is able to recreate new, original music in the style of a specific, famous artist. The plugin could then be marketed and sold under the name of the musician," he wrote.
"A license would be required to use the musician's likeness and image rights. Crucially, these rights are typically owned by the musician themselves or their estate – not the labels or publishers."
This kind of arrangement "would be a unique opportunity for artists, who could request a percentage of the income generated by such a plugin, using AI tools to identify potential hit songs and becoming more involved in the production process. They could also collaborate with their fanbase to create music and content."
---
You can see the full list of 70 members now signed up to the Human Artistry Coalition, with newly-added members in bold, below.
The orgs listed as members of HAC individually represent the interests of IP rightsholders in industries including music, film, sports, graphic design, photography, journalism and more.
---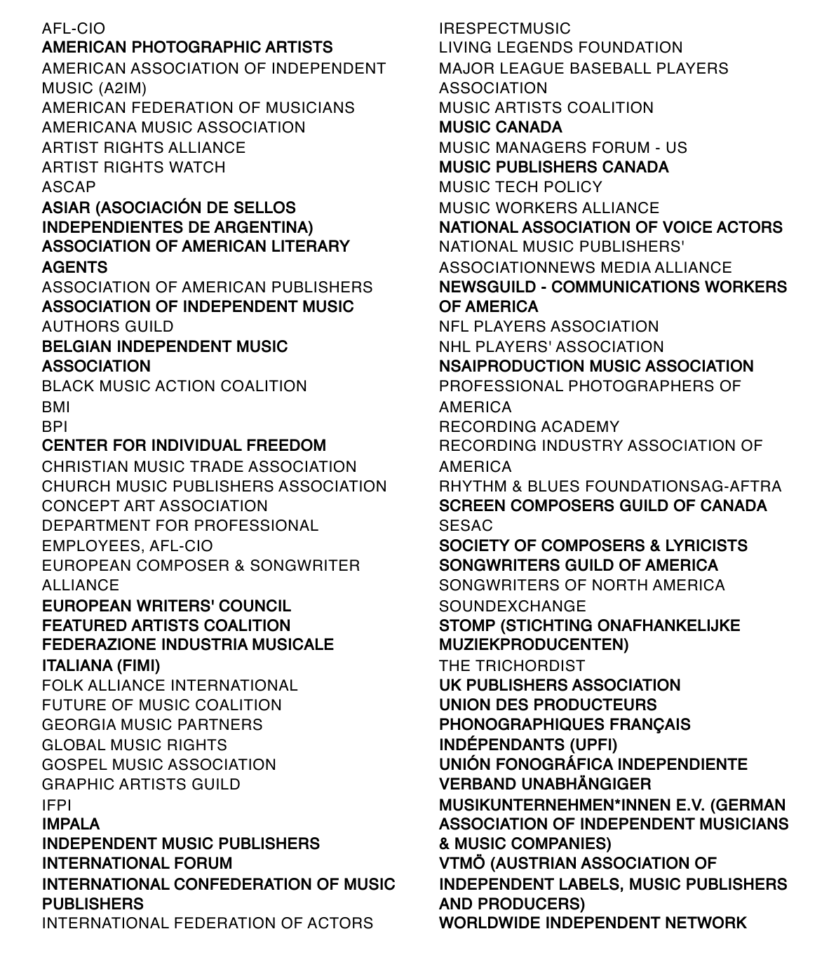 Music Business Worldwide