"We just wanted to let you know that Deezer isn't going to raise prices in the middle of the pandemic. Music, podcasts and radio help people cope and we don't feel this is the time to make things harder for them."
Talk about a cheap shot.
The above quote comes from Laurence Miall-d'Aout, Chief Commercial Officer of Deezer. It was issued to press last week in reaction to Spotify's confirmation that it's (very slightly) raising some subscription prices in a few major markets (the US, UK, Brazil and others).
To MBW's brain, Deezer's comment seems jarringly out of whack with music industry consensus.
Major and indie music rightsholders have long called on Spotify to raise its prices, both in order to temper a fast-plummeting ARPU (Average Revenue Per User), and to stem the natural erosion of subscriber value by yearly inflation.
Also, Deezer, mate: songwriters and artists are people too. Thanks to Covid, they can't tour. Their merch sales have hit the skids. Their performance royalties are down the toilet.
Suppressing music streaming subscription prices during a pandemic kind of… well… "makes things harder for them".
Aaaaaanyway. MBW is happy to tell you that Deezer isn't the only music company majority-owned by Access Industries with interesting opinions on Spotify's price rise!
Warner Music Group (WMG) has publicly reacted to Daniel Ek's long-awaited move.
And the (very-un-Deezer-y) message from WMG's CEO, Steve Cooper, is loud and clear: More where that came from, please…
Following WMG's impressive calendar Q1 results – in which streaming revenues bounded up 20% YoY – Cooper took questions from financial analysts on an earnings call yesterday (May 4).
Cooper was asked by Matthew Thornton from Truist Financial if he thought Spotify's price rises might trigger other DSPs to follow suit.
Cooper replied: "Spotify's announced a number of price increases for a variety of their offerings in emerging markets [and] they've now announced in the US [and] the UK. What people have a tendency to do on these services is build their library, build their playlists, so there's a stickiness [in their consumption habits].
"I think that as Spotify and/or others experiment with these price increases, if they don't see any meaningful churn events – and to date we're not aware of any – we should have an expectation that other DSPs will begin to raise their prices as well."
Churn – as many MBW readers will know – is the metric by which streaming services measure the number of subscribers cancelling their accounts each month, versus the number of new subscribers that join. Keeping the churn rate low is one key driver of platforms like Spotify successfully pushing up its total paid streaming audience.
"Our long-term expectations is that the [subscription pricing] gap between audio and video will have to erode… audio will have to make incremental gains over time."

Steve Cooper, Warner Music Group
Clearly, Steve Cooper is hoping that Spotify's rivals – including Apple Music, Amazon Music, Deezer and co – will be watching the results of SPOT's latest price rise, and will be keen to follow suit.
Indeed, the second part of Cooper's answer to Thornton's question suggests that Warner is confident that there will be a few more price rises coming from the likes of Spotify in future.
"Keep in mind that there is a massive gap between pricing for audio – said differently, pricing for your ears – than there is pricing for video, or eyeballs," said Cooper, in what appears to be a clear reference to the difference in ARPU between audio services such as Spotify and video services such as Netflix.
Added Cooper: "Our long-term expectations is that the [subscription pricing] gap between audio and video will have to erode. They may never be on a par with each other, but we do believe that audio will have to make incremental gains over time, relative to the value proposition that's associated with video."
In other words, Cooper and Warner not only expect Spotify's rivals to follow its latest price rise – they also expect multiple further price rises to play out on music streaming platforms in the months and years ahead, narrowing the current gulf between what the average Spotify subscriber and the average Netflix subscriber pay each month.
---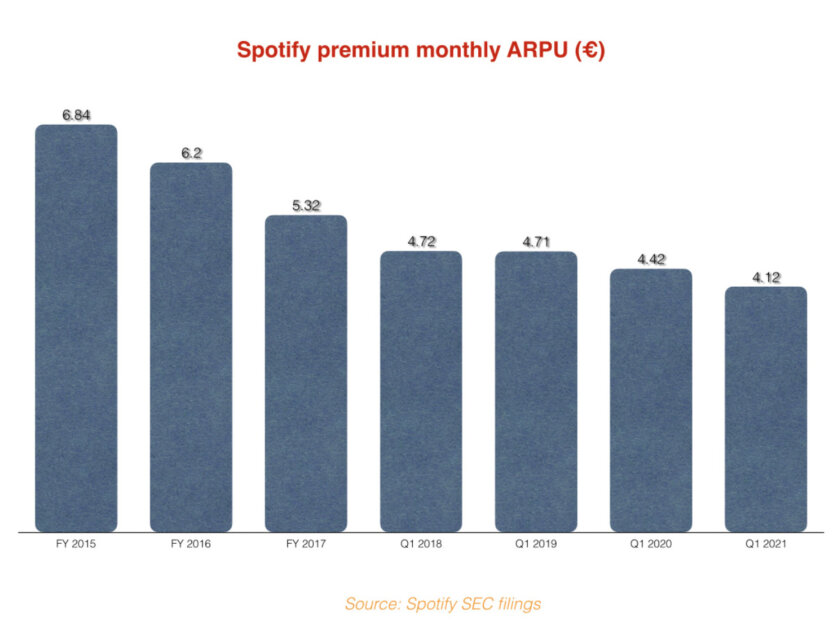 ---
According to Netflix's annual financial results, the platform boasted a global monthly subscriber ARPU (aka 'average revenue per membership) of $11.02 at the close of 2020. (In the US/Canada, this ARPU figure stood at $13.51.)
Spotify's equivalent global monthly ARPU figure, ahead of its UK and US price rises later this year, has just fallen under $5 per month for the first time.
Netflix raised its prices in the US in October 2020, and in the UK in December.
This was its second subscription price hike in as many years, after it moved up its US prices in January 2019.
Spotify's latest run of price rises will take place in 12 markets including Brazil, the UK, and the US (where the cost of the Premium Family plan will increase from $14.99 to $15.99 per month).
Spotify CEO Daniel Ek told investors last month that SPOT had already raised subscription prices in "more than 30 markets" during the second half of 2020.Music Business Worldwide