MBW's Stat Of The Week is a series in which we highlight a data point that deserves the attention of the global music industry. Stat Of the Week is supported by Cinq Music Group, a technology-driven record label, distribution, and rights management company.
---
Universal Music Group's Q3 results were so good, even its physical music revenues were up year-on-year.
For music business insiders, UMG's mammoth quarter in the middle of a global pandemic – including a $1bn-plus revenue haul from streaming – is something to marvel at.
This delicious fiscal feast, however, also housed one less-than-stellar piece of pie.
Global merchandise sales at UMG, driven by its internal Bravado division, tumbled 44.4% YoY in Q3 2020 (on an organic basis).
In simple terms, Universal's merch sales amounted to just USD $85m in the three months to end of September – down by some $73m on the $158m the company generated from the category in the same period of 2019.
---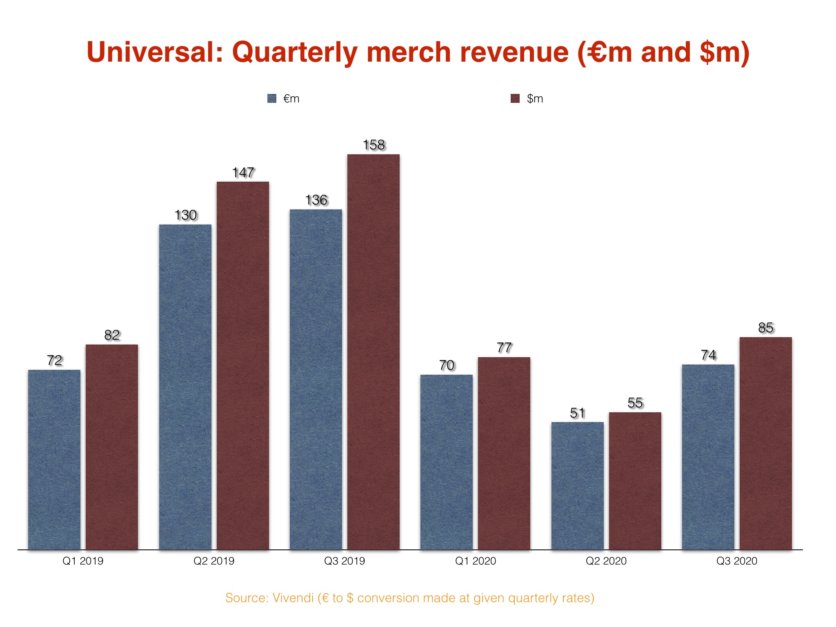 ---
Obviously, the pandemic has rendered merch sales at live music events an impossibility, while sales at physical retail have been interrupted and diminished.
UMG has been working on upping its direct-to-fan merch efforts, but so far in 2020, this has failed to offset much of the category's Covid collapse.
Indeed, merchandise sales at Universal across the first nine months of 2020 (including the largely non-pandemic-affected Q1) were down 42.6% YoY.
That's a fall of $164m year-on-year in the Jan-Sept period (from $381m in 2019 to $217m in 2020).
Such numbers won't cause Universal Music Group leader Sir Lucian Grainge (and his bosses at Vivendi) too much sleeplessness – after all, UMG's recorded music streaming revenue jumped by over $400m YoY in the same nine-month period.
But merch is becoming a particular (and rare) pain point for UMG this year, even taking into account the negative affects of the pandemic.
---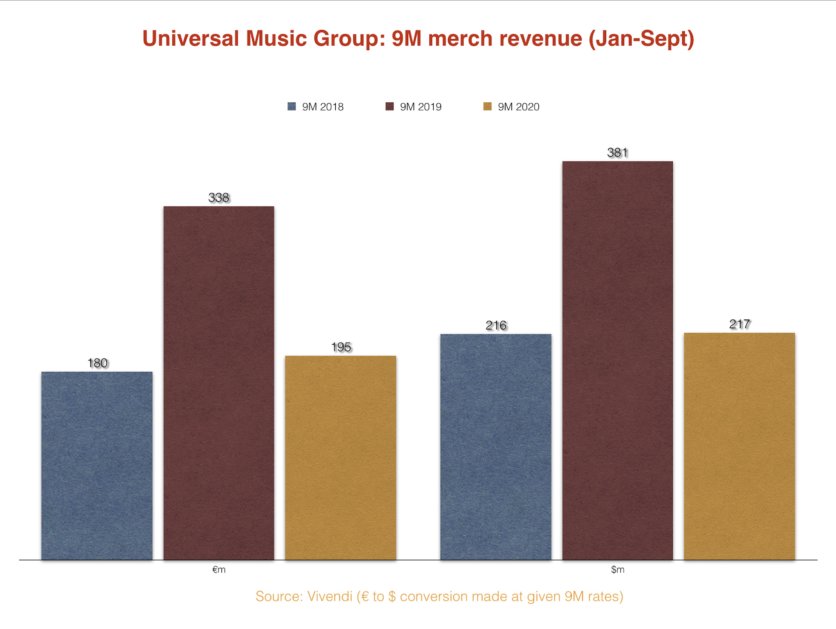 ---
Now, there's been a big shake-up at UMG's merch operation.
Mat Vlasic, the CEO of UMG's central merch division Bravado, this week exited the company four years after he joined from rival Sony Music.
A UMG spokesperson confirmed yesterday (October 22): "Mat Vlasic informed the company that he is stepping down from his role as CEO of Bravado, our global merchandising division.
"John Habbouch, Bravado's General Manager and CFO, will assume interim leadership until a successor CEO is named."
That successor will be tasked with turning around UMG's financial fortunes in the merch world in 2020.
Can it be done?
---
MBW's Stat Of The Week:

Universal Music Group had its best ever quarter in Q3 2020, generating over $2bn… despite its merch division seeing revenues fall 44.4% year-on-year. In Q2, the company's merch revenues fell 61.8% YoY; in Q1, they were down 4.9% YoY.
---
Looking at UMG's rivals – for whom we have calendar H1 revenue numbers but not yet full Q3 results – offers an interesting, if flawed note of comparison.
In its public numbers, Warner Music Group lumps its merch sales into "Artist services and expanded-rights revenues", which additionally includes income from areas such as artist sponsorship, fan clubs, artist websites, touring, concert promotion and ticketing.
In the first six calendar months of 2020, this category generated $239m in revenues at Warner, according to company SEC filings – down by $53m, or 18.2%, on the $292m generated in calendar H1 2019.
Meanwhile, fiscal filings from Sony Corp show that Sony Music's 'Other' category of business – which includes merch, but alongside licensing and live music income – generated $383m in the first six months of calendar 2020.
This was down by $37m, or 8.8%, on the $420m the same category generated at Sony in H1 2019.
---
Obviously, both Warner and Sony's actual merch financial results are less exposed than Universal's – with merch being bundled in with a myriad other income streams within both companies' reported results.
But the revenue percentage decline of these reported merch-inclusive categories at Sony and Warner in H1 2020 (-8.8% and -18.2% YoY, respectively) is notably softer than that seen in UMG's merch division in the same six month period (-41.4%).
With a new CEO in place for Bravado, UMG will doubtlessly want to see in its own merch numbers improving going forward.
Of course, Universal, not to mention the entire music industry, will have its fingers firmly crossed that live music is permitted to return to the world in a big way in 2021.
If that becomes a reality, ticket sales – plus associated concert merch sales – may well go through the roof.
---

Cinq Music Group's repertoire has won Grammy awards, dozens of Gold and Platinum RIAA certifications, and numerous No.1 chart positions on a variety of Billboard charts. Its repertoire includes heavyweights such as Bad Bunny, Janet Jackson, Daddy Yankee, T.I., Sean Kingston, Anuel, and hundreds more.Music Business Worldwide