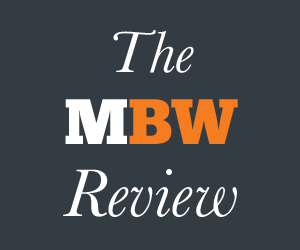 The MBW Review offers our take on some of the music biz's biggest recent goings-on. This time, we take a look at Spotify's business outside the US and Europe – the two territories where it continues to add the majority of its subscribers. The MBW Review is supported by Instrumental.
---
Last Wednesday (May 15), Spotify reintroduced an offer which splits opinion in the modern music business.
The company launched its bi-annual promotion offering new consumers access to a three-month Spotify Premium trial for just US $0.99. (Customers who've previously tried Spotify Premium and cancelled can get their three month trial for $9.99.)
---

---
The news came just seven days after Warner Music Group CEO, Steve Cooper, warned against "the devaluation of our artists' and songwriters' music from freemium models, mismanaged family plans and other customer acquisition strategies" – a direct attack, it seemed, on exactly this kind of loss-leading offer from Spotify.
Cooper was and is concerned by Spotify's Premium ARPU (Average Revenue Per User) rate, which stood at €4.71 a month in Q1 2019 – down nearly a third on €6.84, where it stood in Q4 2015.
So why is Spotify continuing to adopt such an aggressive strategy with its price promotions? An in-depth look at its recent figures may provide the answer.
---
As previously discussed, each quarter, Spotify declares which percentage of its total audience, and its paying subscribers, are located in four different regions: (i) Europe; (ii) North America; (iii) Latin America; and (iv) Rest Of the World.
These percentage figures are approximate, rounded to whole numbers. In Q1 2019, they looked like this:
---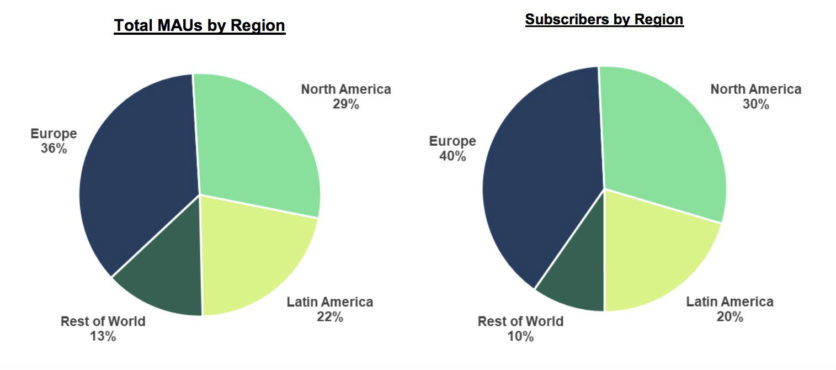 ---
Spotify ended Q1 2019 with 217m Monthly Active Users (MAUs), and 100m paying subscribers, worldwide.
MBW has applied Spotify's declared audience percentage for each of the past four quarters to its total MAU and subscriber numbers in each period.
This allows us to determine approximately how many MAUs and how many subs the company has counted in each of these four regions, in each of these quarters. Which looks like this:
---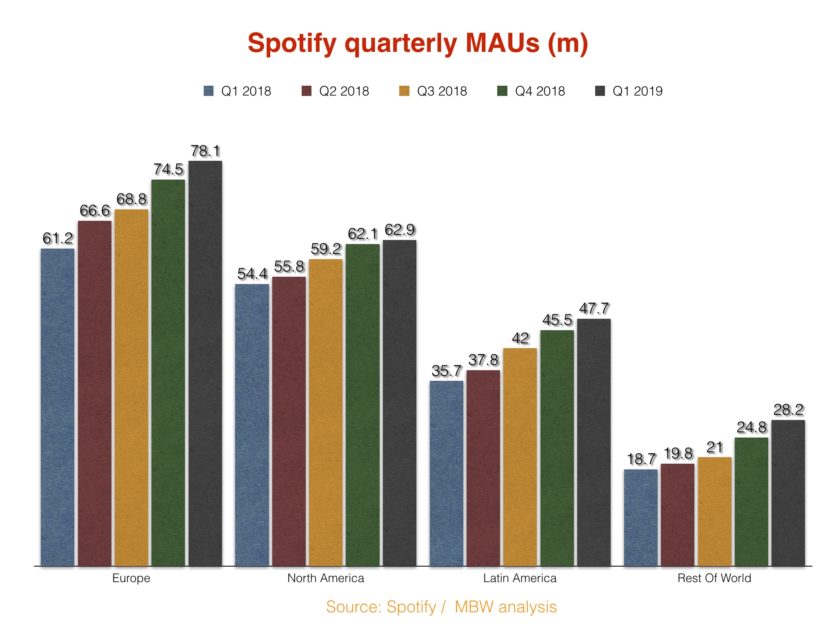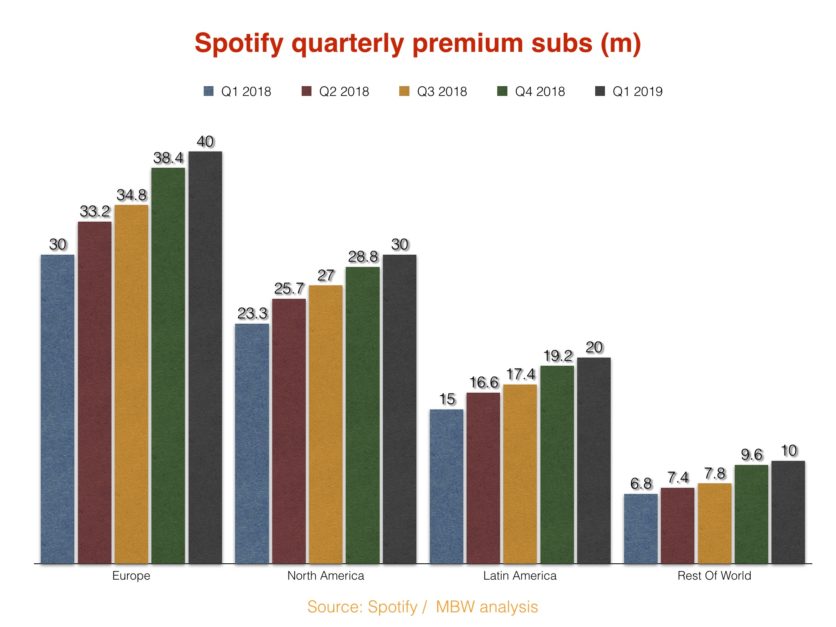 ---
There are some obvious conclusions to be made here – like the fact that Europe still towers above other regions in terms of both MAUs and subscribers at Spotify. (So much so that, at the close of Q1 this year, there were more active users of Spotify in Europe – 78.1m – than there were in Latin America and the 'Rest Of the World' combined.)
The 'Rest Of the World' in this instance must be seen in context. As previously noted, prior to Q1 2019, Spotify was available in 'RoW' countries which covered an approximate addressable population of 845m people. These included Japan, Thailand, Malaysia, South Africa, Israel, Vietnam, Romania, Hong Kong, Indonesia, Australia, the Philippines, Singapore, Taiwan and New Zealand. (There are an estimated 260m people alone in Indonesia, where Spotify launched in 2016.)
Yet on February 27 this year, Spotify finally launched in India – a country with a population of 1.3bn people – bringing the platform's total addressable 'RoW' audience to approximately 2.2bn people.
To get a handle on Spotify's performance in India – as well as how it fared in 'Rest Of The World' and other regions – in the first three months of this year, we need to look look at how the platform grew in Q1 vs. how it ended Q4 2018 (when it had 207m MAUs in total).
---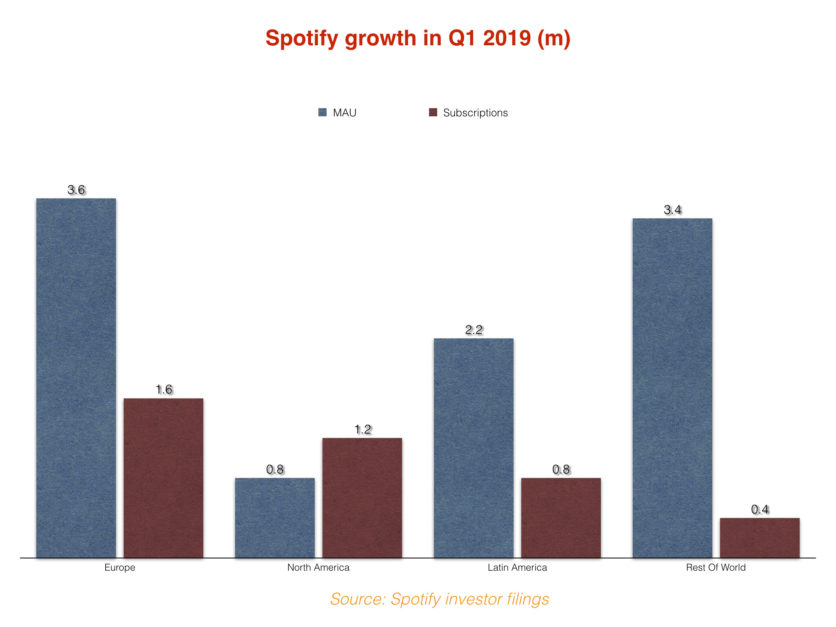 ---
As you can see, both in terms of MAUs and premium subscribers, Europe was Spotify's biggest growth territory in Q1 2019, up 3.6m quarter-on-quarter in active users and 1.6m in paying subscribers.
In MAU terms, this was followed by 'Rest Of the World', which grew by 3.4m – yet just 400,000 subscribers were added across that region in these three months, the smallest of any of Spotify's four corporately delineated markets.
North America was the second biggest subscriber growth territory in Q1 2019, with 1.2m additional paying subs coming on board versus the prior quarter.
(If it seems slightly confusing that North America saw fewer MAU additions than it did paying subs in Q1, remember these figures measure two metrics which don't always correlate: the difference here appears to indicates that Spotify converted at least 400,000 existing ad-supported users in North America into paying customers in the period.)
---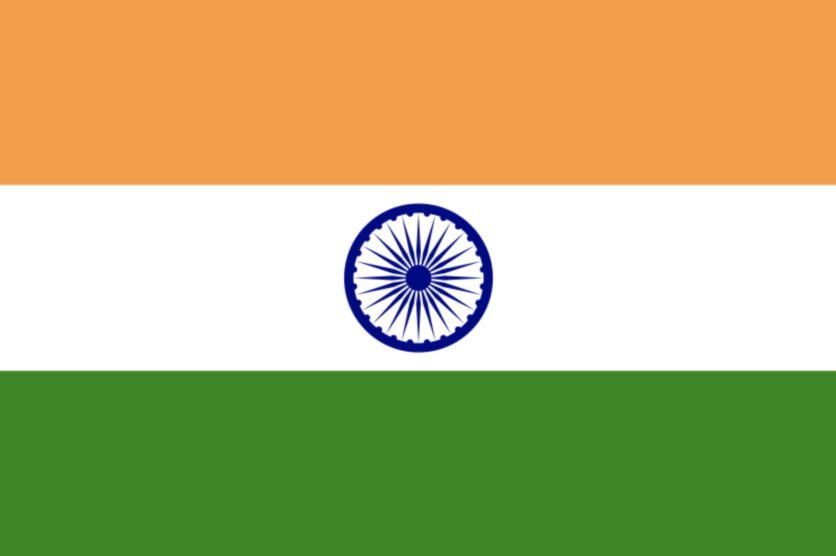 What can we glean specifically about Spotify's performance in India in Q1?
Spotify told investors during its Q1 earnings call last month that it added over 2m MAUs in India in the quarter, following its launch.
This would suggest that just under two thirds of the 3.4m 'Rest Of the World' MAUs added in the graph above came in that one region.
---
Another useful further comparison is to look at Spotify's growth stats in Q1 2019 compared to those from the prior quarter (Q4 2018).
Yet it's worth noting that Spotify tends to run heavier promotions in Q4 than in Q1, which would naturally lead to a bigger uptake, and that this has traditionally been the case.
For that reason, it's also worth looking at Spotify's Q1 2019 growth in MAUs versus that in the prior year quarter (Q1 2018). (MAU data is available by region for this period, but Spotify didn't provide a market-by-market subscriber breakdown.)
Two things really stand out from the below graphs:
In Q4 2018, Spotify added more MAUs and more subscribers in every region than it did in Q1 2019… when it launched in India;
And when Q1 2019 is compared to the prior year quarter (Q1 2018)? Spotify did better in Europe in 2019, but added fewer users in Latin America (2.2m vs. 2.3m) and significantly fewer users in North America (3.5m vs. 800k). As for the 'Rest Of the World'? Without the approximate 2m users attracted in India in Q1 this year, Spotify added 1.4m MAUs in the RoW region in Q1 2019 – half the number it added in Q1 2018.
---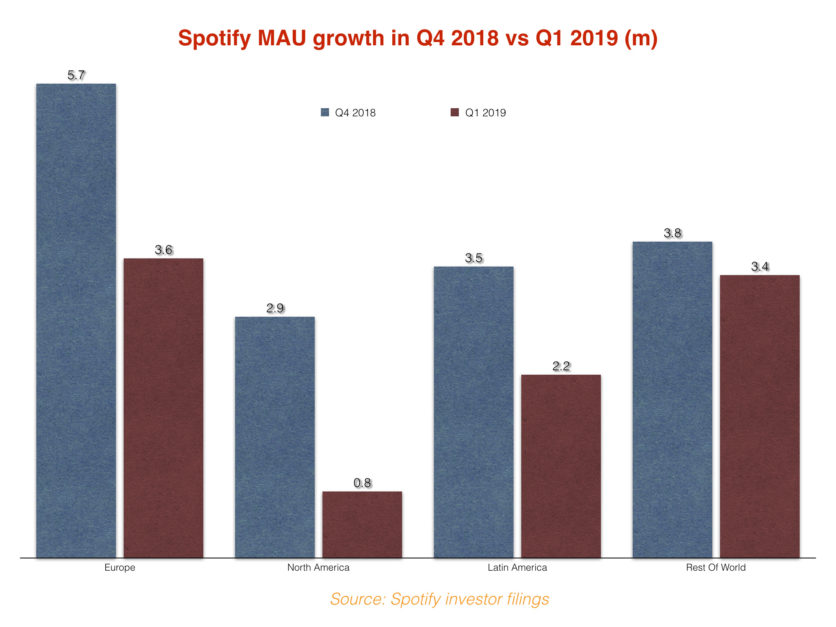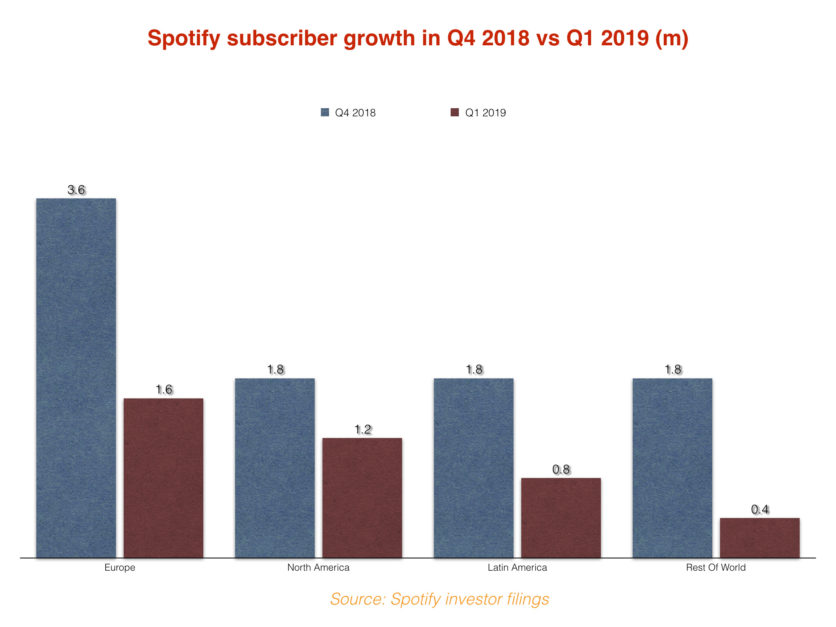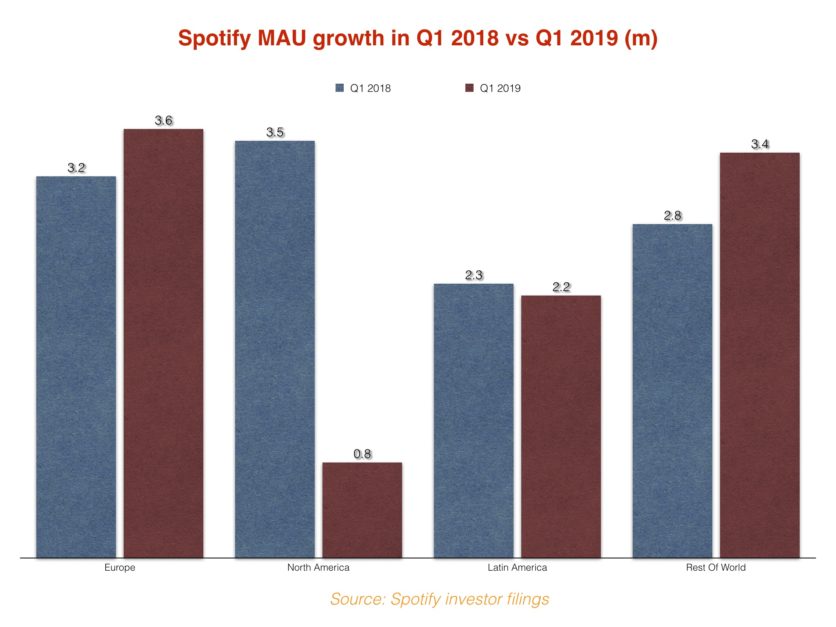 ---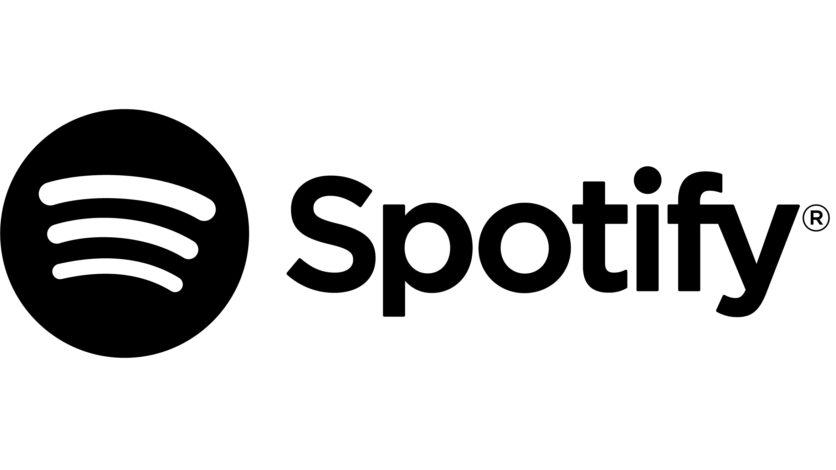 Spotify didn't appear to market its service any less hard in Q1 2019 than it did in the prior quarter, either: according to the company's financial filings, SPOT spent €172m on 'sales & marketing' in the three months to end of March 2019 vs. €163m in the three months to end of December last year. In the prior year quarter (Q1 2018), that 'sales & marketing figure' was lower again, at €138m.
There are early signs, then, that, having now executed its launch in India, Spotify has a hard fight on its hands to maintain the momentum of growth it saw in 2018 – especially in North America, and those 'Rest of the World' territories – across the course of 2019.
Earlier this month, the Wall Street Journal revealed estimated Apple Music (50m), Amazon Music (30m) and Google/YouTube Music (16m) counted 96m paying music subscribers between them at the end of March.
Spotify, remember, had 100m paying subs at the same juncture.
And last week, YouTube Music announced that both its free and premium tiers are now available in Poland, Czechia, Romania, Hungary, Bulgaria, North Macedonia, and Cyprus – taking the service's total global footprint to 50 markets.
The race is on.
---

The MBW Review is supported by Instrumental, which powers online scouting for A&R and talent teams within the music industry. Their leading scouting platform applies AI processes to Spotify and social data to unearth the fastest growing artists and tracks each day. Get in touch with the Instrumental team to find out how they can help power your scouting efforts.Music Business Worldwide