The MBW Review gives our take on some of the music biz's biggest recent goings-on. This time, we break the news of yet another music departure from BBC Radio 1 – and analyse the challenges currently being faced by the hugely influential UK station. The MBW Review is supported by FUGA.
---
Powerful voices in the UK music business are questioning the future of BBC Radio 1 following the exit of yet another influential music exec from the station.
MBW has learned that well-respected music producer Chloe Pearson, a key player in the creation of Radio 1's playlists and Sound Of… poll, resigned from the network last week.
Pearson is – wait for it – at least the ninth Radio 1 music exec to leave the station since Zane Lowe packed his bags and joined Apple last year.
Following Lowe's move, Apple raided four BBC Radio 1 producers including James Bursey, Natasha Lynch and Kieran Yeates.
Then came Spotify, poaching Radio 1 Head Of Music George Ergatoudis, before also nabbing 1Xtra music boss Austin Daboh.
Radio 1 producers including Dexter Batson and Rob Khan have also joined Spotify in the past year, alongside Wise Buddah's Sara Sesardić – who worked across Radio 1, 6 Music and Radio 2.
[Update: We missed one earlier – and MBW of all publications should have known better… we broke the news in April last year that playlist guru Nigel Harding was leaving the station. He's since signed a label deal with Sony Music UK's RCA. That makes ten Radio 1 music execs who have departed since Zane Lowe. Ten!]
---
Why are these talented execs upping and leaving Radio 1 for streaming services in such numbers?
Well, one reason is that the money's good: the charter of Radio 1, as a a public service broadcaster, restricts what it can pay music staff.
But MBW has been told that other factors are also weighing on the mind of Radio 1 employees right now.
Not least: its disastrous recent Rajar result.
The station's audience fell below 10m listeners in the three months to end of June, with a million people switching off compared to the same period in 2015.
This depressing drop was unique to Radio 1: the total reach of UK radio grew by 500,000 people over the year, while commercial rival Capital hit an all-time audience high.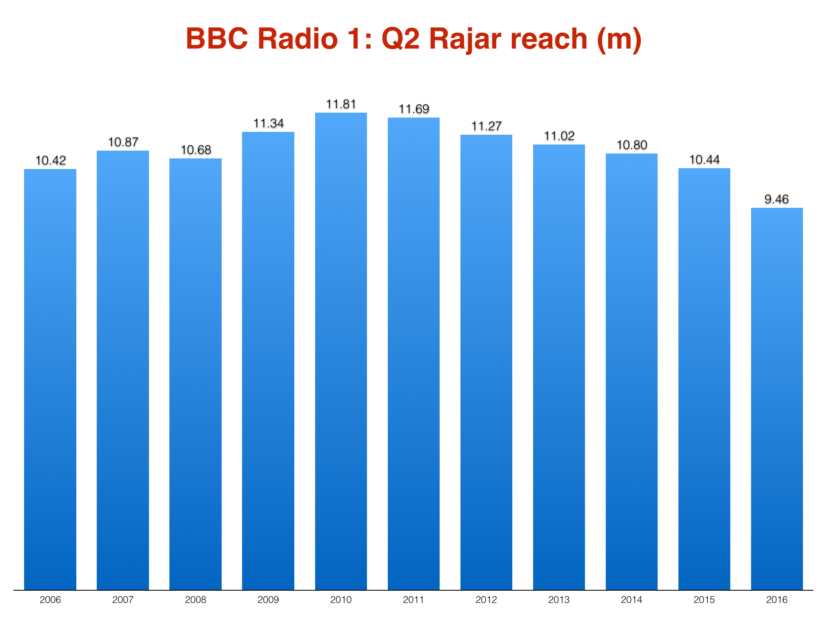 ---
Ben Cooper, Controller Radio 1 & 1Xtra, justified the drop by saying that radio listening figures were "only part of the picture", instead trumpeting the station's YouTube and social media followings.
But that doesn't explain why Capital (as well as others –  including 6 Music, of course) saw their figures rise considerably at the same time.
Inevitably, senior figures in the UK music business are now questioning whether Radio 1 would be enjoying a different level of success if it materially altered its music policy.
(Even more inevitably, these execs also tend to say that Radio 1's music policy would be all the better for specifically playing their own acts…)
There is certainly widespread concern across the UK music business that Radio 1 isn't currently doing enough to support new UK artists on its playlist.
The station is still considered a crucial outlet with which to gain public mindshare as the UK chart slows amid the colossal weight of Spotify's star-making power.
"Take a look at the most popular artists on Radio 1 right now – it's all US-led hip-hop and R&B," one senior label exec told MBW under condition of anonymity.
"How can we hope to break new British artists when US artists dominate Spotify playlists… and then our own 'new British music' radio station follows suit?"
---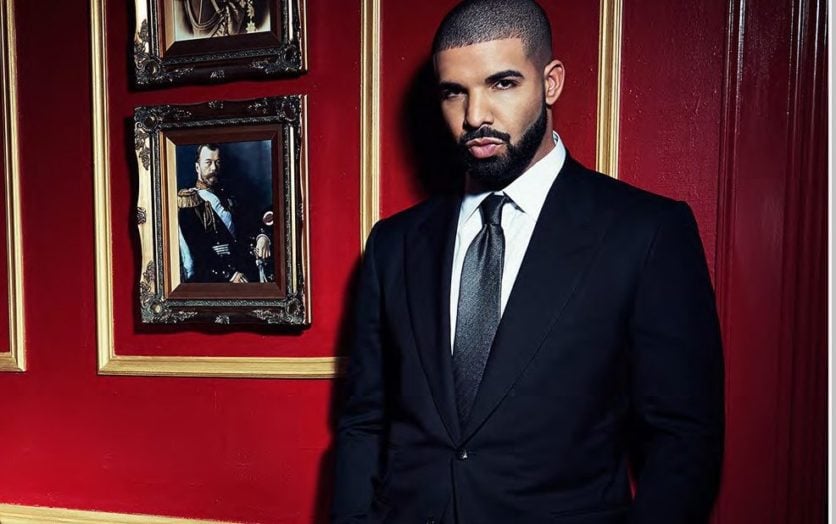 MBW has been doing some number-crunching on this topic.
Today we analysed the Top 1,000 most-played tracks on Radio 1 this year so far (read the full thing through here).
We found that eight of Radio 1's most-played 15 artists in 2016 were not from the UK, with the act on heaviest rotation being Drake.
In defence of the station, three of its Top 5 most-played artists were British – with two of them (The 1975 and Sigala) broadly considered 'breakthrough acts'.
However, Radio 1's most-played track list is another matter altogether.
The entire Top 6 of the network's most-played songs this year so far are not from the UK, and not one track in its Top 10 list can really be defined as a breaking British performer.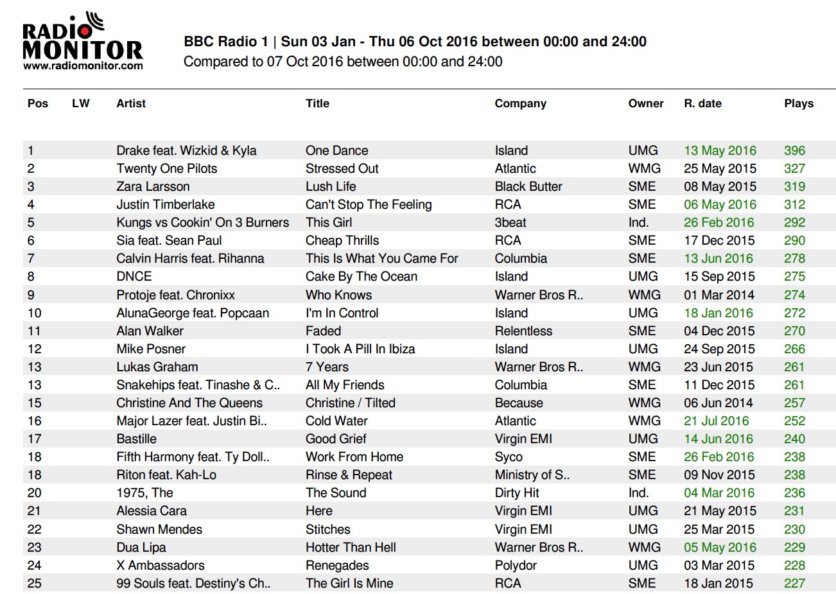 ---
So… is Radio 1 in freefall, and – if it is – what can it do to stop the rot?
The station certainly isn't standing still, with Ben Cooper recently unveiling an ambitious new 'phone-first' strategy.
There's also a fresh on-demand programming element –  an attempt to directly strike back against the threat posed by Spotify, Apple Music et al.
Radio 1 Head Of Music Chris Price, meanwhile, is attempting to plug the gaps left by The Great Streaming Exodus by advertising for no less than FOUR current vacancies.
These include two music Editor positions – one for linear programming across both networks, and one for on-demand – as well as vacant Radio 1 / 1 Xtra Producer and Assistant Producer roles.
According to an internal email sent this week, Price hopes these positions will help "manage the increased curation workload", and "future-proof the way we work".
---
Judging by that killer Rajar result, some 'future-proofing' at Radio 1 is definitely in order.
Multiple senior label figures tell us they believe the loss of Zane Lowe to Apple has dealt a big blow to UK record company hopes of meaningfully breaking new music at the station.
"Zane had influence beyond just playing tracks to listeners," one label figure tells us.
"When he got behind your artist, the whole of Radio 1 daytime often seemed to take note. It was like he was influencing them all from within."
Lowe's replacement on the 7-9pm weekday new music show on Radio 1, Annie Mac, will leave the position to go on maternity in January.
Her temporary departure will herald yet another personnel change, as Mac hands the keys to this vital slot over to Mistajam.
"Radio 1's entire back-room music team under George Ergatoudis has now effectively left the company," commented another label source.
"None of us are enjoying this – we want Radio 1 to be strong, and to go back to championing new British music.
"But from where I'm sat, this is starting to feel like a bit of a crisis – both for Radio 1, and for the rest of us."
---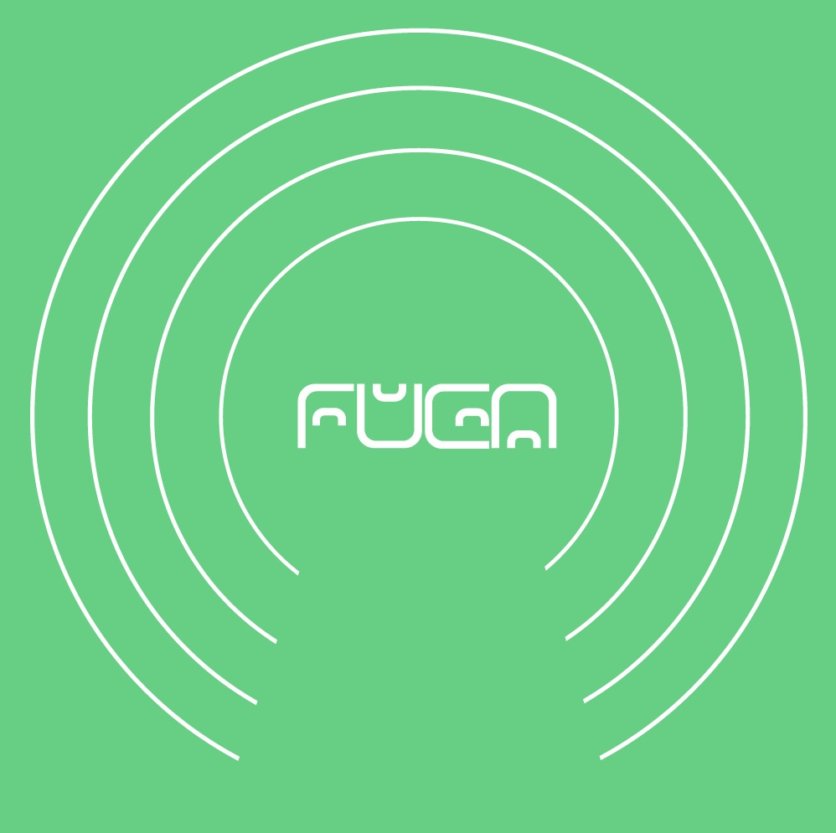 The MBW Review is supported by FUGA, the high-end technology partner for content owners and distributors. FUGA is the number one choice for some of the largest labels, management companies and distributors worldwide. With a broad array of services, its adaptable and flexible platform has been built, in conjunction with leading music partners, to provide seamless integration and meet rapidly evolving industry requirements. Learn more at www.fuga.comMusic Business Worldwide