The following MBW op-ed comes from Reservoir CEO Golnar Khosrowshahi (pictured). Reservoir is an independent music company based in New York City and with offices in Los Angeles, Nashville, Toronto and London. Founded as a family-owned music publisher in 2007, the firm has grown to represent over 110,000 copyrights and 20,000 master recordings with titles dating as far back as the 1920s, and hundreds of No.1 releases worldwide. In August, Reservoir confirmed that it had acquired Chrysalis Records.
---
On January 3, 2008, Forbes ran the headline, "Music Industry Weathers Tough 2007."
We had just launched Reservoir and joined the industry in holding a collective breath, while strategizing how to achieve a strong turnaround in a field that had witnessed massive upheaval due to technological change.
By certain metrics, compelling numbers representative of longer-term, sustainable growth in the music business have really only emerged in the last three years. Of course, most are bullish now, as streaming consumption continues to grow exponentially.
Spotify is publicly traded, boasting over 207 million subscribers globally and just the other month Apple Music reportedly overtook Spotify in paid U.S. subscribers, with 28 million to Spotify's 26 million. The headlines today sing a different tune, as Wall Street analysts believe the music industry is on a 'Stairway to Heaven.' The question now becomes: how do we harness this growth, make sure it's sustainable, and reap the rewards?
Undeniably, rightsholders today are witnessing year-over-year increases on revenue. Some predict this growth will last only a few years, while others forecast it will sustain for the long-term due to factors including global penetration, accessibility of streaming platforms, smart speaker adoption, and wifi-enabled vehicles, for example.
While none amongst us are prophets, the certainty for many publishers is that in order to capitalize on this growth, it makes sense to operate as a holistic music company. We have seen significant convergence throughout our industry in recent years; digital consumption has more closely aligned label and publisher business models, while ancillary rights deals, technological advances, and a growing willingness to equitably partner with artists and writers, have all led to a more progressive and innovative approach towards business.
"We continue to invest resources in building a master rights platform."
At Reservoir, we've expanded our offerings to include artist management services and we continue to invest resources in building a master rights platform. Being a global company with a vested interest in different kinds of music rights leads to wide-spread revenue capture in this thriving climate and ultimately lets us do more for our creators.
There are also emerging market opportunities that warrant further exploration, as previously untapped regions are now regulated and legitimized through digital adoption. Developments in artificial intelligence can also help design the next wave of valuable tools for the creation process. Whether in production, A&R, marketing, financial/reporting systems or data management, investment in the best technology is vital to any company's growth and stability.
Technology informs our business, but people still matter above all else. Ours is a relationship driven business, in which the quality of our network and people is paramount; and people won't be replaced by AI. Machine learning will make us more powerful, faster, and more efficient, but it won't substitute for our passion, dedication, intuition, and desire. Technology is there to be harnessed and elevate our efficiencies.
We have been privileged to assemble a stellar team of individuals who touch on an array of disciplines and build an unparalleled roster and catalog across genres, territories, eras and rights types. This, plus expanded offerings across management services and master distribution, poises us to evolve from defining ourselves as a music publisher to a music company. Ultimately, it ensures that we are maximizing the current growth, and results in a windfall for those we represent. In an era where consumption is at an all-time high, but the market for content is so saturated, we cannot afford to leave any money on the table for our creators.
"We're set to evolve from a music publisher to a music company."
Moreover, advocacy in our industry has historically resulted in significant wins for publishers, labels, and creators alike. In January 2018, the Copyright Royalty Board announced the biggest rate increase for songwriters in US history, while earlier this year in Europe, Article 13 passed, further protecting against copyright infringement on online platforms, thanks to the impassioned championing from rights-holders and their proponents.
It is crucial to be on the front lines of change and we take our responsibility to the industry very seriously through roles on the boards of trade organizations across the globe. As there is a great deal of disparity globally about how rights-holders are compensated, education about the economic implications of those rights to the creators and the wider industry is important. We advocate because we believe in upholding the values of intellectual property and it will always remain a core part of what we do.
This work not only impacts how much of the current growth we are able to capture for creators, but also sets the stage for a prosperous future, as more legislative action is passed to protect creators and set monetization standards. Each day the needle is moved further; the bar set higher. There is no shortage of opportunities to chase or avenues to explore. By building robust, innovative, and global service offerings for our creators, we can help develop their careers and maximize their creative potential, and thus, our own businesses will undoubtedly continue to grow and thrive. I, for one, am excited to see what the headlines of tomorrow will read.
---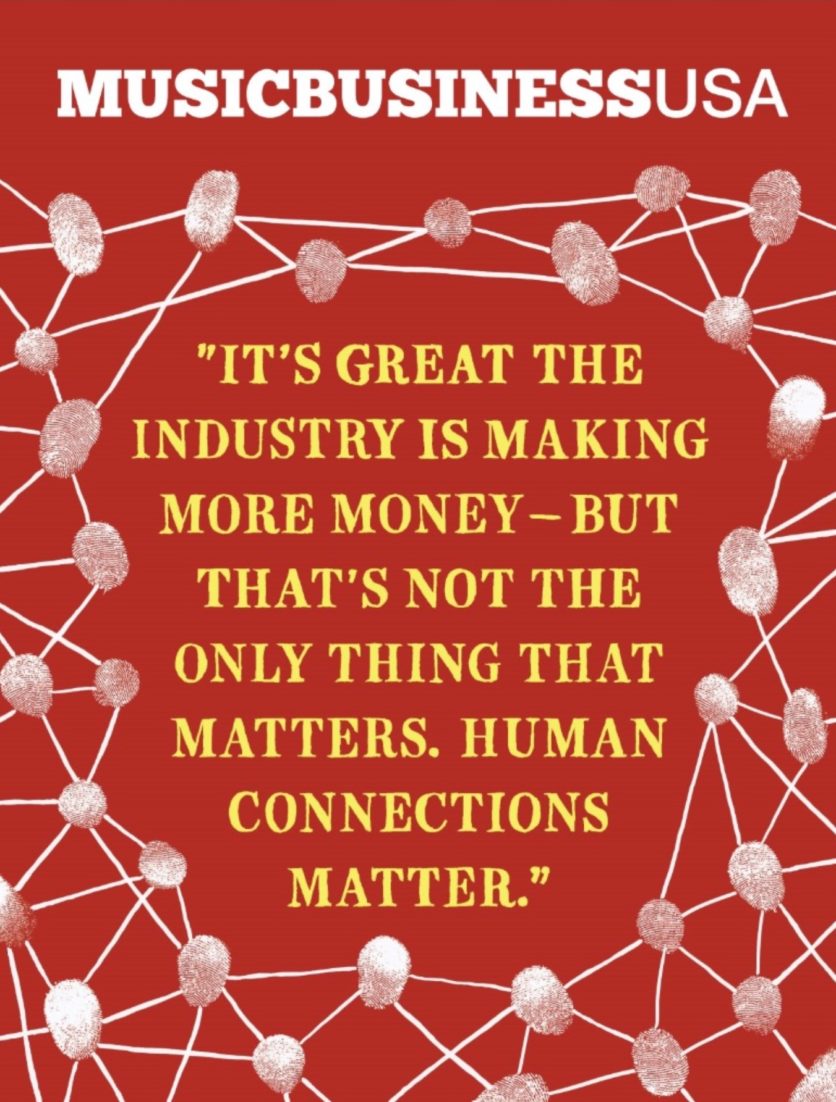 The above interview originally appeared in Music Business USA – MBW's new annual magazine featuring some of the smartest people, with the best stories, in the Stateside music industry.
Subscribe to MBW's premium bundle to ensure you never miss one our physical magazines in future. Click through here to find out how.Music Business Worldwide