Universal Music Group (UMG) has announced a €750 million (approximately USD $802m) Eurobond offering, which the music giant says it will use to refinance part of its existing debt, and pay transaction fees and expenses.
The new issuance of senior unsecured notes, which will come from UMG's Euro Medium Term Note program, will carry a 4.000% interest rate and will come due in 2031.
The notes will be listed on the Euronext Amsterdam exchange, and will be sold to investors outside the U.S. in accordance with Regulation S of the US Securities Act, meaning the issuance is exempt from being registered with the US Securities and Exchange Commission.
UMG expects the offering to close on June 13.
Ratings agency Moody's last year assigned UMG a "Baa1" long-term credit rating "with stable outlook." The agency defines debt in this category as being investment grade, and "subject to moderate credit risk."
Meanwhile, S&P Global Ratings assigned a long-term credit rating of BBB, an investment grade rating that means the debt issuer has "adequate capacity to meet financial commitments."
Moody's said its rating was given in light of "the ongoing transition to a more predictable and recurring revenue profile based on the growth of streaming and publishing revenues."
It also cited UMG's "good track record in supporting and developing artists' careers through its global network of iconic labels and publishing companies covering 200 markets," along with "a best-in-class music catalog with good geographic diversity and monetization opportunities" and "an experienced management team with a proven track record of adapting to new trends through innovation".
UMG's rating could face downward pressure "if there is deterioration in the company's business model that results in a material, sustained erosion of its leading market position, profitability or cash flow generation," the ratings agency noted at the time.
It could also come under pressure if the company "adopts a more aggressive financial policy, undertakes sizeable acquisitions or finances large share buybacks with debt," Moody's said.
UMG reported a net debt (defined as total debt minus cash and cash equivalents) of €1.81 billion ($1.91 billion) for the year ended December 31 2022 (see below).
---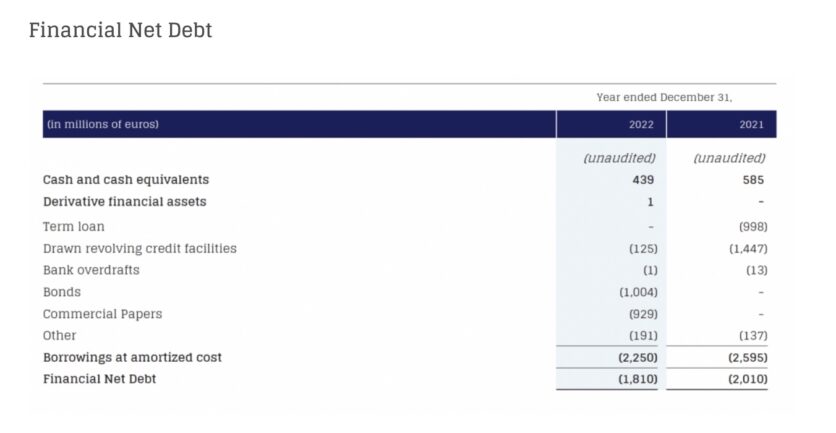 ---
UMG reported revenues of €2.451 billion ($2.62 billion) in Q1 2023, up 9.3% YoY on a constant currency basis. Its recorded music revenues came in at €1.923  billion ($2.06 billion), up 9.6% YoY, while its music publishing division generated revenues of €425 million ($456.02 million), up 11.5% YoY at constant currency.
The company's EBITDA came in at €261 million ($280.05m), down 43.4% YoY on a constant currency basis. UMG attributed the decline to "non-cash share-based compensation expenses" that were considerably higher than in the comparable quarter a year earlier. UMG rolled out its first global equity compensation plan in Q4 2022.
Stripping out those compensation expenses, adjusted EBITDA was €522 million ($560.1 million), in Q1 up 13% YoY in constant currency terms.Music Business Worldwide