The following MBW analysis comes from Will Page (pictured), the author of PIVOT: Eight Principles for Transforming your Business. Page (pictured) was previously the Chief Economist of Spotify and PRS for Music.
---
This time last year, MBW allowed me to grace these pages with a unique insight into the UK live music industry.
I predicted that, after a devastating pandemic, 2022 would unlock the 'coiled spring' demand for music in this country. Well, an economist's prediction actually came right for once.
This is 'bounce back Britain' at its best. But first, let's acknowledge how we got here. 
The UK's PRS for Music, which licenses live events so that its songwriter members can collect performance royalties when their songs are played at concerts, kindly provided the data set to repeat this exercise. 
In addition, I was able to utilize data on recorded-music spending by the Entertainment Retailers' Association and the British Phonographic Industry, allowing me to model total consumer spend on music.
All three institutions can take a bow, as what's about to follow is bigger than ever.
We know from the Entertainment Retailers Association that spend on recorded music in the UK last year surged past the GBP £2 billion watermark, thanks to both subscription streaming surging during the pandemic and the often-dismissed contribution from vinyl (now the second biggest source of revenue). 
Well guess what? Spending on live music in Britain has gone and done the same. 
From 2019 to 2022, the volume of live music events in the UK was down 26%.
However, the box office (i.e. the amount spent on tickets) was up 22% in 2022 vs. 2019 – with concert spending passing the £2 billion threshold for the first time ever.
This is a more-for-less story that no one could have anticipated (see below).
---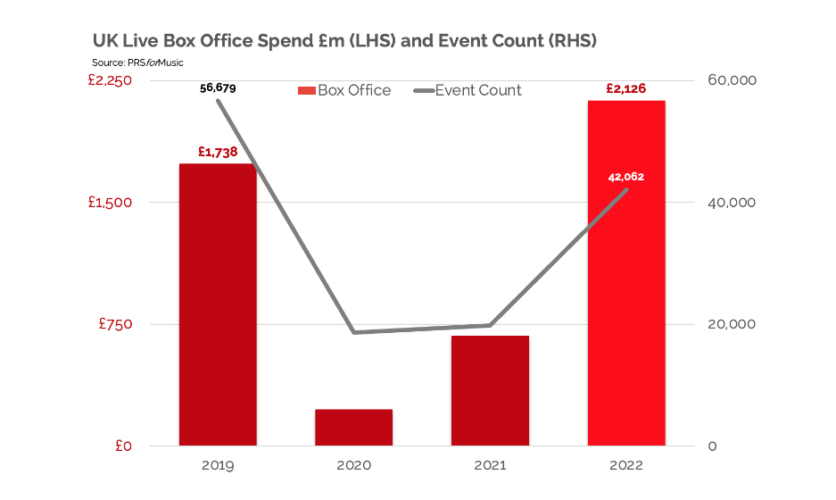 ---
We'll get into the good news in a minute, but let's deal with that drop-off in live music events in Britain: it's across the board.
Compared to 2019, UK stadium and festival shows in 2022 were down 14% in volume, arenas were down 22% and theaters were down 43%.
Which means what we're seeing is akin to a productivity gain: getting more (box office spend) from less (concerts).
That could be driven by supply (higher ticket prices) or demand (preferences for bigger events). Inflation will have a role to play, too. 
Now let's rack and stack recorded and live music up to see what the Brits are paying for both, and calculate their 'share of wallet'.
Put bluntly: 2+2=4.
To the left of this chart we can see spend on recorded music (grey) and live music (red) measured in millions of pounds.
As both sectors passed the £2 billion consumer spend watermark in 2022, we now have consumers spending £4.1 billion per year in Britain on music. 
---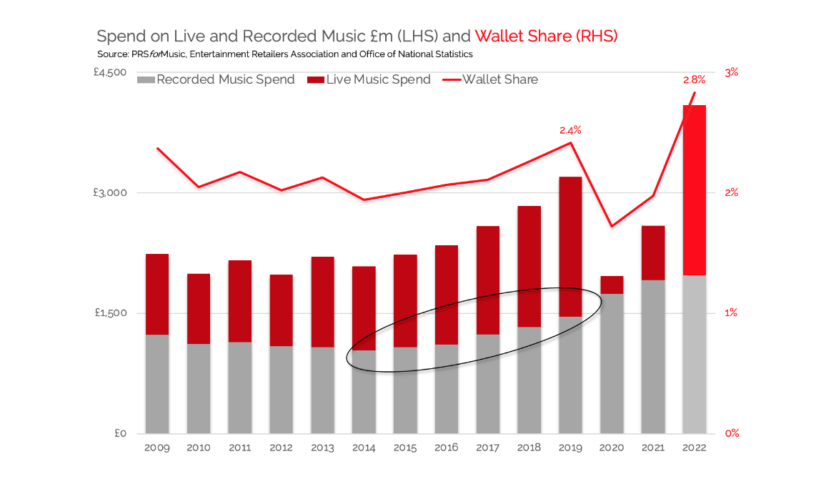 ---
This is news. 
This sets a record high – up by almost a billion pounds on the £3.2bn spent in 2019 – and is particularly astonishing given that just twenty-three months ago we were nervously awaiting news of DCMS launching a $1bn insurance scheme for live events forced to cancel during Covid.
Now let's put these absolute figures into some relative context.
Calculating 'wallet share' simply divides spend by the amount of disposable income available in the economy. There are a lot of measures of disposable income to choose from; do you pick all the money washing around or just some?
The Office of National Statistics recommends we use the 'recreational wallet'.
To that end, overall UK 'recreational wallet' spending was 9% bigger in 2022 than in 2019 – meaning wallets have fattened. Yet music captured more of it, with its share of 2022's total 'recreational wallet' spending peaking at 3%.
Music is taking a bigger share of a fatter wallet, just two years after it was silenced.
---
Go big or stay home?
Everyone knows that stadium shows and festivals have exploded in the United Kingdom.
Last year saw more music concerts than football matches at Wembley, and it wasn't exactly a quiet year for footie either – with the Women's Euros packing the place out. 
Little surprise, then, that for music in the UK stadiums and festivals now make up half of all box office spend.
That's quite a jump on pre-pandemic 2019, when that share was just 40%. But this story goes way deeper. 
If we go back to 2012 (when this author was crossing the great rightsholder divide from PRS for Music to a start-up called Spotify), annual UK live music spend was only £1.2 billion, with stadiums and festivals generating 23% of that figure. 
That was then – look at it now.
---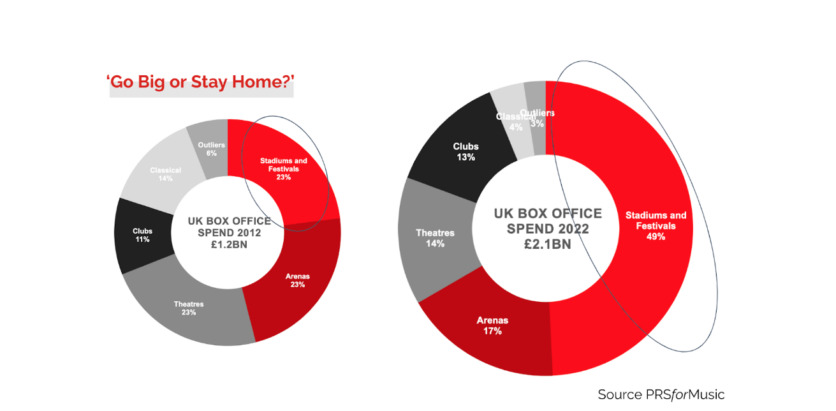 ---
Stadiums and festivals have more than doubled their share of a box office that itself has almost doubled in size,  i.e. from generating less than a quarter of £1.2bn to almost half of £2.1bn.
That transformation has taken place in the space of ten disruptive years which has seen the banks (and Heart of Midlothian Football Club) go to the wall in the global financial crisis, two referendums (of which one produced Brexit), and the devastation of the pandemic.
---
WHERE WE GO NOW
Let's go back to what a famous Scottish Chancellor often said to me – we need "evidence-based policy making, not policy-based evidence-making" – and figure out what all this means.
These insights, exclusive to Music Business Worldwide, throw up four questions to mull over before the summer holidays begin.
First, 'Gin and tonic' is my favorite tipple for explaining what economists call complementary goods. As was stressed repeatedly during the UK Inquiry into music streaming, (and circled in the second chart) when Brits started paying for subscription services in 2014, they also started going to more concerts: Discovery begets experience. We, as an industry and its policy makers, need to understand this relationship in more depth.

Second, Behavioral changes really matter. When London's mayor office reports that a staggering

one million people attend live music events across the capital in one week

, we need to understand why consumers are willing to spend £200 on a stadium ticket (and that again in child care, travel, dining and merch) but are less inclined to spend £20 on a up and coming band in Camden.

Third, it is only right to ask the sustainability question – how long can this boom keep going on? Inflation took off in 2022, and has become ingrained in 2023 with mortgage costs becoming a ticking time bomb. There are signs that gig-goers are cutting back on frequency in 2023 (see

this pic

from Def Leppard and Motley Crue at Wembley). Then again, perhaps gig goers choose to cut out European breaks and go to even more domestic concerts instead.

Fourth, perhaps a timely nod to an infamous chart on the average age of festival headliners, first published in

The Economist

in 2015 (see below – Glastonbury averaged out at 58 years old this year). John Collins, CEO of

LIVE

, reminds us that the

'whole ecosystem' needs to thrive and Shain Shapiro, author of a new book

This Must Be The Place

nails it perfectly: "Live music is an hourglass, not a pipeline. Without investing in grassroots, there will soon be more venues than stars to fill them".
---

---
Dampers aside, it's hard not to be upbeat about these jaw-dropping statistics – GBP $4 billion in annual consumer-spend on the music we love!
Our government would struggle to find any other industry in its official accounts that (a) got hit so hard yet (b) bounced back so strong. (Note to Rishi Sunak: I checked, there isn't any!)
Last year I argued that if the collective 'we' get this right, it'll be more like a slingshot than a rebound.
Take a bow British music,  we've knocked it out the park. 
---
The author would like to thank: Chris Tynan (Distrokid), John Mottram and Ali Condon (PRSforMusic); Entertainment Retailers Association and the BPI; the music policy team at Department for Culture Media and Skills; Chris Carey and Jon Collins (LIVE), Shain Shapiro (Sound Diplomacy), David Safir; Luke Croydon (Office of National Statistics), Emma Hogan (The Economist), Tim Chambers and especially Ralph Simon and  Elizabeth Diaferia for inspiring this work.  He would also like to share his thanks to DICE for their comprehensive data on the UK live events industry.
Will Page's PIVOT Eight Principles for Transforming your Business (pictured inset) is out now via Simon & Schuster (UK) and as a hard back titled Tarzan Economics, by Little, Brown and Company (US).Music Business Worldwide