YouTube is comfortably the world's largest video streaming platform, with more than 2 billion logged-in users playing music on its service every month.
But increasingly, TikTok is looking less like a mere 'frenemy' to Alphabet's video service – and more like a serious direct competitor.
Just last week, very much parking its tanks on YouTube's lawn, TikTok announced that it was rolling out the option for its users to create videos of up to three minutes in length – up from what was previously 60 seconds.
Now, new statistics have come to light that are likely to further wrinkle the brows of YouTube higher-ups.
According to a fresh report published by respected analytics firm App Annie, as of May 2021, TikTok surpassed YouTube in both the US and the UK for average time spent per user, per month on Android.
As of May, says App Annie, US-based TikTok users on Android devicesspent an average of 24.5 hours a month on the Bytedance-owned platform. That's compared to 22 hours per user, per month on YouTube.
This is a recent phenomenon: App Annie's data (see below) suggests that TikTok initially overtook YouTube for per-user monthly engagement duration in the US midway through last year, before regaining this lead in April 2021.
In the UK, TikTok's lead is more comfortable: Its users in Britain were spending 26 hours a month on the platform in May this year, while UK YouTube users were spending just 16 per month.
---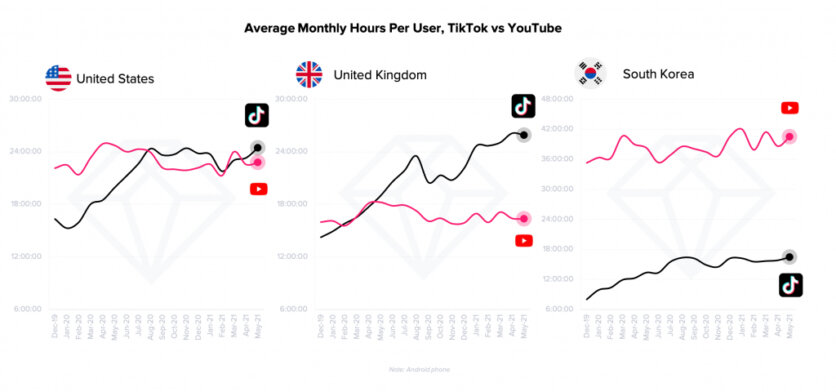 ---
YouTube is still holding onto a 2.5x lead over TikTok in both Korea and Japan on Android, in terms of average time spent per user, as of May 2021.
In South Korea, according to App Annie, this equates to over 40 hours per person per month, up 15% from December 2019.
---
Digging deeper into App Annie's report reveals that across 2020 as a whole, the average US-based YouTube user spent 23.1 hours per month on the platform.
The average US-based TikTok user spent an average of 21.5 hours per month across the course of the year (see below).
---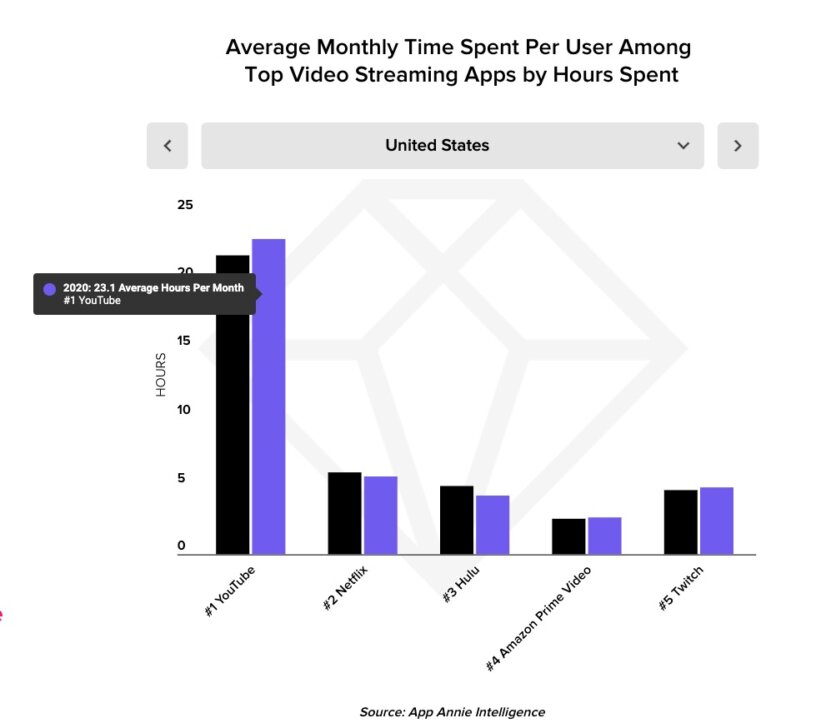 ---

---
According to a recently leaked TikTok B2B pitch deck, as of October 2020 the TikTok app was reaching 732 million monthly active users (MAUs) globally, and more than 100 million MAUs in the United States alone.
App Annie estimates that TikTok will reach 1.2bn monthly active users in 2021 on both Android and iPhone.
---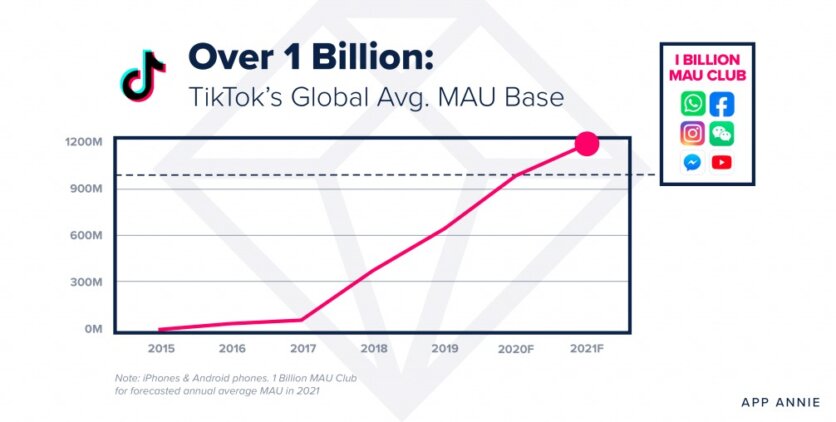 ---
App Annie notes in its report that while "YouTube was the No.1 ranking video streaming app by time spent among all markets analyzed, except China", compared to the likes of Netflix and Amazon Prime Video.
However, TikTok, ranked as social media app in the report, "encroaches on [the] Video Streaming War".
Adds the report: "The user base of top streaming apps is increasingly using TikTok YoY — which could represent a competitive threat [to video platforms]."
"The user base of top streaming apps is increasingly using TikTok YoY — which could represent a competitive threat".

App Annie
The report continues: "In the US, 2.3x the usage penetration of Netflix's iPhone user base used TikTok in Q4 2020 vs Q4 2019.
"Impact of the TikTok ban in India is seen here — bucking the trend — a dramatic 23 percentage point decline in cross- app usage YoY."
---
Citing an internal memo to sent to staff, the Wall Street Journal reported last month that TikTok parent company ByteDance saw its annual revenue top $34.3 billion in 2020.
YouTube, across all of its videos, music included, generated $19.78bn from advertising across the course of calendar 2020.
YouTube reported in June that it paid out over $4bn to the music industry in the last 12 months.
The platform's Global Head of Music Lyor Cohen also recently revealed that YouTube Music is "the fastest growing subscription service out there".Music Business Worldwide