There are 144m people in Russia – bigger than Japan's population, and more than double the size of the UK's.
Yet last year, the market paid labels and artists just $52m, according to IFPI figures.
That was up 7% year-on-year, but digital revenues were flat at $23.5m.
Compare this to the UK's contribution to the recorded music business in the same 12 months – $1.35bn, with digital revenues of $590m – and Russia's under-delivery to artists worldwide becomes clear.
Yet many in the music biz still believe the piracy-riddled Russian market has masses of potential.
And now, that potential might finally be about to be realised.
---
In recent months Russia's once sin-binned social network, vKontakte, has inked licensing deals with Warner Music Group and Sony Music Entertainment, in part to power a new mobile subscription streaming app.
Today, bringing to a close a two-year lawsuit against VK, Universal has announced that it's done the same.
The major has reached a settlement with VK parent Mail.ru and licensed its social media platforms – VK, Odnoklassniki and My World – for future use of video and audio content from UMG artists like Taylor Swift (pictured).
Mail.ru has committed to "testing various monetisation models jointly with other market players to find the best solution for both artists and fans".
"This will take the russian music market to a whole new level."

Dmitry Grishin, Mail.ru
According to Russian newspaper Vedomosti, the Universal agreement will include an $8m minimum guarantee from VK to cover a three-year period, which works out to around $2.7m a year.
According to Vedomosti, Warner has reportedly signed a $2.5m-a-year deal, while Sony has agreed a $2m-a-year contract.
That means the majors have accepted a minimum guarantee of around $7m a year between them, or $21m in total across the three years.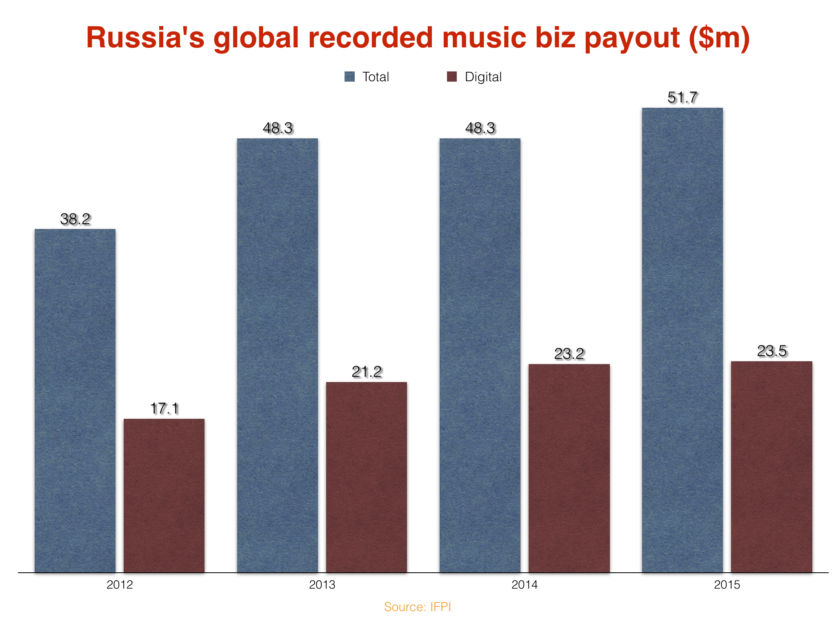 ---
United Music Agency, which specialises in licensing media content and has contracts with major rights holders, secured the agreements.
Adrian Cheesley, Senior Vice President, Universal Music Group stated: "Music has tremendous value and we're gratified to reach a commercial agreement that ensures UMG's artists are fairly compensated for the use of their music.
"Russia is an important, and growing, market for UMG and with this important step we're looking forward to developing more local artists, investing in growing the music scene and broadly licensing services."
Dmitry Grishin, Chairman of the Board of Directors, Mail.Ru Group, commented: "Our partnership with the leading rights holders will take the Russian music market to a whole new level and allow us to offer users the best music from around the world through existing and new digital products."
---

Consider that ad-funded streaming generated $3.4m in Russia last year (IFPI), with paid subscription shelling out $5.2m.
An additional $7m a year will clearly be a significant boost to the coffers of the major recorded music business.
(Especially when Apple Music launched in Russia last summer, and Spotify is strongly rumoured to enter the market in the coming months.)
Although the majors' vKontakte deal applies across Mail.ru's social media platforms, VK is very much the focus – and not just because of the cash windfall.
As a result, VK will officially become legitimized, changing the dynamic at one of the biggest music piracy sources on the planet.
"This is a historic moment and a new milestone in VKontakte's history."

Boris Dobrodeyev, Vkontakte
However, it is believed that Mail.ru would still be legally protected by a 'safe harbour'-style Russian law, which means it is unlikely to be held legally accountable should any users upload copyright-infringing music in future.
As a social network, vKontakte ('in contact') boasts around 369 million accounts with approximately 75m-100m daily visits – numbers which have led it to be dubbed 'Russia's Facebook'.
Boris Dobrodeyev, CEO, VKontakte, said: "Following extensive negotiations, we have agreed terms with all of the major music rights holders, enabling us to draw a line under this process. This is a historic moment and a new milestone in VKontakte's history.
"Our constructive and mutually beneficial collaboration has put an end to earlier disputes with the record companies. Following the removal of legal barriers, we can now create new products based on VKontakte's music service that users will value."
---
All three majors attempted to sue VK in 2014 for past copyright infringement, demanding compensation to the tune of 50 million rubles ($1.4 million) from the social networking site.
Sony Music Entertainment settled out of court with the platform in July 2015.
Universal and Warner pressed on with legal action, but the labels suffered a major legal defeat in March this year when the Saint Petersburg & Leningradsky Region Appeal Court overturned an earlier ruling – finding that VK was not liable for copyright infringement. 
Warner soon bowed out of the battle with its own out of court settlement, and now Universal has done the same.

"These agreements represent significant progress towards a properly functioning market."

Stu Bergen, Warner
Adam Granite, President, Northern & Eastern Europe and Africa, Sony Music International, said: "Russia is a music market with tremendous opportunities.
"Through the signing of our agreement, we are pleased to be working with Mail.Ru Group and UMA to provide Russian fans with licensed music via services that compensate recording artists and make their work available in appealing new ways via the country's largest social networks."
Stu Bergen, CEO, International and Global Commercial Services, Warner Music Group, commented: "We see enormous growth potential for our business in Russia and opportunities for further investment in Russian artists when performers and rights holders receive fair compensation. These agreements represent significant progress towards a properly functioning market."Music Business Worldwide