The record industry faced some dire predictions for this year following the shutdown of retail stores and licensed public places after COVID-19 hit.
Said predictions included a forecast from Spanish trade body ProMusicae (whose members include the three major music companies) that annual subscription streaming revenues in Spain would fall by €50m in 2020 compared to the prior year.
We'll say it with caution, but in truth, these concerns now look a little over the top.
Last month we learned that Germany's recorded music industry was up 4.8% in the first six months of 2020 on a retail basis.
And today (September 8), ProMusicae has announced that Spain's record industry saw a revenue increase of 4% in the first half of this year, in spite of the pandemic.
Recorded music industry revenues generated in H1 2020, according to figures compiled by the Spanish association (which represents almost 95% of Spain's recorded music industry) reached €145.1 million ($158.4m).
That compared to €139.5m recorded in the same period in 2019.
Remember: These figures come just five months after Promusicae published a report projecting that Spain's recorded music industry would see a year-on-year fall of over €100m in annual revenues during 2020 due to the effects of Coronavirus.
That projected slump included around €40m from a drop-off in physical music sales, and that additional €50m fall in streaming revenues.
Despite these dire mid-lockdown forecasts, the Spanish record industry as a whole enjoyed a buoyant first half of the year – thanks to music streaming.
---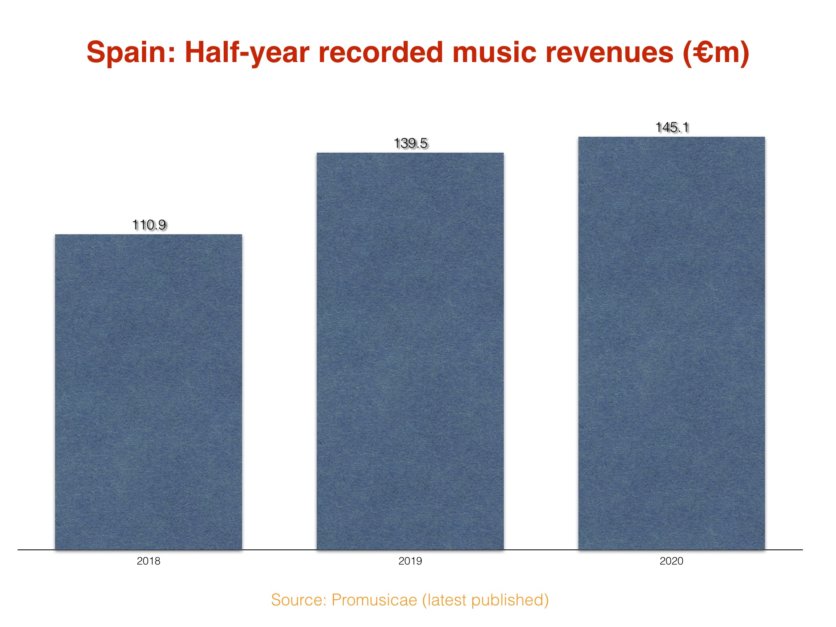 ---
Spain's audio streaming subscription revenues increased by 17% from €77.1m in 2019 to €90.2m ($98.5m) in H1 2020, according to Promusicae.
And revenues generated by free/ad-supported audio streaming tiers, meanwhile, were up 55.7% year-on-year, to €16.1m ($17.6m).
And advertising revenues from video platforms (YouTube, Vevo) grew 14.9% year-on-year, reaching €16.3m ($17.8m).
Overall digital revenues in Spain were up 18.9% to €127.1m ($138.8m) in H1 2020, representing almost 88% of the market's total sales.
---
As predicted, Spain's physical market was "irrevocably hampered" by the closure of shops due to Coronavirus, according to ProMusicae, but not as severely as projected by the trade body back in April.
Half-year CD sales plummeted by more than 50%, down from €24.2m in H1 2019 to €10.6m ($11.6m) in the first half of 2020.
Sales of vinyl albums shrunk 7.7%, from €7.8m in the first half of 2019 to €7.2m ($7.9m) in H1 2020.
CD still claims a 58.2% share of Spain's physical market, with Vinyl accounting for 40%. Video and physical singles account for 1.3% and 0.5%, respectively.
"The fact that the industry has proven to be resilient to the Covid crisis in the first half of 2020 is very rewarding."

Antonio Guisasola, Promusicae
Promusicae's President Antonio Guisasola, said: "Following long years of effort, innovation, adaptation and investment of the industry, we can now boast about having reached an industry with high levels of digitalisation in the distribution of recorded music which, in circumstances as today's, benefits us and that unfortunately other economic sectors have not been able to achieve.
"The fact that the industry has proven to be resilient to the Covid crisis in the first half of 2020 is very rewarding and the result of companies' successful digital strategy [in previous] years.
"In pandemic and home lockdown times, recording companies have virtually been the sole income source for many artists, given the general activity drop and the impossibility to arrange live concerts".
Added Guisasola: "It is absolutely key to put these positive figures into the general context of the music industry, because the slight industry growth this semester cannot detract from the magnitude of the crisis we will be facing in the second half of the year, particularly intense for the live sector, with devastating effects for artists and for everyone involved in the creation of value".
---
All € to $ currency conversions made at 1.092 USD-to-EUR H1 2020 average, as estimated in Vivendi's half-year results.Music Business Worldwide