MBW's Stat Of The Week is a series in which we highlight a data point that deserves the attention of the global music industry. Stat Of the Week is supported by Cinq Music Group, a technology-driven record label, distribution, and rights management company.
---
"Spotify is the answer to piracy: migrating millions of piracy-based music fans to a legitimate platform where their consumption of music can be monetized and the artists who dedicate their lives to creating music can finally get paid."
Sean Parker, Napster co-founder and early Spotify investor, knew what the strongest 'sell' for Daniel Ek's company to the record business would be ahead of the platform's US launch in 2011.
Spotify's apparent ability to decimate the popularity of online piracy has long been held up as a key B2B benefit of the platform – as well as a repeated justification for the continuation of its free tier across the world.
But has music piracy really disappeared in the Spotify age?
A new report suggests not.
---
MBW's Stat Of The Week: A freshly-released study carried out on behalf of collection society PRS For Music shows that overall usage of music-only stream-ripping services in the UK increased by a whopping

1390%

in the three years between October 2016 and October 2019.
---
The study (which you can download here) was conducted by online rights monitoring company INCOPRO. It found that stream-ripping sites now account for over 80% of the 50 most popular music-only infringing piracy sites in the UK.
The explosion in stream-ripping piracy usage in the UK comes as usage of BitTorrent (P2P) download sites continues to decrease significantly.
INCOPRO found that within the top 50 music piracy sites in the UK, there was a notable drop in the proportion of BitTorrent sites versus the prior three years – decreasing from 14 to six.
The report found that the No.1 stream-ripping site in the UK is y2mate.com, which had the highest usage of all sites monitored.
---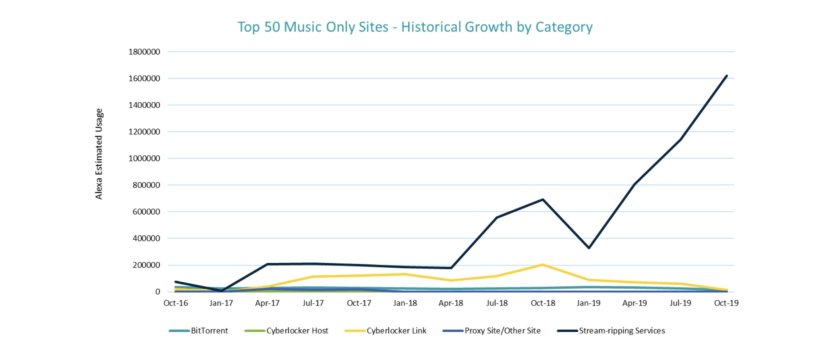 ---
Despite overall usage of stream-ripping sites skyrocketing in the three years, the actual volume of stream-ripping sites online actually significantly decreased in the period.
This, said the report, was possibly due to the industry's disruption efforts against these stream-ripping services, such as the geo-blocking of youtube-mp3.org in Q3 2017.
INCOPRO found that in the last quarter of 2019, only 17 stream-ripping services were recorded with usage in the UK.
---
Stream-ripping services allow users to illegally create permanent offline copies of audio or video streams from platforms such as YouTube.
YouTube remains the legitimate service most exploited by stream-ripping, found the report.
Spotify is now the second most affected service, overtaking SoundCloud which was No.2 in the prior three-year period. Deezer, Amazon Music and Tidal were amongst other popular licensed platforms most targeted.
Simon Bourn, Head of IP and Litigation, PRS for Music, said: "This report shows that music piracy is very much still alive and kicking, and that stream-ripping is now responsible for a mammoth proportion of the overall piracy problem.
"Streaming royalties now account for over 20% of our members' income, and the popularity of this illegal activity has a severe and direct impact on the royalties we can collect for them from legitimate services. Each time a stream is ripped, the user is then listening to and consuming that rip outside of the licensed ecosystem.
"This report shows that music piracy is very much still alive and kicking, and that stream-ripping is now responsible for a mammoth proportion of the overall piracy problem."

Simon Bourn, PRS For Music
"We will continue to take all possible measures to prevent stream-ripping services from existing, in order to maximise the royalties we collect for our members and to ensure they receive fair remuneration for their work.
"We also expect others who are in positions of responsibility within the digital economy, including app stores, software and plug-in platforms, ad networks, YouTube and other licensed services, to play their own parts in preventing these illegal services from stealing music and depriving songwriters, composers and music publishers of their rightful reward."
Andrea C. Martin, CEO, PRS for Music, said: "Since this research was conducted, the world has changed beyond what anyone could have imagined due to COVID-19. The prolonged absence of income from live performance means that revenues generated on legitimate digital platforms are more important than ever.
"While the report shows that our efforts are going in the right direction, it is equally clear that we must persist and continue to work closely with both government and the wider music industry to foster a secure digital environment for music creators and consumers alike."
---

Cinq Music Group's repertoire has won Grammy awards, dozens of Gold and Platinum RIAA certifications, and numerous No.1 chart positions on a variety of Billboard charts. Its repertoire includes heavyweights such as Bad Bunny, Janet Jackson, Daddy Yankee, T.I., Sean Kingston, Anuel, and hundreds more.Music Business Worldwide