"Everybody's going crazy about this."
That was the reaction of one senior record industry figure speaking to MBW earlier today (January 27), as a host of tracks by superstar artists were rendered unplayable on Spotify.
This outage has now, thankfully, been fixed. But not before a frisson of panic set in for at least a handful of rightsholders, whose companies rely heavily on income from Spotify's royalty payouts.
Tracks affected by the odd incident today – which MBW believes took place between 10am ET and 11am ET – included a string of hits on Dua Lipa's profile page (see below).
MBW has confirmed with friends in the industry that the bug hit Spotify in both the US and the UK, as well as European territories such as Germany and France.
The outage wasn't constrained to any one label or distributor: it affected records signed to labels at Universal Music Group, Sony Music Entertainment, and Warner Music Group, plus non-major companies such as BMG.
A Spotify rep has told at least one company in the business: "We experienced a bug this morning that made some content appear unplayable in certain clients. Service has been fully restored and any impacted content should now be available in all players."
---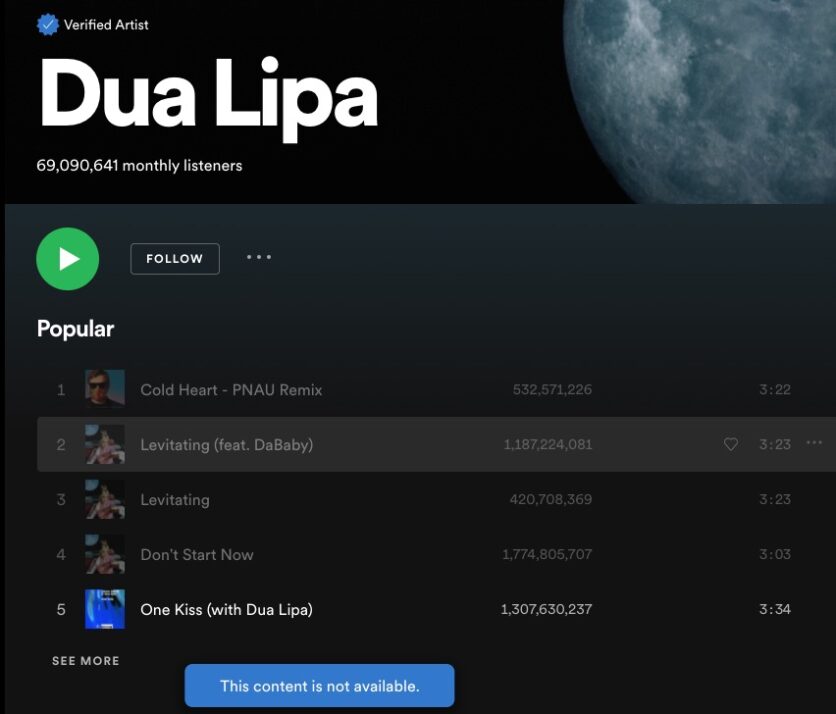 ---
Other major-league artists affected included Taylor Swift, with tracks such as Blank Space and Enchanted 'greyed out' from being available to play on her profile.
Oddly, other popular Swift tracks – including Lover plus the Taylor's Version of All Too Well and Wildest Dreams – remained available to listen to during the outage.
---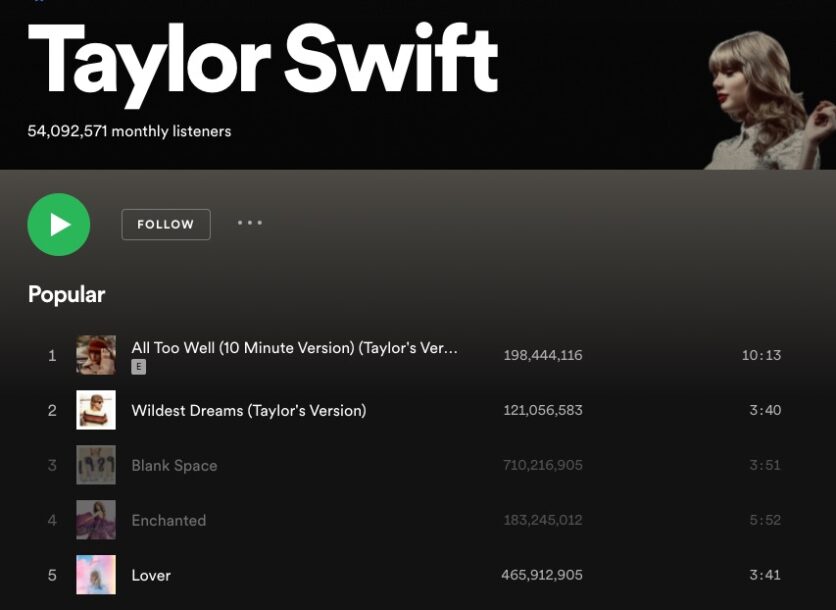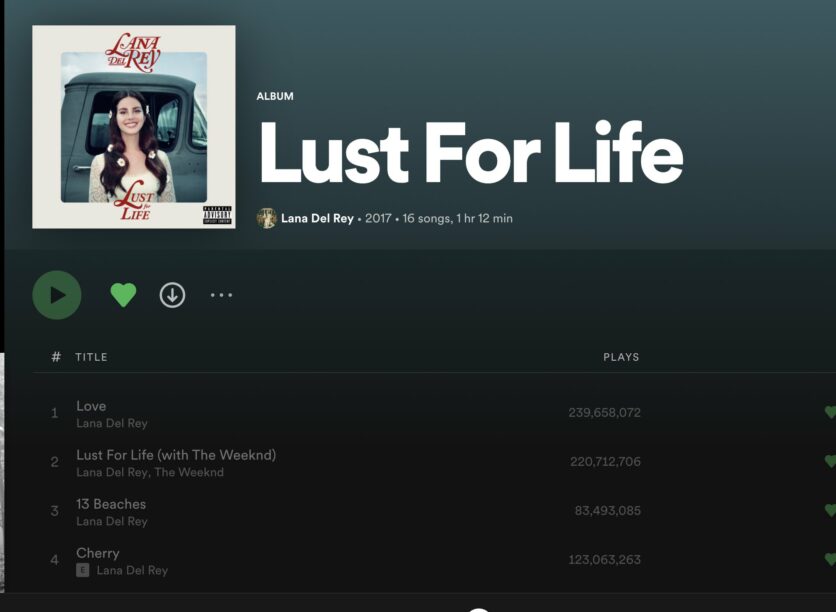 ---
It was the same story for Adele: you could play new hits like Easy On Me and Oh My God by the British superstar, but her whole 21 album was, for a time, rendered unplayable.
When users tried to press play on these tracks, Spotify displayed a blue 'This content is not available' button.
---

---
Some artists seemed to be completely unaffected: The entirety of tracks from across Drake's career, for example, all appear to have remained playable on Spotify throughout today.
Catalog artists were not equally affected: The entire Bee Gees album catalog remained present and correct (and playable); it was a different story for Oasis, whose What's The Story (Morning Glory) album was completely greyed-out.
Likewise, Marvin Gaye's What's Going On was fully playable, while Nirvana's Nevermind was, for a while, entirely greyed out.
---


---
Outages like this – no matter how quickly they are rectified  – are bound to sharpen industry minds when it comes to just how reliant the record business is on Spotify.
Lest we forget that Neil Young, whose own music has been taken down from Spotify at his request, revealed yesterday (January 26) that Spotify pays out 60% of his own total streaming income (which goes, in the first instance, to his label Warner Records).
Today's outage is also likely to trigger discussions about so-called 'user-centric' payment models on streaming services.
Currently, services such as Spotify operate a "pro rata" (or "one big pot") royalty system, whereby all royalty money is pooled each month, before being paid out based on the market share each artist/label claims of all streams on the platform.
Today's bug could have potentially played havoc with this system, as only a portion of Spotify's music catalog was made unavailable, leaving other available tracks to potentially be played (and paid) in the place of the unfortunate 'greyed out' songs.
Last year, an industry-first move, SoundCloud introduced what it calls "fan-powered royalties" – its own branding of the user-centric model – which it said would mean "each [SoundCloud] listener's subscription or advertising revenue is distributed among the artists that they listen to, rather than their plays being pooled".
Around 100,000 independent artists who upload their music direct to SoundCloud and/or use its Repost services were switched to a 'fan-powered' royalty system as a result.Music Business Worldwide