MBW Reacts is a series of analytical articles from Music Business Worldwide written in response to major recent entertainment events or news stories. 
---
Did Spotify have an impressive Q1 or not? That all depends on which lens you look through.
In February, Daniel Ek's company forecast it would grow global subscribers by 3 million in the first quarter of the year. But then Russia's invasion of Ukraine happened.
Weeks after making its +3 million forecast, and in an act of international corporate solidarity, Spotify cut its billing in Russia – effectively jettisoning 1.5 million Russian subscribers from its platform.
If you ask MBW, the news that Spotify ended up adding 2 million net subscribers in Q1 – despite its commercially self-sacrificing move in Russia – has a rosy tint to it.
Spotify's Q1 performance looks even better in the context of Netflix, which lost 200,000 net subscribers in the same quarter, and is now projecting the loss of 2 million net subs in Q2.
Wall Street, however, was ultimately left unimpressed with one Spotify number in particular amid its newly-unveiled Q1 results earlier this week.
Spotify posted a Q1 gross profit margin in the mid-20s (25.5%), and announced that it expected this figure to remain flat in Q2.
Investors have been wanting to see this gross margin ratchet up into the 30-percents, largely as a result of Spotify's original content strategy in podcasting.
The consequence?
Spotify's already-tanking share price on the NYSE hit new lows this week: It closed at $96.67 on Wednesday (April 27) – down 60% on the start of 2022, and nearly a quarter of the size it was at Spotify's peak, at $364.59 in February last year.
All of that spelled doom for Spotify's market cap value, which tumbled to $18.62 billion on Wednesday night, according to YCharts.
That $18.62 billion figure was down – gulp – by $50.7 billion on Spotify's equivalent value just 14 months ago, during that February 2021 peak ($69.35 billion).
---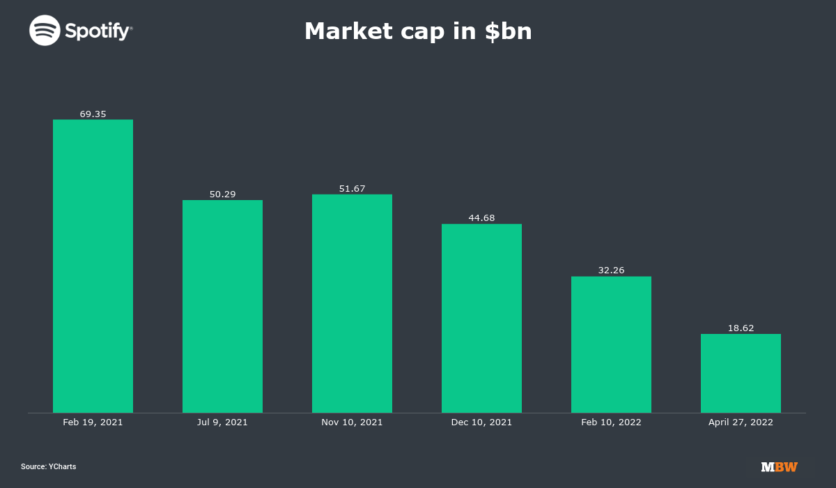 ---
This is not great news for Spotify, obviously – but it's also not good news for its key shareholders, including two major music rightsholders.
Universal Music Group (UMG) confirmed in its recently-issued annual fiscal report that it owned 3.37% of Spotify at the close of 2021 (see below), having held on to the stock UMG was granted when Spotify launched in 2008.
If UMG has, as expected, continued to hold onto that stock in 2022 so far, it would mean Universal's Spotify stake was worth around $2.34 billion in February 2021, but this week fell to approximately $627 million – a decline of more than $1.7 billion dollars.
---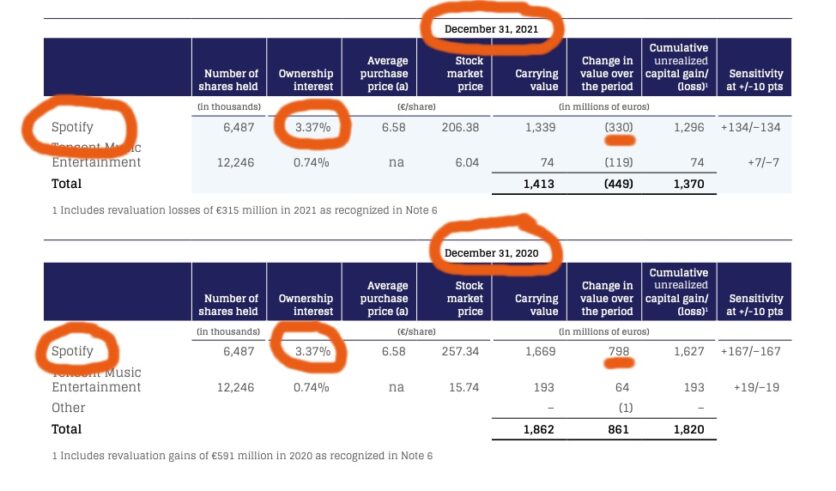 ---
Elsewhere, Sony Music is believed to own around 2.85% of Spotify stock, having previously cashed in half of its 5.7% holding in SPOT back in Q2 2018.
Sony has since confirmed that it banked some $768 million from that 2018 stock sale. It then shared this money with artists, while notably overlooking their unrecouped balances.
MBW therefore estimates that Sony made its 2018 Spotify equity sale when SPOT was worth around $27 billion – approximately $8 billion more than SPOT was worth midway through this week.
[This article assumes that Sony has not quietly cashed in any additional Spotify stock this year.]
Warner Music Group sold 100% of its Spotify stock in the same quarter as Sony's disposal (Q2 2018).
WMG banked $504 million from that sale, and shared 25% of that money with artists (but didn't overlook unrecouped balances)
Meanwhile, indie label collective Merlin sold its entire Spotify stock on the first day that SPOT floated on the New York Stock Exchange (April 3, 2018), when the streaming company had a $26.5 billion market cap.
As a result, it's understood both Warner and Merlin are no longer shareholders in music's largest streaming subscription platform.
---
Universal and Sony's Spotify stock holdings perhaps have worth beyond mere equity value, of course; it could be argued that, for a major music company, owning even a morsel of equity in SPOT brings with it associated negotiating leverage.
Hervé Philippe, the CFO of Vivendi, said on an earnings call in late August 2020 (when Vivendi still majority-owned Universal) that Vivendi/UMG had "no intention to sell our stake in Spotify, which is a very good partner to us".
Philippe stated that Vivendi/UMG was a "happy shareholder of Spotify", and suggested that a "long-term relationship with Spotify is in the best interest of both our shareholders [and] our artists".
"We have no intention to sell our stake in Spotify, which is a very good partner to us."

Hervé Philippe, Vivendi (speaking in August 2020, when Vivendi owned UMG)
Phillipe also said, however, that Vivendi was "very happy with the share price of Spotify, which has increased a lot in  recent weeks".
At that point in time (Aug 2020), Spotify's market cap was worth around $50 billion. That's over $30 billion more than SPOT was worth at the close of Wednesday this week.
(UMG is no longer majority-owned by Vivendi, having floated on the Amsterdam Euronext in September 2021.)
---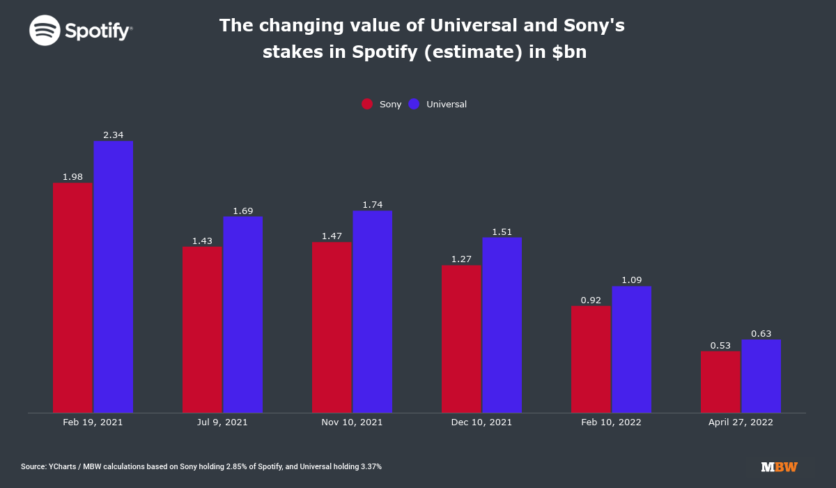 ---
Universal has previously confirmed that, if it ever does sell its Spotify stake (or some of its Spotify equity stake) it – like Sony before it – will share the proceeds with UMG artists while overlooking their unrecouped balances.
How much money those artists ultimately get paid depends, to a large degree, on how successful Daniel Ek is at stopping the rot of Spotify's share price in the months ahead.
He's off to a positive start: Yesterday (April 28), following its fall below $100 on Wednesday, Spotify's NYSE share price rebounded up 6.4%, adding over $1 billion to SPOT's market cap in a single day.
At the time of publishing, Spotify's share price is today (April 29) up by another 1.5%.
This is a positive start.
But if Daniel Ek and his management team are to recapture the purple patch of Spotify's commercial worth – back when it was kissing a $70 billion market cap value in February last year – they still have a long, long way to go.Music Business Worldwide