MBW Reacts is a series of short comment pieces from the MBW team. They are our 'quick take' reactions – through a music biz lens – to major entertainment news stories. 
---
Spotify officially announced yesterday (March 15) that it has struck a major four-year sponsorship agreement with Barcelona.
As expected, the deal will see Spotify's logo splashed across the Spanish football/soccer giant's shirts from July 1, and even result in the world-famous stadium, the Camp Nou, being rebranded with Spotify's name.
In making the announcement, Spotify seemed particularly keen to assure music artists that they stand to get some nice benefits from the agreement.
"Spotify and FC Barcelona will be working together to create opportunities for the iconic shirt to become a space that can celebrate artists from across the world," said Spotify in a media release, adding: "The vision for the partnership is to create a new platform to help artists interact with FC Barcelona's global community of fans."
We will have to see how the global artist community feels about the real story here, however: the money.
According to sources, Spotify ended up agreeing to pay USD $310 million for the four-year Barcelona deal, slightly lower than the $320 million that was previously mooted.
When we saw that $310 million figure doing the rounds this morning, MBW thought to itself: 'Hmmm. We wonder how many streams on Spotify one artist would need to rack up in order to earn that kind of money in royalties?"
So we worked it out.
According to the latest "Streaming Price Bible" published on The Trichordist, the average per-stream recorded music royalty payout from Spotify in 2019-2020 was $0.00348.
It is important before we go any further to quickly clear up a few important things:
There is, technically, no 'per-stream' rate applicable to Spotify, as it famously distributes revenues on a pro-rata basis using the 'one big pot' model (under which an artist/label's percentage of total streams each month equates to to their percentage of the total amount of royalties generated). However, an average per-stream rate, calculated retrospectively like The Trichordist does across the course of a year, is a fair yardstick as to how much money each play on Spotify garners;
That average Spotify per-stream rate has shifted over time, as Spotify has grown its freemium user-base, launched new promotions, and entered new markets. Way back in 2013, for example – when Spotify had just six million subscribers (!) globally – it claimed to be paying out around $0.007 for every stream on its service;
These figures do not include song/publishing royalty payouts which, as a very rough rule of thumb, are comprised of somewhere between 10% and 15% of Spotify's net revenues (versus 52%-ish for recorded music royalties) in a given period;
In the context of this article, we are discounting the fact that all artists with music on Spotify distributed that music via a third-party record label or distribution company, who actually collect – and then take their contracted cut from – royalties paid out by streaming services.
---
So: In order for an artist to generate $310 million in recorded music royalties on the Spotify platform – at that $0.00348 per-stream average rate – they would need to rack up a gigantic 89.08 billion plays on the service.
And here's the thing: No artist in the history of Spotify has ever, across their entire catalog, attracted that many plays.
According to ChartMasters, the most cumulative streams ever recorded by a single artist on Spotify is Drake with 62.84 billion.
However, of these streams, 17.57 billion were from tracks on which Drake was merely a featured artist (and therefore, wouldn't have claimed the majority of the royalties).
On tracks on which Drake was the lead artist, he has to date pulled in 45.27 billion streams on Spotify. And these streams, at that average per-stream rate ($0.00348), would have generated around $157 million.
Even if we bump up the Streaming Price Bible's 2019-2020 average Spotify per-stream royalty rate a bit (to account for the fact that historically it's sometimes been higher) – increasing it to, say $0.005 – an artist would have still needed to have generated 62 billion streams (of their own solo tracks; not features) to have hit the $310 million payout figure.
---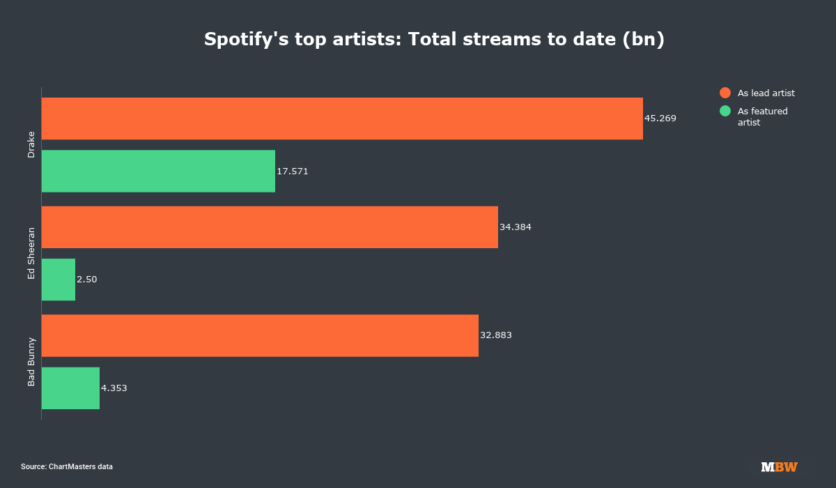 ---
The long and short of it: any way MBW slices the numbers, Drake – the biggest artist ever on Spotify – doesn't get to $310 million in lifetime royalties from the platform
Some further workings: You can add in songwriting royalties to the tally… but we know that Drake's tunes have as many as 21 credited songwriters apiece, and this would reflect in relatively (key word: relatively) small personal payouts for Aubrey Graham on that side of the business versus his recorded music royalties.
You can also argue that Spotify paid a higher average per-stream royalty rate earlier in Drake's career than $0.00348. But we also know that only around 20% of Drake's cumulative to-date streams on Spotify had been racked up by mid-2018, when he had 13 billion plays (inc features) on the platform.
By mid-2018, Spotify's average per-stream rate had already fallen to $0.0033 – actually lower than that $0.00348 rate we've applied above.
---
So is Spotify getting good value for the $310 million it's pumping into the Barcelona deal?
More to the point, are artists?
Spotify certainly thinks so. Alex Norström, Chief Freemium Business Officer, Spotify, said in a statement: "We could not be more thrilled to be partnering with FC Barcelona to bring the worlds of Music and Football together.
"Spotify's mission is to unlock the potential of human creativity, supporting artists to make a living off their art and connecting with fans… We believe this partnership creates many opportunities to deliver on this mission."

Alex Norström, Spotify
"From July, our collaboration will offer a global stage to Artists, Players and Fans at the newly-branded Spotify Camp Nou. We have always used our marketing investment to amplify Artists and this partnership will take this approach to a new scale. We're excited to create new opportunities to connect with FC Barcelona's worldwide fanbase."
He added: "Spotify's mission is to unlock the potential of human creativity, supporting artists to make a living off their art and connecting with fans. We believe this partnership creates many opportunities to deliver on this mission in unique, imaginative, and impactful ways."
---
Lots of talk about artists in that statement from Spotify's Norström (and, indeed, in this article so far) but no mention of songwriters.
As we've written about before, the news that Spotify can find a spare $310 million to ink a deal like this with Barcelona may be rather hard to swallow for those in the songwriting community who have watched Spotify appeal a royalty pay-rise for composers and publishers in the US.
SPOT's initial appeal against the US songwriter pay rise, as adjudged by the Copyright Royalty Board, covered the years from 2018 from 2022.
But in October 2021, we learned that Spotify was now also trying to suppress songwriter streaming pay rates for the following five years (2023-2027), too.
In both cases (2018-2022; and 2023-2027), Spotify wants to keep US songwriter pay at just 10.5% of its service's revenues (with additional 'carve out' deductions thrown in for the latter period).Music Business Worldwide