Sony's quarterly revenue from music publishing fell by around $20m in the three months to end of June, down to 15.65bn Yen ($152m).
In the same quarter (Sony's Q1) of the previous year, the company's publishing operation turned over 17.84bn Yen ($173m at current exchange rates), according to Sony Corporation.
The figures include Sony/ATV, which is 50% owned by Sony Corporation of America and 50% by the Jackson Estate – although Sony is in the process of trying to acquire the whole company in a $750m deal.
Across the whole of last year, Sony's publishing division – with star clients like Ed Sheeran and Taylor Swift (pictured) – generated 71.26bn Yen, or $693m at current exchange rates.
[UPDATE: Sony's publishing revenues include income stats for Sony/ATV and Sony Music Publishing Japan combined – which are run as two separate companies.]
The news comes as Billboard shows Sony/ATV's market share of the US Top 100 in the past quarter grew to 26.58% – ahead of Warner/Chappell at No.2 and UMPG at No.3.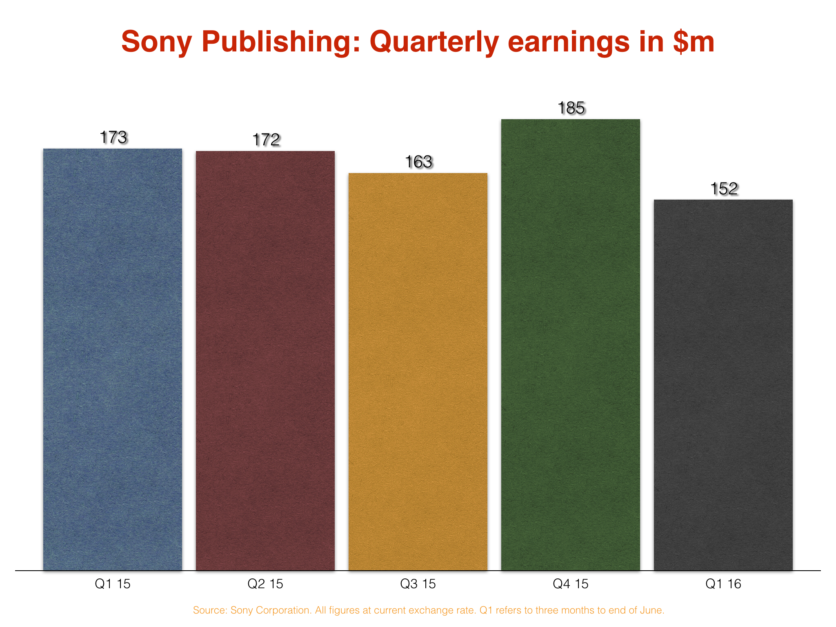 ---
Unfortunately, these figures come with a caveat: they don't tell the full story of Martin Bandier's business.
Sony/ATV's ownership structure is further complicated by EMI Music Publishing, in which Sony earns 30%.
Other owners of EMI Music Publishing include the Jackson Estate, plus Mubadala Development Company PJSC, Jynwel Capital, the Blackstone Group's GSO Capital Partners LP and David Geffen.
In addition, Sony/ATV administers EMI's catalogue, taking a 15% cut of net publisher share.
It is believed income from this setup does not make its way into Sony Corporation's figures – so we only have the 'pure' income figures for Sony/ATV without its additional EMI revenue.
Combined, Sony/ATV and EMI are believed to turn over in excess of $1.2bn each year.
---
What Sony Corp does give us transparency on is the number of song copyrights it owns and controls worldwide – across both its own business and EMI Music Publishing.
And they are rocketing.
The following is a snapshot of the firm's controlled copyrights at March 31 in each year.
[UPDATE: Again… Sony figures here include income at Sony/ATV and Sony Music Publishing Japan combined.]
As you can see, Sony now controls 4.21m publishing copyrights – and has accumulated around 240,000 copyrights since the same time last year.
When you consider that UMPG is believed to control around 3m copyrights, and Warner/Chappell 2m, Sony market dominance in terms of bulk is clear to see.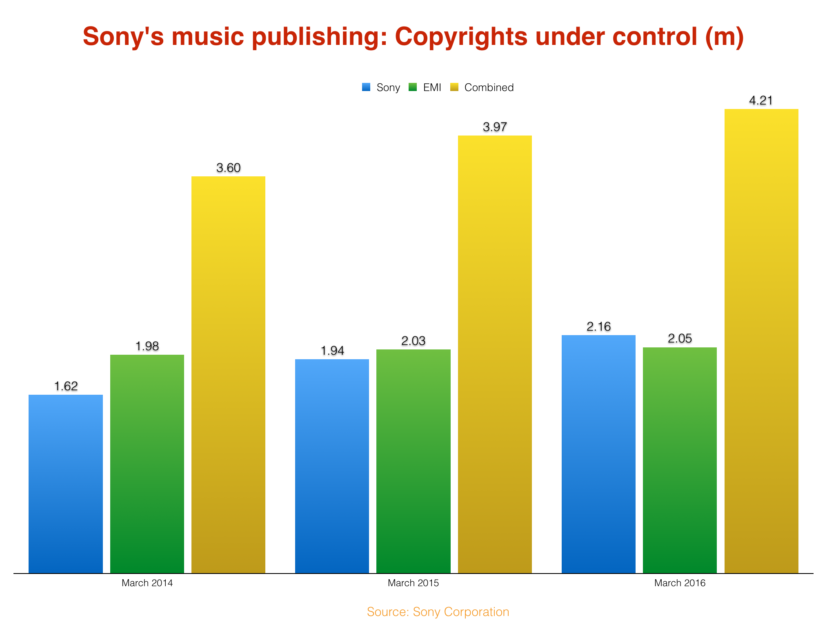 Music Business Worldwide