MBW's Stat Of The Week is a series in which we highlight a data point that deserves the attention of the global music industry. Stat Of the Week is supported by Cinq Music Group, a technology-driven record label, distribution, and rights management company.
---
Last month MBW estimated that Sony Music Group (SMG) had spent around $1 billion dollars on three recent music deals.
Those deals included the $430m acquisition of AWAL and Kobalt Neighbouring Rights, the $255m acquisition of Brazilian label Som Livre, and Sony Music Publishing's buyout of Paul Simon's song catalog for an undisclosed (but definite nine-figure) sum.
Now we know exactly how much Sony spent on music acquisitions in the last six months (on the aforementioned and other deals): $1.4 billion. And according to SMG Chairman Rob Stringer, there'll be more on the way.
Speaking at Sony Corporation's Investor Relations (IR) day today (May 27), Stringer confirmed the $1.4 billion figure while also discussing Sony's investment activities and the wider music market.
Grilled by an investor about what Sony Music Group plans on spending its cash on going forward – and where geographically it plans on investing – Stringer responded "everything and anywhere".
He added: "We have bought catalogs not only in the major western markets, but we've recently [also] bought catalogs in China and India.
"We have bought merchandising companies in every market in the world. We have bought management companies recently in Germany and Mexico. Our eyes are on the world… anywhere where we think there is a deal that enhances our ecosystem, we will be there."
Here's eight other things MBW learned from Stringer at Sony's IR day…
---
1) Stringer forecasts Sony Music Group's profit margins will "outperform our competitors" – despite artists and songwriters taking more money as the years tick on
Stringer explained that in spite of expecting "further margin pressure […] due to rising artist and songwriter costs", Sony Music Group is confident will be able "to offset that impact" on its profit margins.
The company will do that, he said "by continuing to drive top line revenues, taking a highly disciplined approach to cost management, leveraging our cost base as the business expands and improving A&R and marketing efficiency through data and analytics".
He added: "This strategy will allow us to continue to generate margins that outperform those of our competitors moving forward."
---
2) Sony calculates that over $7 billion was spent on M&A in the music industry in the first four months of 2021 – nearly as much as was spent in the entirety of 2020
According to Stringer, by Sony's calculations, "In just the first four months of this year, music-related M&A and catalog investment activity was over $7 billion."
Sony estimated says that this $7 billion figure was "nearly equal to the total investment activity in the 12 months of 2020", he added.
---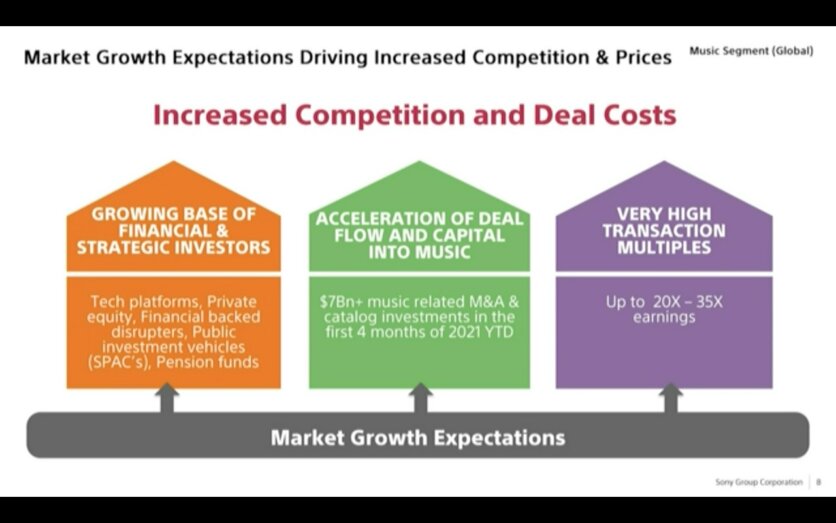 ---
3) Talking of aggressive A&R investment… Sony Musics roster size has expanded by 40% in the past three years
Stringer said that SMG is "aggressively building our global music roster of recording artists and songwriters around the world" and that as a result, in the past three years, Sony's roster size 'has expanded by 40%",
The Orchard alone, which Sony acquired in 2015 for $200m, represents over 17m tracks from 26,000 independent labels, he said.
Added Stringer: "Building on our success with the Orchard, we are further enhancing our support for the independent community with our planned acquisition of AWAL representing a catalog of nearly half a million recordings.
"The addition of AWAL instantly scales our artist services division with nearly 1,000 artists, as well as providing us with a leading platform with 14,000 artists in the rapidly advancing DIY segment."
---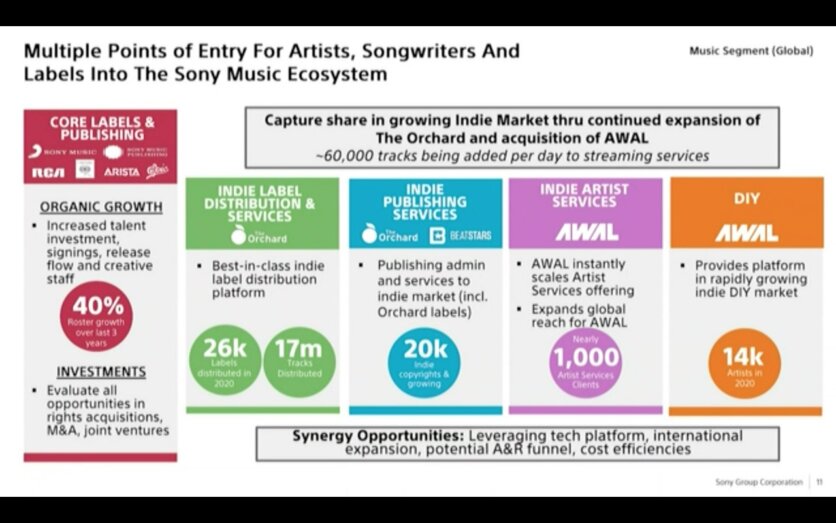 ---
4) Fitness, social, and gaming generated $400m for Sony in the past fiscal year
Across the three areas of social, gaming and fitness – via partnerships with the likes of Peloton, Fortnite etc. – Stringer announced that Sony Music has generated nearly $400m during the past fiscal year. The Sony exec now expects these income streams to "become an even more material part of our revenue base".
He added: "Music plays a tremendous role in enriching the user experiences across [social, gaming and fitness] and we are working with these partners to ensure that we properly monetize the usage of our artists and songwriters' recorded music and copyrights anywhere music is used."
---
5) Sony has invested in beat marketplace Beatstars
In April last year, Sony Music Publishing (then  Sony/ATV) announced that it had inked a partnership with music production marketplace BeatStars.
Founded by Abe Batshon (pictured inset) in 2008, BeatStars received a lot of media attention in 2019 for being the source of the track used for Lil Nas X's global hit Old Town Road.
As part of deal announced last year, Sony said that it would work on behalf of BeatStars' clients to pitch original songs and beats for sync opportunities and recorded music. Additionally, amongst other services, it said that it would provide Beatstars with global publishing and administration services.
There was also another element to the deal, Rob Stringer confirmed. He stated during his presentation that Sony Music Publishing "invested" in the platform, but stopped short at specifying what the value of this investment was.
Said Stringer: "We're finding and creating new revenue opportunities for artists and songwriters with the acquisition of Kobalt Neighbouring Rights and Sony Music publishing's investment in Beatstars, an online marketplace for beats."
---
6) Sony's ≈$300m acquisition of the orchard is a "point of differentiation" for Sony in the "new chapter of streaming growth"
Stringer was asked by investor what differentiates Sony Music's  from the other two majors, Warner Music Group and Sony Music Group.
He pointed to Sony's buyout of music distribution company The Orchard back in 2015 (for around $300m across two deals) as an "earliest point of differentiation". Stringer credited The Orchard as being the key to how Sony Music can "stop the dilution" of its market share in the fact of the 60,000 tracks now being uploaded to Spotify and other services daily.
Said Stringer: "Our earliest point of differentiation going into the new chapter of streaming growth was that we purchased The Orchard at the right time. That is a market leader. That is how we are able to stop the dilution of music through the number of songs and tracks going into Spotify."
He added: "Our market share is going up. That is hard to do, so we think that is a mark of differentiation to our competitors."
---
7) Sony's has considered launching its own music streaming service – but doesn't want to be "penalized" by Spotify et al for doing so
Stringer was asked whether or not Sony Music is interested its own direct-to-consumer music platform i.e. a its own music streaming platform.
Sony Music has already publicly launched its own service in Japan called Mora Qualitas, which offers on-demand, high resolution music streaming, but there's been no word about the global expansion of this platform.
"We welcome that the more competitors we have for our content the better."

Rob Stringer
Stringer told the investor asking the question that a D2C platform "is something that we constantly discuss, but as yet we want to be on all platforms".
He added: "We should be very careful that we don't interrupt the landscape by having our own platform and being penalized by the multitude of DSPs and various platforms around the world.
"We have a more diverse platform marketplace in the world now than any point so we welcome that the more competitors we have for our content the better and that's where we stand today."
---
8) Stringer feels Sony's competitors in music 'may do things differently because of the IPO'
Stringer was also asked about his strength over his rival Universal Music Group  in light of its upcoming public listing in Amsterdam later this year, and Warner Music Group (which floated on the NASDAQ in June last year.)
"We think we're on a more rapid growth curve than our competitors."

Rob Stringer
"We think we're on a more rapid growth curve than our competitors," said Stringer. "Obviously both our competitors are in an IPO situation. We will learn from that. We will understand that in a different way.
"They may do things differently because of the IPO but, in terms of our short, mid and long range plan, we are very clear cut on the rapid growth we need to have, obviously feeding off streaming growth first of all.
"But as I explained in my presentation, in every level of the company we think we are different."
---

Cinq Music Group's repertoire has won Grammy awards, dozens of Gold and Platinum RIAA certifications, and numerous No.1 chart positions on a variety of Billboard charts. Its repertoire includes heavyweights such as Bad Bunny, Janet Jackson, Daddy Yankee, T.I., Sean Kingston, Anuel, and hundreds more.Music Business Worldwide