SFX Entertainment's share price fell by 13.71% on the New York Stock Exchange yesterday.
The troubled firm's market cap now stands as a diminutive $9.52 million.
To put that into context, rival Live Nation's market cap sits at $4.4bn.
Or to phrase it another way, SFX is now 462 times smaller than its rival.
SFX's NYSE share price at the close of Monday (January 25) was just $0.096 – under ten cents.
The latest drop in SFX's share price comes just over a week after it secured $20 million in financing, which some saw as a bailout.
The source of the cash has since been revealed as a Canadian private equity firm.
Earlier this month, it was revealed that SFX had defaulted on a $10.8 million loan after missing a $3 million interest payment due on January 4.
You can see the shocking decline in the company's NYSE market cap in the past three years below.
It's now at around 1/100th of the share price it boasted as recently as December 2013.
Worrying times for SFX CEO Robert Sillerman (pictured).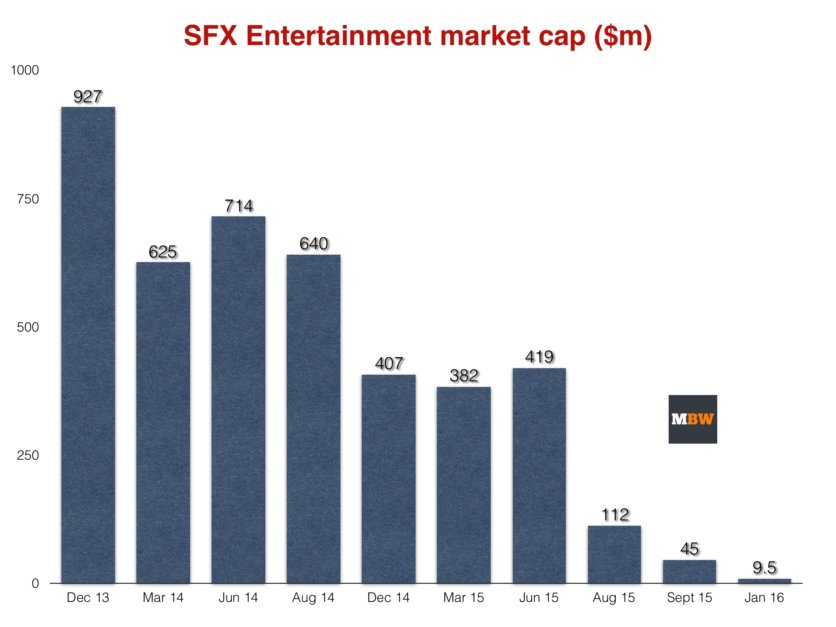 Music Business Worldwide