The MBW Review is where we aim our microscope towards some of the music biz's biggest recent goings-on. This time, we mull over some revelations in Live Nation's Q3 2020 results, revealed last week. The MBW Review is supported by Instrumental.
---
The pandemic has wreaked havoc on Live Nation Entertainment's revenues this year.
The company told investors in its Q3 SEC filing last Thursday (November 5): "[We] estimate the lost revenue impact from the global COVID-19 pandemic in the third quarter and first nine months of 2020 to be approximately $3.7 billion and $7.0 billion, respectively".
Oucha.
In the three months to end of September, Live Nation generated total revenues of $184 million, marking a 95% year-over-year decline compared with the $3.77 billion it generated in the prior year quarter.
And, once again, the firm's quarterly revenue generation within its ticketing category went negative – indicating that the firm paid out more in refunds than it generated in sales during the period.
In spite of the gloomy picture painted by the company's recent numbers, Live Nation Entertainment President and CEO, Michael Rapino, has remained optimistic for his firm's long-term prospects.
And well he should: Live Nation's share price has rocketed up over 20% today on the news that Pfizer is claiming to have create a Coronavirus vaccine with a 90% effectiveness rate.
Speaking to investors last week about the post-pandemic concert business, Rapino cited strong advance ticket sales for the likes of EDC Las Vegas 2021, which sold out in 24 hours. He added that upfront sales for the UK's Reading, Creamfields and Isle of Wight festivals are currently "pacing ahead of last year".
"We are encouraged by the enthusiasm for the recent events and gatherings that have started to take place, including our first sold-out arena tour with 20,000 fans in New Zealand, where business is headed back to normal," he added.
While Live Nation waits for the rest of the world to edge back towards 'normal', Rapino said that "for now we continue to maintain a strong cash management discipline while planning for the ramp up to resume live shows as soon as possible".
He wasn't kidding: In its Q3 earnings, Live Nation upped its annual cost-saving target from the $500m announced in May to what will now be over $900m across 2020.
Having listened to Live Nation's earnings call, and delved into the numbers in its Q3 filings, here's what we've learned about the company's current standing in a pandemic-hit year…
---
1) 83% of fans are keeping tickets for rescheduled shows – but that number has been dropping since the start of the pandemic
In Live Nation's Q1 earnings call back in May, Michael Rapino said that 90% of his firm's global customers had opted to hold on to tickets for future shows despite refunds being available for rescheduled concerts.
By the end of Q2, the three months ended June 30, 2020, that number had dropped to 86%.
"Through the end of the second quarter, 86% of concert fans are keeping their tickets for rescheduled shows, demonstrating their continued desire to attend concerts in the future despite the current uncertainty,"  the company told investors in August.
"Our refund rate on rescheduled shows remain consistently low with 83% of fans globally keeping their tickets."

Michael Rapino, speaking last week
In Live Nation's Q3 earnings, Rapino told investors: "Our refund rate on rescheduled shows remain consistently low with 83% of fans globally keeping their tickets".
That 83% number is for standalone concerts. When it comes to festivals, the picture is slightly different.
Most festivals have outright cancelled in 2020, Live Nation explained in its Q3 call, but for those festivals where fans can retain their tickets for a 2021 event, some 63% of fans have so far kept hold of their tickets (meaning 37% have not).
According to a company SEC filing, customers who requested ticket refunds in the first nine months of 2020 via Live Nation's ticketing operation (i.e. Ticketmaster and its sister companies) did so for 23.3m tickets in total – amounting to "nearly $2.3 billion of gross transactional value".
In sunnier news for investors, on Live Nation's Q3 call, Rapino cited a recent global survey which shows that "95% of fans are planning to return to live events when restrictions are lifted, the highest point of confidence since the start of the pandemic".
---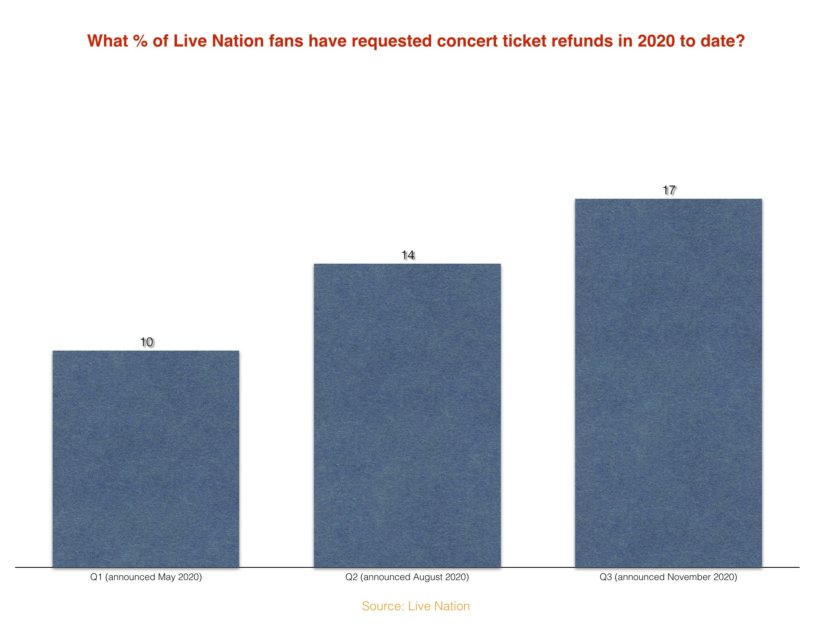 ---
2) Live Nation has slashed $200m from its annual wage bill in 2020 so far
Anyone who has a circle of LinkedIn contacts working in the music business will probably testify that barely a month has gone by since March without executives of all levels leaving Live Nation during the pandemic.
Some of the highest-profile exits in 2020 have included Guy Oseary, who stepped down as boss of Live Nation's in-house artist management conglomerate, Maverick, back in May, as well as Ticketmaster Chairman (and former President), Jared Smith, who has announced he will be vacating his role at the close of the year.
In addition to these headline-grabbing departures, it's also been reported that hundreds of Live Nation and/or Ticketmaster employees have been affected by pandemic-driven layoffs at the company this year.
"[we forecast] approximately $40 million in severance expense estimated through year-end, which we expect to generate over $200 million in annual run rate savings."

Joe Berchtold, Live Nation
Live Nation, which counted 10,500 full-time employees at the close of 2019, hasn't put a public figure on the number of staff it's said goodbye to during the pandemic. But its Q3 results drilled home the harsh reality of the situation.
Live Nation President, Joe Berchtold, confirmed to investors last week that Live Nation is estimating "approximately $40 million in severance expense estimated through year-end, which we expect to generate over $200 million in annual run rate savings".
In other words, Live Nation is expecting to pay $40m in severance compensation to employees that it's laying off across the course of 2020, which will consequently lead to $200m in annual savings in terms of staff costs (mainly salary, but also insurance, bonuses etc.).
That $200m saving will presumably go some way to contributing to the $900m-plus in cost reductions Live Nation expects to achieve this calendar year. (As will the fact that Michael Rapino is sacrificing his own $3m base annual salary in 2020.)
Hopefully, of course, Live Nation and Ticketmaster will bounce back to one of the most prosperous periods for live music in history after the pandemic has subsided – and their hiring capacity will crank up in accordance with this rebound.
Berchtold told investors last week that he expected the $200m in annual savings to remain "largely in place" throughout 2021 and then "[in 2022] we've got to wait and see exactly what the scale is".
Speaking of which…
---
3) Live Nation is hopeful that concerts will start getting up to speed by this time next year – but it's not making any promises
On Live Nation's Q3 call, Morgan Stanley's MD of Research, Ben Swinburne (pictured inset), asked Micheal Rapino when the exec expected major concerts to start kicking into gear again at full capacity.
Rapino reiterated "the important part" – that fan demand for rescheduled concerts remains high – adding that "we know that the fans still are going to get to the show, and we know the artists want to get back on the road when it's safe".
Rapino also noted that different types of fans, especially around age demographics, may consider different risk factors over the prospect of attending live events in future.
He pointed out that artists are continually asking him the same question, and that his answer to those acts is this: "Let's see how the next few months go through testing and vaccines and in a proper national plan etc. We're telling any artist that has a new tour [or] that's thinking of going on the road: 'Let's look at the fall [2021], but we don't need to make those decisions until January [or] February.'"
Added Rapino: "The general sense is, let's reset, let's get through summer 2021 summer with whatever reschedules [we have] from 2020, [and then] add new stuff into the fall [2021, through] to 2022 as we get better visibility into January."
Live Nation says it won't rush the return of such events – and it has the money to wait it out.
It told investors in a Q3 update: "At the end of the third quarter, [we] had total cash and cash equivalents of $2.6 billion, which includes $951 million of free cash. This free cash, along with $963 million of available debt capacity, provide the company with over $1.9 billion in available liquidity.
"The company believes this level of liquidity provides it with the ability to fund operations until the expected return of concerts at scale in the summer of 2021, preceded by ticket sales earlier in the year."
(Worth pointing out, of course, that Rapino's comments came days before the potentially game-changing vaccine news from Pfizer.)
---
4) Michael Rapino thinks The "thesis" behind Marc Geiger's $75 million US venue bailout plan is "broken"
The New York Times recently reported that former WME Global Head of Music, Marc Geiger, "has quietly amassed a war chest" valued at $75 million to offer a "bailout solution" for music venues struggling due to the pandemic.
Through this venture, called SaveLive, Geiger (pictured inset) plans to buy out majority stakes (51%) in venues around the US.
On Live Nation's earnings Q3 call, Michael Rapino was asked about the impact that Geiger could potentially have on the industry with the program.
Rapino wasn't exactly complimentary about Geiger's idea, citing two points in particular. Firstly, the Live Nation exec suggested that Geiger shouldn't expect struggling venues to sell their businesses at a "cheap price"; secondly, Rapino argued that venues on their own are not a "fruitful business" to try to scale.
"the thesis is basically broken."

Michael Rapino on Marc Geiger's 51% venue-buying plan
"The thesis out there with Mark Geiger and some others is that these independent venues are so distressed that they're going to throw someone the keys at a very cheap price and you can maybe roll up some of these cheaply and have some scale," said Rapino.
"Well, the thesis is basically broken. Any great live club is not throwing anybody in the keys cheaply. There's a lot of capital out there. If you are the Troubadour in Los Angeles, it's a legendary business and you're having a tough year, you're not selling to Mark Geiger or anyone else.  [There are] lots of ways you can keep your business afloat, while you get through the storm."
Added Rapino: "Clubs on their own are a tough business, if you scale them up on their own. They're not a really fruitful business on their own. We [as Live Nation] like them as part of our overall ecosystem.
"But we don't believe that clubs whether you own 10, or whether you own 20 of them on their own provides you much global synergy or US synergy to leverage off of. We hope all of these clubs find their way through this pandemic and that the government and stimulus programs can help them survive it. But we don't think that that there's many that are going to [sell] to anybody, because there's too many great options for them."
---
5. Artists should expect to be paid lower guarantees (initially) as the concert business builds up again
Live Nation's bosses were asked by an analyst last week if artist management teams will be "more flexible on payouts" as concerts start up again next year and into 2022.
Social distancing measures and smaller capacities at venues obviously mean that there will be lower ticket sales revenues for concerts until venues can start operating with full houses again.
What that means of course, is less cash for artists.
"the artist will be coming back to work and adjusting their expectations to the realities of the capacity as we all as an industry start to scale up from 25% to 100% eventually."

Michael Rapino
"Everyone [that] has been affected by this understands the world's going to start differently and it's going to require a slower ramp up," said Rapino.
"We see it already and you see the drive-in shows we're doing. The social distanced shows [like those] in Atlanta at the Roxy on the weekend where we have maybe 20% to 40% attendance, depending on the state.
"Those are all adjusted artist guarantees based on the capacity, so 100%, the artist will be coming back to work and adjusting their expectations to the realities of the capacity as we all as an industry start to scale up from 25% to 100%, eventually."
---

The MBW Review is supported by Instrumental, which powers online scouting for A&R and talent teams within the music industry. Their leading scouting platform applies AI processes to Spotify and social data to unearth the fastest growing artists and tracks each day. Get in touch with the Instrumental team to find out how they can help power your scouting efforts.Music Business Worldwide