When Ralph Simon was a child in Johannesburg in the 1950s, his mother gave him some advice. She said, 'Don't be a human being. Be a human doing.' Young Ralph listened. He really listened.
Over the course of a 50 year career in music, he committed himself to doing. What did he do? It's hard to know where to start. How about…
---
Publishing YMCA
Running a 360 degree music agency 40 years before anyone else
Pioneering crossover hip-hop in the US
Discovering Will Smith
Helping Radiohead conquer the US
'Inventing' the ringtone
---
Yes, Simon is the Zelig of the music business. And not just because he's on the short side and wears big glasses. Look back over every big music industry trend of the last half century, and you'll find Simon close by.
He's seen it all. No, he's done it all. And – more extraordinarily – he's still doing it.
Most former music execs, when they reach retirement age, step away from the industry.
They choose a quieter life. Many lacerate today's scene: the musicians are rubbish; the kids have no attention span. Not Simon. He's too busy officiating e-sports tournaments in Indonesia, or checking out running shoe trends at Sneakercon. He's working on a platform for staging virtual reality concerts.
He has boundless reserves of energy and curiosity. Indeed, it was these same qualities that re-located the young Simon out of South Africa – his mother's words ringing in his ears – to the UK in 1975. In Johannesburg, Simon and his business partner, Clive Calder, had been music industry pioneers.
They ran a record label, Bullet Records. But they were also talent spotters, publishers and concert promoters. On arriving in the UK, they simply did the same. They formed the Zomba Group of companies. It was a 360 business four decades before the term was invented.
"We weren't like that. We felt we knew how to do everything. We were musicians as well as executives. And we worked harder than everyone else."

Ralph Simon
"This was a time when everyone stayed in their lane," says Simon. "We weren't like that. We felt we knew how to do everything. We were musicians as well as executives. And we worked harder than everyone else." Zomba grew and grew. Simon and Calder soon launched their own record label, Jive. In the early 1980s, they took Zomba and Jive to the US.
There followed an extraordinary period of success. Jive's roster included pioneering hip-hop artists such as DJ Jazzy Jeff & The Fresh Prince, Whodini and Tribe Called Quest, and, later, teen pop acts including Backstreet Boys, NSYNC, and Britney Spears. In June 2002, BMG Entertainment bought Zomba and its assets for $2.74 billion.
It was – still is – the biggest deal in the history of the music business. But by then, Simon was out. He had clashed with Calder too many times. "We had profound ethical differences about how business should be done," he says.
"We'd been like brothers. But I felt he wasn't playing the game any more. I wasn't happy, and I needed to be happy to do my best work. I got out. We haven't spoken for 29 years."
So, Simon didn't get any of that $2.74 billion (he had sold his share to Calder more than a decade earlier for an undisclosed sum). But he did get, he says, the ability to sleep at night. And leaving Zomba left him free to seek out new creative ideas. This led to ringtones, e-sports, VR and more…
---
It all started for you and Clive Calder in Johannesburg in the 1970s. How did you meet?
I was playing piano in a band called the The Bassmen. We were a human jukebox band. People hired us for weddings and bar mitzvahs and so on. They'd say, Can you play Whole Lotta Love? Yes! Can you play Hello Dolly? No problem!
We'd do anything. I did the bookings and the promotion for the band. I was always business-minded like that. Clive played bass in a rival band. Johannesburg was small. There wasn't much of a live music scene, so we all knew each other. Eventually, Clive got an A&R job at EMI and later I started working with him.
---
What was the South African music industry like then?
It was very conservative. The scene revolved around clubs and residencies. It was all about getting acts like Liberace and Val Doonican to do three month stints. The market was controlled by the Grade family, which was pretty much doing the same thing at seaside towns in the UK at the time. I did some work as an agent for them. The dream was to get Tom Jones to come over. In 1968, I won a scholarship to study in New York.
Once I got there, I spent all my time at the Blue Note and the Filmore East. I saw Blood Sweat & Tears and Joe Tex and Sam & Dave and the Jackson Five. It was heaven. The music scene was so exciting. It was just after Woodstock, so when I came back to Johannesburg I contacted Clive and told him we should put on festivals in South Africa. We did events in what was then Rhodesia and also Mozambique. Obviously, we didn't have big international artists. But no one else was doing it.
---
How did this lead to starting a label?
We were very entrepreneurial. But what changed everything was meeting Mutt Lange. He was making jingles at a radio station. He had a lot of ability, so we hired him to be the house producer for our label, Bullet.
Most of our artists were black. They were more talented and interesting than the white acts of the time. We signed a guy called Richard Jon Smith, and got Mutt to write and produce for him. He was like the Stevie Wonder of South Africa. He was a superstar.
---
Why did you decide to leave for the UK?
The politics were getting worse – Mandela was in jail; it was pretty bleak. We had got Richard Jon Smith signed to Polydor in the UK and we released a couple of singles. That was the link. We left in 1975.
---
And that was the start of Zomba…
Yes. We brought Mutt over to work as a producer. No one else was really doing that at the time: managing producers. We were given a shot by two fantastic execs, Nigel Grainge at Mercury and Simon Draper at Virgin. Nigel gave us City Boy to manage, which helped us to form a management company.
Soon after we set up studios and writing rooms and so on. We didn't borrow any money. We just got the biggest advances we could from the labels. The advances funded everything. But the big break came when we started the publishing company, thanks to YMCA.
---
 What was the origin of that deal?
We bumped into this guy Henry Belolo on the street when we were at Midem in Cannes. He had this idea for a band that included the five archetypes of US life: the cop, the construction worker and so on. He wanted to target the gay community because he reckoned there were 25 million gay people in America alone. We listened to a demo of YMCA on a Walkman on the promenade. We did a deal right there to be the UK publisher of Village People.
It was the start of our publishing business. Soon after, we signed Def Leppard and Iron Maiden and others. It was an interesting time. Punk was just starting to happen, and there were lots of artists around who didn't understand publishing at all.
The established publishers were mostly ignoring these new bands. So we went to people like Dave Robinson at Stiff and promised to work harder than everyone else. We set up a joint venture with Dave and published Elvis Costello, Wreckless Eric, Lene Lovich and other Stiff acts. Two years later we started Jive. It was logical for us to start a label. We'd already done it in South Africa.
---
So you were really doing everything at that point…
We had immense self-confidence. We were executives and musicians so we knew how the different parts worked: how to find the talent, develop the talent, work on the material, promote it.
We wanted to own all aspects of the chain. It was the 360 model before it existed.
---
What prompted the move into the US?
We found a lawyer called Allen Grubman, who represented Village People and Madonna. He knew everyone and really opened a lot of doors for us. Eventually, Clive Davis gave us a break by agreeing to distribute Jive through Arista. That led to a deal with BMG. I think Clive liked the fact we were creative executives. We revered people like Ahmet and Nesuhi Ertegun, who understood music and could play a constructive role in nurturing the talent. We wanted to be like that.
---
Did you meet any resistance from artists?
No, quite the opposite. They loved it. They weren't getting that kind of active support from anyone else. Most executives didn't do that in those days.
---
Were you fair to your acts?
In retrospect we should have been a lot fairer. We had a reputation for being very good at what we did, but we always made sure we got a favourable deal for us. We were following the model of Herb Albert and Jerry Moss at A&M. Their artists loved them, but all the deals were on 90% [royalties to the label] with all the packaging reductions and so on.
Herb and Jerry made sure they got an incredibly good deal for themselves. When we heard about Daniel Miller at Mute sharing royalties with artists, we couldn't believe it. Also, we were tight. We were famous for it. It worked for us, though not always. We just missed out on U2. We wouldn't pay them enough.
---
What was your breakthrough US success?
We got Mutt a producing gig with Foreigner; that started things off. But the hit that really established Jive was Caribbean Queen by Billy Ocean. The song started out as American Queen, and we just couldn't get it on radio. But then Laurie Jay – who was Billy's manager, and the father of the Universal UK boss David Joseph – said lots of Americans go on holidays to the Caribbean, so why don't we change it to Caribbean Queen?
It worked. All the stations started playing it. It's interesting that, if you listen to the song, it was totally based on Billie Jean. The structure, the rhythm. That was something else we had learned from great labels like Atlantic: when there's a massive hit, you tell your writers, Do something like that!
---
Billy Ocean then became a global star…
Huge. Shortly after Caribbean Queen I managed to meet Michael Douglas. We got on really well. He was looking for a song for The Jewel of the Nile, and I suggested When The Going Gets Tough, The Tough Get Going. Mutt had seen someone wearing a T-shirt that said: When The Going Gets Tough, The Tough Go Shopping. We changed the words, and the writers came up with this incredible pop song. Michael took it, and obviously that song became another huge hit.
---
What prompted Jive's move into hip-hop?
We had a woman making videos at Jive called Ann Carli. She had great visual sensibility and she really connected with emerging hip-hop artists. She said, You've got to sign these people.
That led to us signing Whodini, Tribe Called Quest, KRS-One and, later, Will Smith, who was recording as DJ Jazzy Jeff & The Fresh Prince (pictured). We released Parents Just Don't Understand and it became the first real rap/pop crossover hit.
---
When did things start to unravel in your partnership with Clive Calder?
By the end of the eighties it was becoming increasingly difficult to work with him. In my opinion, he had abrogated the spirit of a partnership that had been very successful. We had some profound ethical differences about how things should be done with the people in the company. There were a number of incidents that were just not right.
No matter how great the gravy train was, the spirit of the business was the thing for me. I decided, as Winston Churchill said: Up with this I shall not put. It was incredibly difficult. But that profound event – that breakdown of two decades of partnership – led me to move to San Francisco. And that proved to be the most incredible thing.
---
Years later, Calder sold Zomba to BMG for $2.74 billion. It's still the biggest sale in the history of the business. How did you process that?
Well, I expected it. I knew a sale was on the horizon because Clive was always a 'bread head'. It took a long time to get over. But I couldn't be imprisoned by analysing why. I'd seen too many people get bitter. In the end, you have to sleep at night. Being in San Francisco helped. You learn that there's always something new on the horizon. That was my life saver.
---
What was so compelling about San Francisco at that time?
I remember talking to the great Mo Oberstein, and he told me to always do what you love – something that's going to be a pathway to the future. But when I told him I was moving to San Francisco, he didn't get it. He said nothing's happened in San Francisco since the sixties. But I had a feeling about it. I set up a publishing business and signed Carole King.
I had a studio in Sausalito – the one that Metallica had recorded in. But more importantly, I met the Silicon Valley creative community. I was amazed by the can-do spirit. It was very early. This was before Google, when it was all about Intel and Cisco and Hewlett Packard. But there was so much creativity in the air.
---
How did you turn that vision into a business?
In 1993 I got a call from Gary Gersch, who was president of Capitol, asking me to be executive vice president. I said I would do it if I could develop a global new media division for the parent company EMI. I travelled a lot. I noticed how young people were using phones – especially in Japan and Korea. And I started to started to see how there could be a new amalgam of music and tech.
---
It was quite a short stint at Capitol…
I was there just over two years. It was eventful. I helped to resolve a 12 year dispute with the Beatles. We had invited George Martin to come to Capitol Tower to release The Beatles Live At The BBC. He said, 'Over my dead body!' It turned out he had never forgiven Capitol for refusing to release Please Please Me.
But I managed to get him to come over. He wouldn't enter the building, but he did leave his hand prints in the concrete outside the Guitar Center on Sunset Boulevard. In the end, I couldn't deal with the corporate world. It just drove me insane. We had great success at Capitol. We broke Radiohead and The Beastie Boys. We actually delivered the greatest profits the label had ever had. But they still wanted 10 per cent more the next year. I couldn't take it. I started looking for the start-up spirit again.
---
So this was when you became the 'father of the ringtone'…
That was not really fair. The title stuck, but I wasn't responsible. I found a team of four people in LA that I was really taken with. They were called Your Mobile (later Moviso), and they had a ringtone technology. They really understood the transport mechanism for putting content into mobile devices.
I had blind belief in them, so I invested. We then had to go to all the telcos and convince them they needed creative content, and that music could be a big revenue driver for them. With nine days of money left, we got a contract to be the sole provider of ringtones to Cingular, which later became AT&T. That deal saved us.
---
Was the music industry supportive during that period?
No! The music publishers were completely resistant. They couldn't see it. This was the time of Napster, and they thought we were pirates. We were sued for $25m by EMI over the James Bond and Pink Panther themes. My mother was furious.
Fortunately, we had insurance and a good lawyer. He convinced EMI we weren't pirates, and they agreed to settle for $150,000, which was what we were insured for. After that we actually got the EMI licence. There was an in-house lawyer there called Jody Graham. She loved the idea, and she gave us the rights for The Beatles and Norah Jones and everyone. She was the first.
---
What happened to Moviso?
It was bought by Vivendi – by the same guy who had also bought MP3.com. The team who started the company wanted to cash in. They had been working for 10 years by that point.
---
Since then you have thrown yourself into technology…
I'm just fascinated by what drives culture. That's why I am so interested in video games: Clash of Clans, League of Legends, Supercell. I am involved in a number of games-related businesses. I was recently officiating at the first ever e-sports tournament in Indonesia. The energy! It was like being in the Rainbow Theatre in 1977 with The Jam and Siouxsie and the Banshees! I kept having flashbacks.
---
What do you think of the state of the music industry today?
Well, production is open to everybody now, so there's a lot more creativity but also a lot more mediocrity. That's why the industry needs more people like the late Nigel Grainge. That was such a loss. Great A&R really is an art, and there's not much of it around. It's needed because artists have more opportunity to take control of their own material and have a global audience.
The world is so accessible now. For 10 years, I've been trying to get managers to persuade their artists to do a chorus in Bahasa or Tagalog or Hindi. Audiences want great hooks wherever they are in the world. There's this amazing artist in India called Arijit Singh. He should write something with Ed Sheeran. That would be something.
---
Which music ideas are you currently working on?
I'm developing a wonderful project called The Virtuosos with the great A&R man Rick Blaskey. We've been working on it for two years. We've found the most incredible young musicians from around the world – many of them from YouTube. These are the best of the best: a nine year old piano prodigy from Chennai, a young Bulgarian girl who plays the guitar like Mark Knopfler.
We're developing their careers, and developing a TV series for them. It's really online discovery, combined with old fashioned artist development. We're also involved in hologramatic concert performances. We're working closely with the people who did the Roy Orbison project.
---
Many industry veterans would scorn such new ideas. Not you. Why are you so open-minded?
Two reasons? First, my mother told me: 'Don't be a human being. Be a human doing.' I believe in that. Second, I just have this creative curiosity. This business is about what's coming next. It always has been. In 1979, we kept seeing people in AC/DC T-shirts. We followed it up. And that led to Mutt producing the Back in Black album. Today is no different. You have to ask: can I spot the next thing? And if I can, do I have the nous to make a couple of bob?
---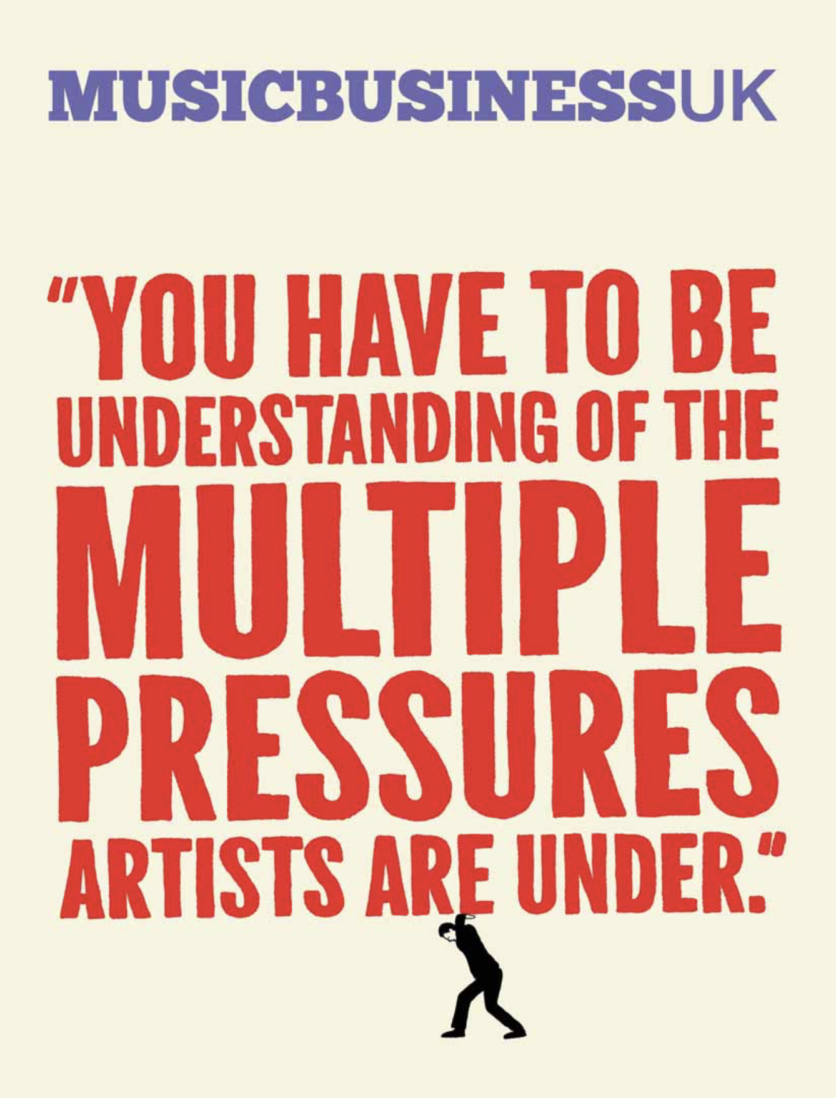 This article originally appeared in the latest (Q4 2019) issue of MBW's premium quarterly publication, Music Business UK (pictured), which is out now.

MBUK is available via an annual subscription through here.
All physical subscribers will receive a complimentary digital edition with each issue.Music Business Worldwide