Sony Music has debuted a new artificial intelligence-powered project featuring music by Pink Floyd's David Gilmour and The Orb.
The Orb and David Gilmour, the guitar and voice of Pink Floyd, recently released Metallic Spheres In Colour, described by Sony Music as "a visionary re-interpretation" of their 2010 ambient album Metallic Spheres.
Now, in what Sony calls a "new use of artificial intelligence led by major recording artists", the artists are inviting fans to remix the music from the new album and its cover art, using AI-powered tools.
Starting today (November 21), fans can visit metallicspheres.io to create their own personalized AI track and artwork remixed from portions of Metallic Spheres In Colour.
Sony Music says that the project is powered by machine learning and a custom generative AI model developed specifically for the project.
The collaborative project with The Orb and David Gilmour is the result of a partnership between Sony Music Entertainment, Legacy Recordings and a US company called Vermillio, which is claimed to be "the first generative AI platform that empowers creators and protects their work using Authenticated AI".
According to Vermillio, co-founded by entrepreneur Dan Neely, its generative AI platform les creators "style, own and track AI-powered digital creations using text-to-image and image-to-image styling tools, while creating audio remixes and variations benefitting artists".
"This is an artist-led initiative," said Dennis Kooker; President, Global Digital Business & US Sales, Sony Music Entertainment, speaking with MBW.
He added: "The artists proactively reached out to us to work together to come up with an experience that is really unique, and really driven to generate excitement with the fan base.
"The technology is incredible and Dan and his team are doing amazing work. It's been a real pleasure working with them on this project."
---
Starting today, visitors to the metallicspheres.io site will follow a series of prompts indicating the emotion they want the album's artwork to convey, plus mood and tempo preferences for the available audio.
The site, using AI, then generates a new version for playback.
Fans can share links to their creations via social media along with their "reimagined" album covers. Sony says there will be an opportunity to purchase full-length remixes as a download in the coming weeks.
In addition, select fan remixes of the Metallic Spheres In Colour album cover image, based on the original image by artist Simon Ghahary, may be included in an upcoming music video supporting the album.
"History has shown that great artists love to work with technology to enhance great art."

Dennis Kooker, Sony Music Entertainment
Asked if Sony Music has plans to work with other artists using the same AI tools, Kooker told MBW that, "We are experimenting here for something that hopefully, is a great experience, and [that] we would love to do more of in the future".
He added: "Whether it looks exactly like this or not, it would depend on the artist and the vision the artist would have around the experience.
"We've limited the number of parameters that the consumer can participate in here. There are a lot more parameters that could be opened up and turned on."
Commenting on the creative possibilities offered by the company's technology, Vermillio's Dan Neely told us that "there's so much more that we could do".
He added: "As we think about where this is headed [artists can] express themselves in various ways and want to express themselves in various ways.
"The fact that we have something that [allows] a musician to give a piece of their music [with which] fans can engage is a pretty big step, and [it is taking place] in a trusted and authenticated way."
---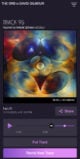 ---
Commenting further on the limited parameters that consumers have when using AI in this particular project, Kooker emphasised that this approach to generative AI gives the artist more "control" over the output that's generated.
He added: "In our discussions with artists and their representatives, that control element is important. Obviously, an artist puts together their work and their art in a way that is incredibly personal and in a way that they want fans to experience it.
"An experience like this, designed by the artist, continues to fit within that [artist's] creative style, and creative vision, versus being something that is completely unknown as far as what the output would be, or potentially interpreted in a way that the artists had never intended."
Looking to the future of AI in the music industry, Kooker said: "History has shown that great artists love to work with technology to enhance great art. The future is going to look similar as it relates to generative AI and music and artists.
"That ability to lean into this, to generate new experiences, but to also know that ultimately, what you're doing is enabling fans in the way that you want them to experience the art, is incredibly important."
---
Metallic Spheres and now Metallic Spheres In Colour originated in back in 2009 when Ambient electronic music artists The Orb and producer Youth were asked to remix a version of Crosby, Stills, Nash & Young's Chicago/Change The World, recorded by David Gilmour in aid of the British Hacker Gary McKinnon, who was facing extradition to the USA.
David Gilmour contributed further guitar parts to the mix and Youth and Orb leader Alex Paterson turned this session into two ambient projects, the 28-minute Metallic and the 20-minute Spheres and released under the name Metallic Spheres, which was initially released in 2010.
Metallic Spheres In Colour is the new 2023 remix/reimagining of the original Metallic Spheres album.
This new version has been masterminded by Alex Paterson, founder of The Orb, alongside writing partner and current member of The Orb Michael Rendall and producer Youth.
This new version of the album also features new artwork created by Simon GhaharyMusic Business Worldwide