Pandora, the US-based music streaming service that once had over 81 million monthly listeners, now has fewer than 50 million.
The news was confirmed by Pandora's parent, SiriusXM, in the latter company's Q3 2022 earnings results, as announced yesterday (November 1).
SiriusXM acquired Pandora in a $3.5 billion all-stock deal in February 2019.
At that point in Pandora's history, it had 66 million monthly listeners, and had recently added subscription tiers to its flagship 'lean-back' / radio-style non-interactive service.
That number has since fallen by a material amount.
According to SiriusXM, as of September 30, 2022, Pandora counted 48.77 million monthly active users (MAUs).
That was down by over 3.8 million on the 52.62 million MAUs that were using Pandora in the same period of 2021.
Pandora's paying ('self-pay') subscriber base also fell slightly in Q3 2022, down 3% year-on-year to 6.27 million.
As you can see below, all of this is a long way off Pandora's high-point, when it was being used by 81.5 million MAUs in Q4 2014 – over 30 million more than are now using the app.
---

---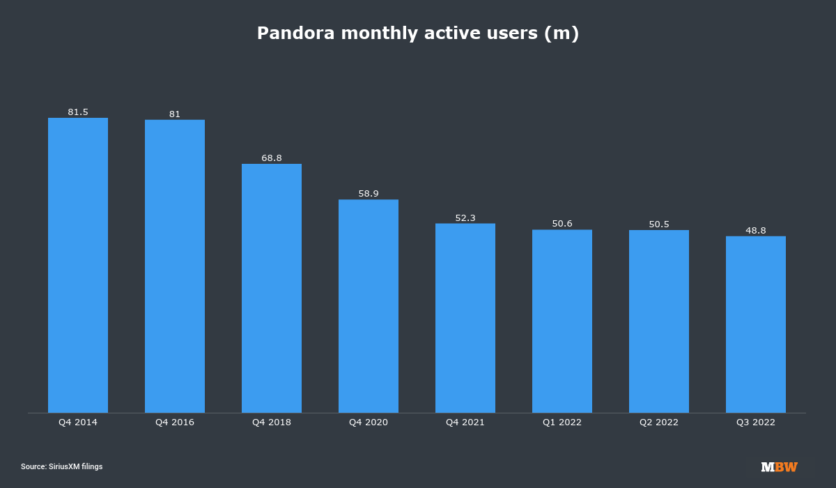 ---
There was better news for Pandora in Q3 2022 in terms of its advertising revenues. which grew 1% YoY to $407 million in the quarter, despite a macro-digital advertising market that is notably softening as the year goes on.
Pandora's advertising revenue per thousand hours (RPM) during the quarter was $103, down 5% from $109 in the third quarter of 2021.
Pandora's ad-supported listener hours were 2.75 billion in the third quarter of 2022, down from 2.89 billion in the equivalent 2021 period.
---
SiriusXM's total revenues in the third quarter of 2022 stood at $2.28 billion, up 4% year-on-year.
The company posted an adjusted quarterly EBITDA of $720 million in the period.Music Business Worldwide