Spotify's share price on the New York Stock Exchange closed down 9.78% today (May 9), hitting an all-time low at USD $94.44.
That share price was down by 61.3% versus the price that Spotify closed on the first trading day of 2022 ($244.16), and was close to a quarter of the size that Spotify hit at its peak ($364.59) in February last year.
Indeed, in the 15 months from that peak moment – on February 19, 2021 – Spotify's market cap valuation has sunk by just over $51 billion (see chart, below).
It seems unlikely any of this was in the script Daniel Ek had in mind on Friday (May 6).
On that day, Ek announced to investors via Twitter that he was personally purchasing $50 million in Spotify stock (which closed that day at $104.68) because he believed "our best days are ahead".
Tweeted Ek: "I've always been vocal about my strong belief in Spotify and what we are building. So I am putting that belief into action this week by investing $50M in $SPOT. I believe our best days are ahead…"
He added: "While I'm not required to disclose these purchases because of our foreign company status, I thought it was important for shareholders to know."
The public markets, of course, are generally being hit by macro economic factors right now, including inflation and rising interest rates in the US.
The NYSE Composite – an index reflecting the performance of all common stock on the exchange – was down 3.27% today (May 9).
---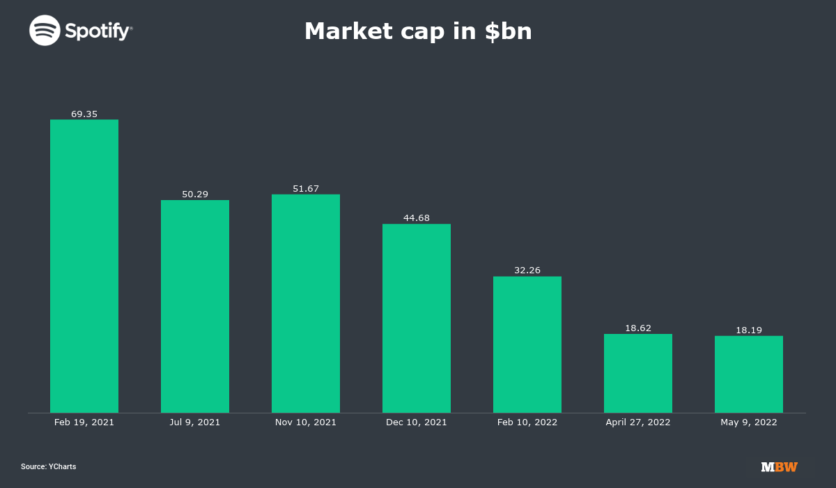 ---
Ek's personal acquisition of Spotify's stock is reminiscent of Michael Rapino, CEO/President of Live Nation, stepping up to buy $1 million-worth of shares in his company in March 2020.
Rapino made that transaction just as it was becoming clear that the pandemic would shutter many elements of LN's global business in the months – and potentially the years – ahead.
Since the time Rapino made that stock purchase to today, Live Nation's stock value has more than doubled.
(At time of publication today, Live Nation's share price on the NYSE has closed at $85.37.)
Spotify received a lukewarm response from analysts to its Q1 2022 earnings report last month, despite healthy gains in both global subscriber numbers and Monthly Active Users (net of Russia).
Global subscribers of Spotify grew by 2 million quarter-on-quarter in Q1 2022, increasing to 182 million subscribers globally. That's up from the 180 million subscribers the company counted at the close of 2021.
This net growth was achieved despite SPOT's previously-announced loss of 1.5 million subscribers in Russia in Q1, where Spotify is no longer billing users following the invasion of Ukraine.
However, some analysts were unimpressed with Spotify's gross margin result.
Spotify posted a Q1 gross profit margin in the mid-20s (25.5%), and announced that it expected this figure to remain flat in Q2.
Investors have been wanting to see this gross margin ratchet up into the 30-percents, largely as a result of Spotify's original content strategy in podcasting.
---
In September 2019, Paul Vogel – Spotify's CFO – told investors: "If you think about what really changed in music and where our growth [came] from… people talk about how important it is to be on Spotify playlists and Discover Weekly and those types of things. What that was really about was creating discovery and owning discovery.
"When you own discovery, you own so much of the ecosystem; you own demand generation. And, over time, you end up owning gross margin when you own discovery and demand generation."
Music Business Worldwide