NewBay Media LLC, the owner of British trade paper Music Week, has been acquired by London-based Future PLC for a total consideration of $13.8m.
The figure is believed to be less than NewBay itself paid for Intent Media, the previous publisher of Music Week and the company which effectively became its UK division, in December 2012.
Future, which typically operates in specialist consumer media, has agreed to pay NewBay an initial net consideration of $12.25m (£8.62m) cash and $1.55m (£1.09m) shares.
A potential deferred consideration of up to $5.60m (£3.94m) will be paid in January 2019, depending on the future performance of the acquired business.
New York-based NewBay's brands include Music Week, MCV, Twice and Broadcasting & Cable.
The firm said it generated EBITDA of $4.2m in the year ending 31 December 2017.
According to filings on Companies House, London-based NewBay Media Europe Ltd's annual revenue fell from £11.94m in 2012 to £7.57m in 2016.
Net profit fell in that time from £1.08m to a net loss in 2016 of £362,000.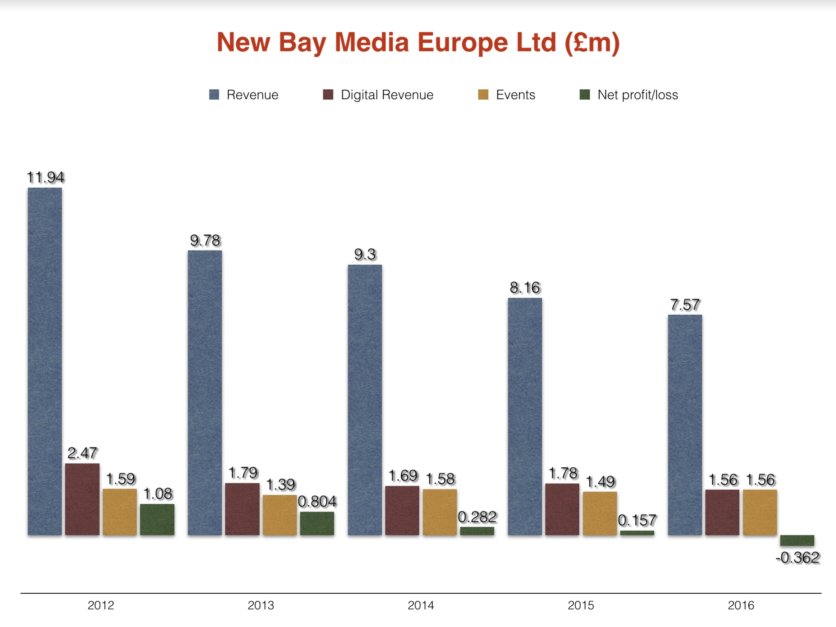 Zillah Byng-Thorne, CEO of Future, commented: "NewBay is clearly aligned with Future in its mission to create content that connects, with market leading titles.
"This acquisition strengthens our presence in the US, and together with our recent UK acquisition expands our market leadership in music and consumer electronics. NewBay's B2B titles, including those in audio visual and television broadcasting, will further diversify our revenue streams whilst bringing additional valuable B2B experience to complement Future's B2C businesses.
"We have a proven track record of acquisition and successful integration. This deal will be earnings enhancing and drive further organic growth in revenue and profitability in the first full year."Music Business Worldwide