Over 10,000 startups were launched around the world in 2020 and global startup funding across all sectors rose 42% year-over-year.
The three industries that saw the biggest startup growth last year were Science and Engineering (+329.7%), Biotech (+187%), and Manufacturing (+113%).
However, in a week where we learn that that the global recorded music industry revenues grew 7.4% in 2020, we've now discovered that the global music industry's startup scene was significantly less well funded last year compared to 2019.
VC funding for music startups fell by 67% from over $1 billion in 2019 to $328.9m last year.
That's according to new figures published by researchers at BusinessFinancing.co.uk in a report revealing how start-up funding changed from 2019 to 2020 and the difference in spending by country and industry.
The report, which was compiled by analyzing Crunchbase data, also shows that the number of startup music companies receiving VC funding fell from 87 in 2019 to 68 last year.
Interestingly, Artificial Intelligence startups raised 82% more in VC funding in 2020 than in the prior year.
The total invested in AI start ups rose from 10bn in 2019 to $18.2bn last year, with 150 more AI startups funded in 2020 than in 2019.
Other industries that saw a significant drop in startup funding were Media and Entertainment, which fell from $1.73bn in 2019 to $777,000 last year (-55%), Travel & Tourism which fell from $5.7bn in 2019 to $2.38bn in 2020  (-58%) and  Clothing & Apparel, which fell from $2.1bn to $1.3bn (- 39%).
"It's plausible to argue that these industries were affected by the events of 2020," reads the report.
---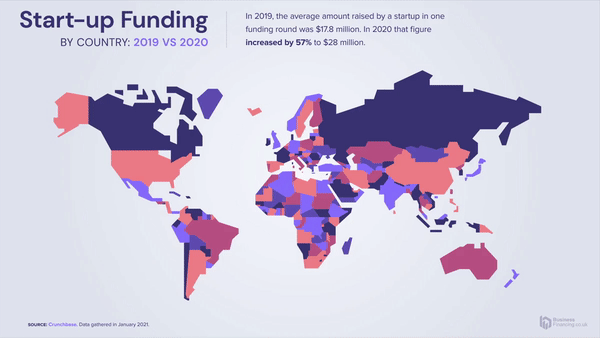 ---
Elsewhere in the report, the figures reveal that across all sectors, the average funding round in 2020 raised $28m, a 57% increase on the 2019 average.
The three countries that saw the most startup funding growth last year were Estonia (+1,346%), Chile (1,058.4%) and Colombia (941.9%).
The three countries with the biggest drop in funding were Argentina (-91.2%), Lithuania (- 87.4%) and Nigeria (-74.4%).
The US had the biggest investment rise dollar-for-dollar, raising $35,594,999,900 ($35.6bn or 79.0%) more in 2020.
In total, across all sectors, 10,468 startups received venture capital (VC) funding in 2020, only 83 more than 2019.Music Business Worldwide