Live Nation Entertainment's shares have soared over 22% today following the news that a COVID-19 vaccine candidate developed by pharma firms Pfizer and BioNTech has been found to be more than 90% effective.
UPDATE: At the close of the day this article was published (November 9), Live Nation's share price finished at $64.36, up 14.8% on the prior trading day-close. 
According to a statement published by the two companies today (November 9), the vaccine "demonstrated evidence of efficacy against COVID-19 in participants without prior evidence of SARS-CoV-2 infection, based on the first interim efficacy analysis conducted on November 8, 2020 by an external, independent Data Monitoring Committee (DMC) from the Phase 3 clinical study". 
Their clinical trial enrolled 43,538 participants and they claim that "no serious safety concerns have been observed".
Pfizer and BioNTech are now working to prepare the necessary safety and manufacturing data to submit to the FDA.
If approved by the FDA, Pfizer and BioNTech expect to produce up to 50 million vaccine doses globally in 2020 and up to 1.3 billion doses in 2021.
The stock market has responded to the news as you might expect – especially in the case of Live Nation, whose share price has bore the brunt of the pandemic's negative impact on the commercial outlook of live events, and its negative impact on the stock exchange more generally.
Live Nation's shares peaked at $72.29 during trading on the New York Stock Exchange this morning – the company's highest since March and the beginning of the pandemic.
At the time of publishing this story, Live Nation's stock price is up over 22.3%.
According to Google Finance, the firm's market cap is edging towards $15bn as a result, at $14.90bn.
---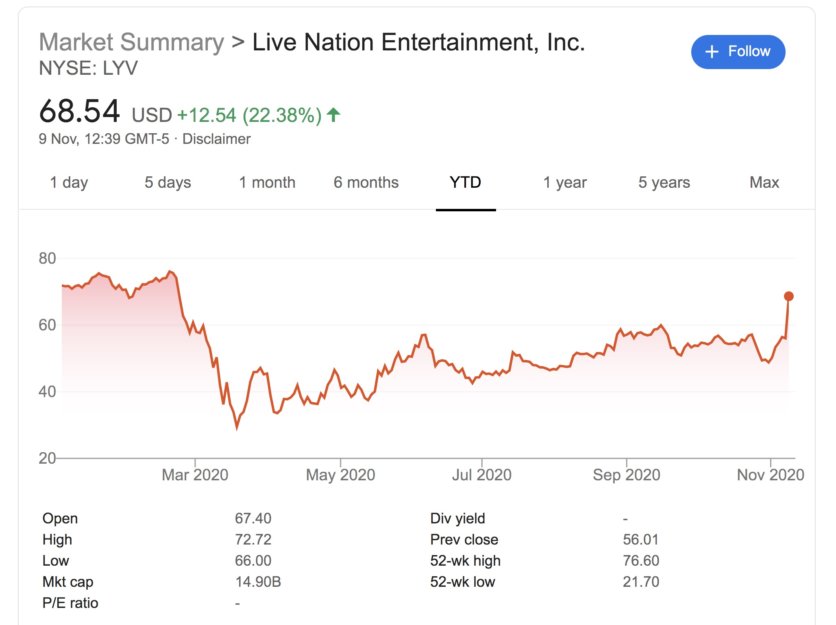 ---
Live Nation has faced months of uncertainty due to restrictions on live events because of the pandemic.
The company told investors in its Q3 SEC filing last Thursday (November 5) that it estimates its "lost revenue impact from the global COVID-19 pandemic in the third quarter and first nine months of 2020 to be approximately $3.7 billion and $7.0 billion, respectively".
In the three months to end of September, Live Nation generated total revenues of $184 million, marking a 95% year-over-year decline compared with the $3.77 billion it generated in the prior year quarter.
Speaking to investors last week,  Live Nation Entertainment President and CEO, Michael Rapino struck an optimistic tone for his firm's long-term prospects, citing a potential vaccine and testing in particular as playing role in what the company's "expected return of concerts at scale in the summer of 2021".
"With today's news, we are a significant step closer to providing people around the world with a much-needed breakthrough to help bring an end to this global health crisis."

Dr. Albert Bourla, Pfizer
"Today is a great day for science and humanity," said Dr. Albert Bourla, Pfizer Chairman and CEO. "The first set of results from our Phase 3 COVID-19 vaccine trial provides the initial evidence of our vaccine's ability to prevent COVID-19.
He added: "We are reaching this critical milestone in our vaccine development program at a time when the world needs it most with infection rates setting new records, hospitals nearing over-capacity and economies struggling to reopen.
"With today's news, we are a significant step closer to providing people around the world with a much-needed breakthrough to help bring an end to this global health crisis.
"We look forward to sharing additional efficacy and safety data generated from thousands of participants in the coming weeks."Music Business Worldwide