Live Nation Entertainment (LNE) continues to see its market cap valuation driven dramatically down by fears over the spread of the so-called Coronavirus.
Today (March 11) the World Health Organization (WHO) has officially categorised COVID-19 as a "pandemic".
Dr. Tedros Adhanom Ghebreyesus, Director-General of the WHO, said today: "Pandemic is not a word to use lightly or carelessly. It is a word that, if misused, can cause unreasonable fear, or unjustified acceptance that the fight is over, leading to unnecessary suffering and death."
Noting successful efforts to curb the speed of the virus's spread in South Korea and China, he added: "We have never before seen a pandemic sparked by a Coronavirus. And we have never before seen a pandemic that can be controlled at the same time.
"WHO has been in full response mode since we were notified of the first cases… We have called every day for countries to take urgent and aggressive action. We have rung the alarm bell loud and clear."
---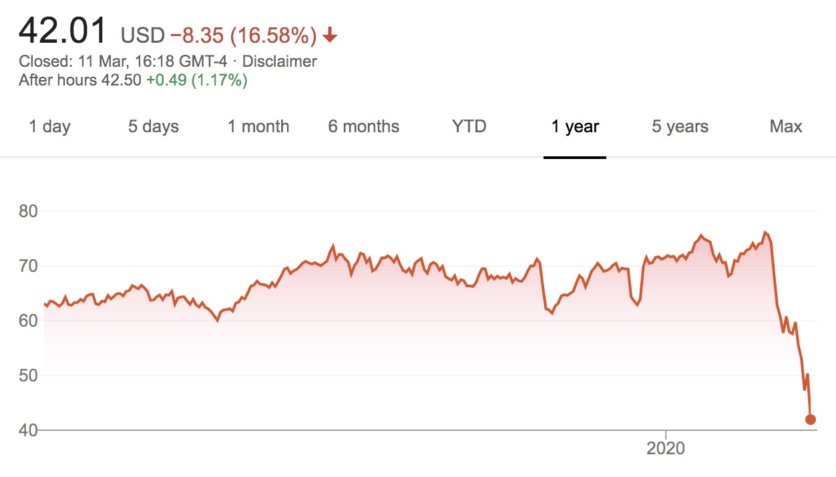 ---
As much as this is worrying news for the world's general population, it's especially so for Live Nation's board and its investors.
UPDATE: The live concerts giant's share price finished today on the New York Stock Exchange 16.58% down on the prior day.
That means, according to Google Finance data and MBW calculations, Live Nation has seen $1.8bn wiped off its market cap value in the past 24 hours – down to an end-of-trading valuation today of $9.01bn.
In the past week (from trading close on Wednesday, March 4 to now), Live Nation's share price has tumbled 29.7% (from $59.77 to $42.01), representing a market cap value fall of $3.8bn.
As recently as three weeks ago, at close on February 19, Live Nation's stock reached a year-high, at $76.08.
From then to now, the firm's share price has fallen by a painful 44.8% – not far off cutting Live Nation's public value in half – with its market cap plummeting by $7.3bn.
---
Today's news comes amid a raft of commercial damage wrought on the live music industry by Coronavirus fears.
SXSW, which was due to kick off this Friday (March 13) has been cancelled for 2020, as have other events including Ultra Music Festival and Winter Music Conference.
US festival Coachella, meanwhile, has re-scheduled its April dates into October as the live music business hopes to ride out the worst of Coronavirus fears through the summer.Music Business Worldwide