Live Nation Entertainment's dominance of the UK festival circuit has reached concerning proportions – and demands more scrutiny by competition bodies.
That's the view of the Association of Independent Festivals (AIF), which has published data suggesting that Live Nation now owns or controls 25.3% of UK festivals over a 5,000 capacity.
The figure, based on total attendance figures (see below) comes after Live Nation acquired fellow promoters Robomagic and Metropolis Music in the UK this year – as well as international festivals such as Rock In Rio and New Zealand's Rhythm And Vines Festival.
Last year, Live Nation snapped up the likes of independent British promoter company Cuffe & Taylor, which runs Lytham Festival and Greenwich Music Time as well as the UK's Isle Of Wight Festival, now be co-run by LN with John Giddings' Solo Music Agency.
Live Nation's UK festival market share is over three times that of its nearest rival Global, according to the AIF's figures. Global controls 8% of the UK's festivals over 5,000 capacity through promoter Broadwick Live.
Global is followed by AEG presents, which owns 5% of the UK 5k-plus market.
Independent festival owners – AIF members – account for 20% of the market over 5,000 capacity, with 65 festivals and 37 individual companies across the membership.
The AIF is now renewing its call for the UK's Competition & Markets Authority (CMA) to investigate Live Nation's UK market dominance.
AIF Chief Executive Paul Reed (pictured) said: "AIF's festival ownership map paints a stark picture of the sector. Allowing a single company to dominate festivals, and the live music sector in general, through vertical integration reduces the amount of choice and value for money for music fans.
"It can block new entrants to market, result in strangleholds on talent through exclusivity deals and stifle competition throughout the entire live music business."
Added Reed: "We have also today launched a stamp of independence to celebrate our member events and so that customers can clearly identify when they are buying a ticket to an independent festival.
"AIF has been sounding the alarm for some time now but the effect on the independent festival sector continues. Simply put, this damaging market dominance needs to be given the scrutiny it deserves."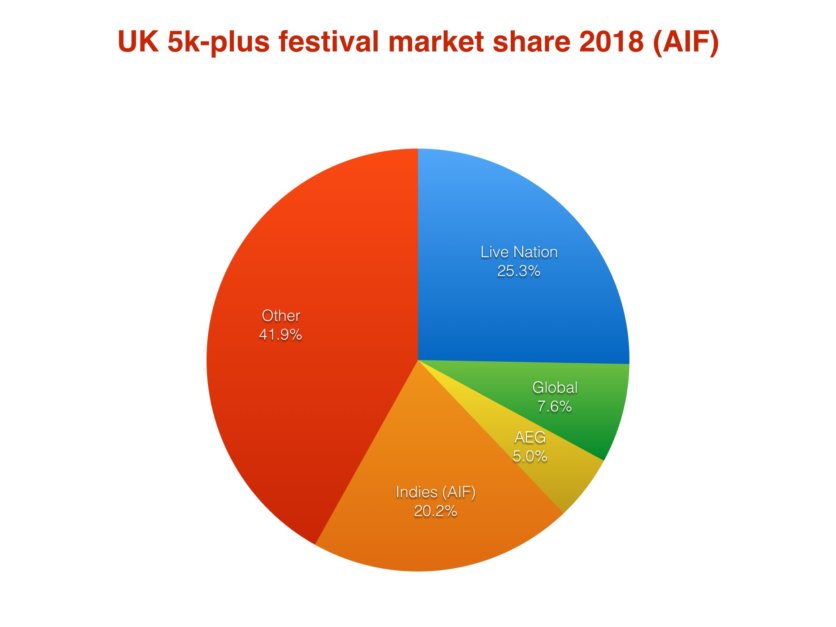 Live Nation also owns Ticketmaster, the world's largest ticketing company, which controls an estimated 46% of the top 61 venue box offices in the UK and sells 500 million tickets worldwide annually.
Through its subsidiaries, Live Nation also manages over 500 artists worldwide.
The AIF's data was compiled from internal member data and from information available online from https://www.efestivals.co.uk, alongside other sources.
Total capacity of all 203 festivals identified as above 5,000 cap: 4, 013903 (four million, thirteen thousand, nine hundred three).
Total capacity of Live Nation owned / operated festivals: 1,013,999 (25.26%).
Total capacity of Global owned / operated festivals: 305,000 (7.60%).
Total capacity of AEG owned / operated festivals: 210,000 (5%).
Total capacity of AIF members (37 individual companies): 810,606 (20.19%).
Music Business Worldwide