Kobalt Music Group says it's just come good on its plan to develop into a profitable company.
We don't know precisely how profitable just yet, but the firm has confirmed to MBW that it has posted annual financial profitability for its FY2021 fiscal year, which ends today (June 30).
Kobalt CEO, Laurent Hubert, said: "Reaching profitability was a key Kobalt objective to further strengthen the business for our clients and long-term success. I'm proud we were able to achieve that important milestone well ahead of plan and do it in such an unprecedented year. Kobalt is well-positioned to take our service and offering to the next level."
And the firm's founder and Chairman, Willard Ahdritz, commented: "Even amidst a pandemic, these past couple of years have proven the strength of Kobalt's mission and vision and the unwavering dedication of our team members, who support so many great songwriters and rights holders.
"The future is very bright, and I'm proud of the whole Kobalt team for carrying the company into the next phase – I like it."
Kobalt is ending this fiscal year, of course, a lighter company than it began it. That's because last month it completed the sale of two of its divisions – AWAL and Kobalt Neighbouring Rights (KNR) – to Sony Music Group in a $430 million deal.
Today's news comes as MBW gets its hands on Kobalt's financial results for the prior fiscal year, i.e. the 12 months ending June 30, 2020.
In that year, fiscal filings show, Kobalt Music Group posted revenues of USD $616.18 million, up 13.4% year-on-year. (Prior to the Sony sale, Kobalt Music Group encompassed Kobalt's music publishing division, plus AWAL, KNR, collection society AMRA, and a fund management arm, Kobalt Capital.)
Kobalt Music Group's total 'gross collections' in FY2020 – which factor in gross neighbouring rights revenues, rather than slimming them down to net – the firm turned over $703 million, up 13% YoY.
The company posted an operating loss of $53.05 million in FY2020, and a post-tax loss of $73.3 million.
---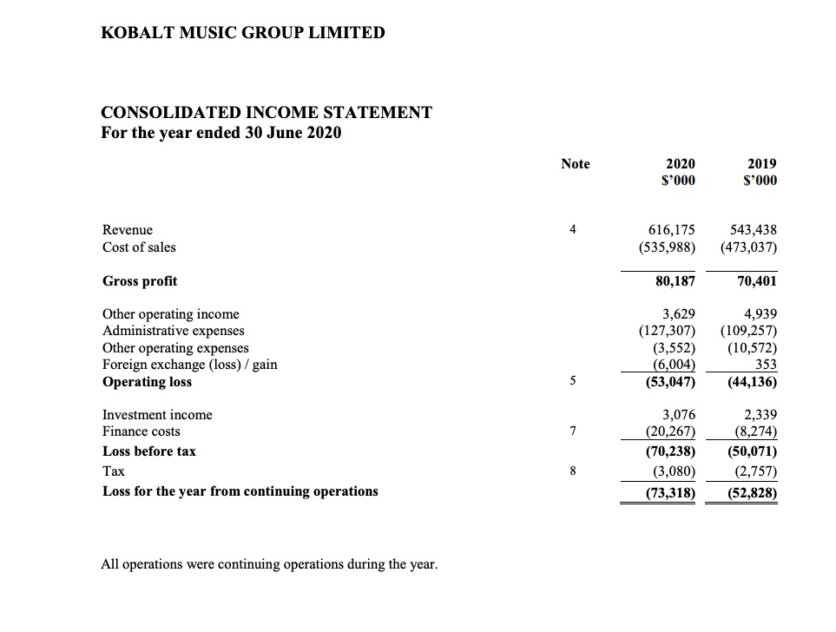 ---
One particularly interesting section of Kobalt's FY2020 financials breaks down the revenue of the firm's various divisions.
It shows that in the 12 months to end of June last year, Kobalt's publishing division (including Kobalt Capital) saw its revenue hit $436.1 million (+7.6% YoY), with gross collections at $445.6 million.
Collection society AMRA, meanwhile, generated $78.3 million (+19% YoY) in the 12 months.
Combined, this means that the Kobalt Music Group which remains post-Sony sale – i.e. minus AWAL and Kobalt Neighbouring Rights – generated over half a billion dollars ($514.4 million) in revenues in FY2020.
Equally interesting, no doubt, is the financial performance of the ex-Kobalt companies Sony Music has now acquired.
In FY2020, Kobalt's financials show, AWAL generated $149.5 million in revenue (+34% YoY), while KNR generated $84.5 million in gross collections, and $7.5 million in (net) revenue.
---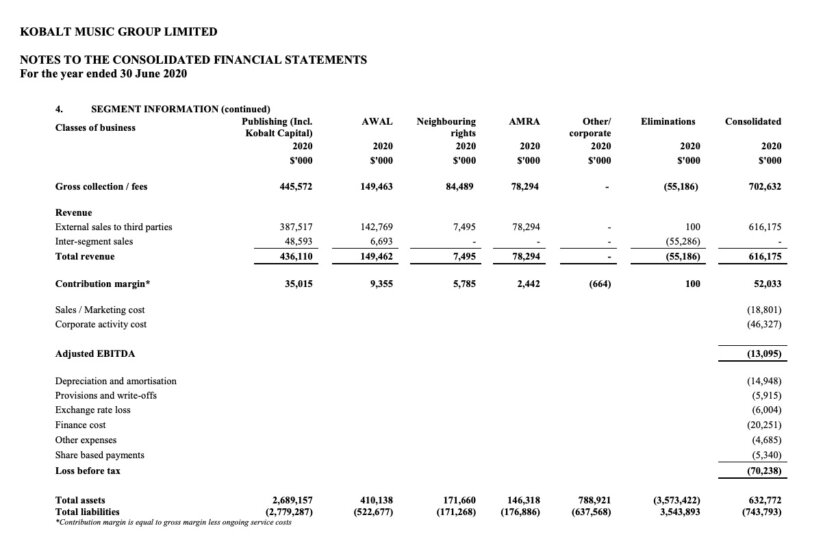 ---
Kobalt's publishing clients in 2020 included Andrew Watt, Finneas O'Connell, Abel Tesfaye, Roddy Ricch, Gunna, will.i.am and Max Martin.
The two music royalty funds managed by Kobalt Capital, owned by institutional and private investors and administered by Kobalt, have invested over $1.4 billion in total.
Kobalt says that AMRA's "global roll-out has reached all corners of the world outside of the US" and includes direct digital collections for China, Brazil, and Japan.Music Business Worldwide