South Korea-based entertainment giant SM Entertainment, whose founder recently sold a 14.8% stake to rival HYBE, the company behind BTS, reported an 18.2% year-over-year jump in revenue in Q4 2022 to 256.4 billion South Korea Won  (USD $197.7 million).
The pace of growth, however, slowed from the 65.4% YOY revenue surge in the previous three-month period, according to investor filings published on Monday (February 20).
The slowdown came as the company's biggest revenue driver, its 'Album/ Digital music' segment, only reported a 2% YOY revenue growth in Q4 to 76.8 billion won after growing 14.5% in the third quarter.
SM — who represents K-Pop stars like SUPER JUNIOR, Girls' Generation, SHINee, EXO, Red Velvet, KANGTA, BoA, TVXQ!, NCT DREAM and aespa — attributed the sustained growth in album and digital music sales to robust album sales by NCT DREAM and Red Velvet.
Elsewhere, SM's revenue from artists' appearances on TV, advertisements and events climbed 27.4% YOY to 25.1 billion won, while MD/Licensing revenue surged 71.6% YOY to 39.8 billion won (see below).
---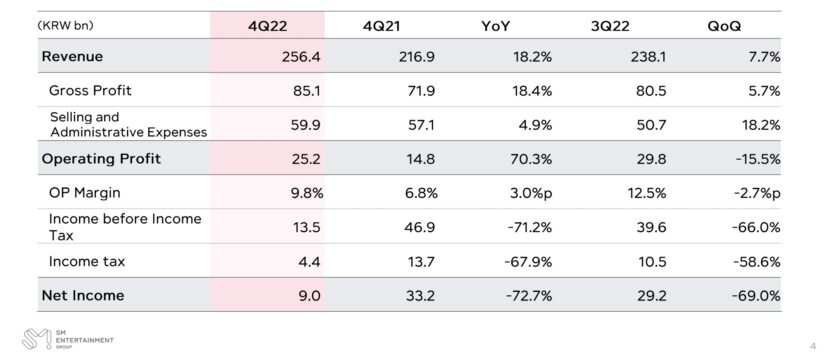 ---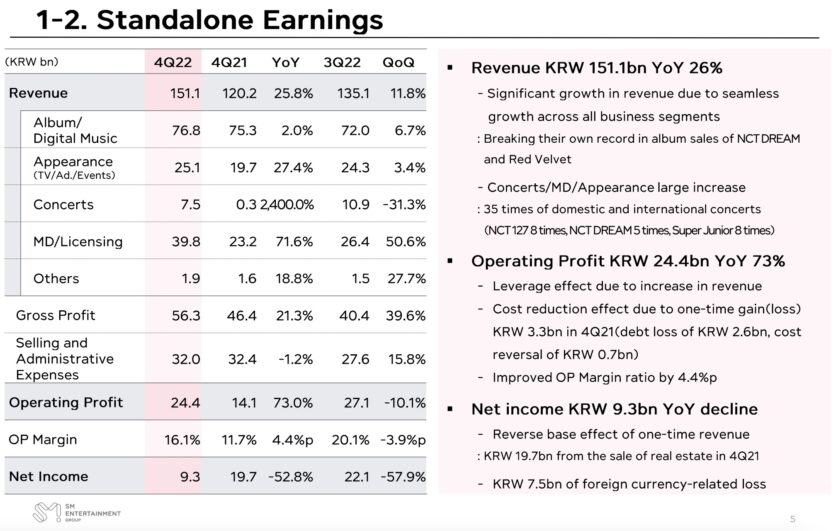 ---
As live events continue to recover, SM's revenue from concerts skyrocketed 25-fold, or by 2,400%, to 7.5 billion won from 300 million won a year prior.
SM's operating profit came in at 25.2 billion won, representing a 70.3% YOY increase, although its operating margin narrowed to 9.8% in Q4 from 12.5% in Q3.
Net income, however, nosedived 72.7% to 9 billion won from 33.2 billion won in Q4 of 2021. On a seasonally adjusted quarter-over-quarter basis, SM's net income also tumbled 69% from 29.2 billion won in Q3.
SM Entertainment attributed its lackluster net income to the "reverse base effect of one-time revenue" and the absence of 19.7 billion won from real estate sales in Q4 of 2021. It also booked 7.5 billion won of foreign currency-related loss in the latest period.
The filings also provided the financial results of the company's subsidiaries including live entertainment company Dreammaker, which posted a 207% YOY jump in revenue to 26.7 billion won following the recovery in concerts and fan meeting-related activities.
Dreammaker returned to a profit of 1.4 billion won in Q4 from a net loss of 700 million won in the year-ago period.
SM's subsidiaries in Japan also logged a 22% increase in revenue in Q4.
The publication of SM's earnings arrived within a day of its CFO, Jang Cheol Hyuk, posting a video on YouTube, slamming HYBE's recent takeover attempt. HYBE spent 422.8 billion won to acquire a 14.8% stake in SM Entertainment last week.
All K-Pop reported over a week ago that HYBE is looking to acquire a further 25.2% stake in SM Entertainment for 1.14 trillion won, raising its stake to 40%.
During the same week, HYBE's US arm, HYBE America, acquired Atlanta rap powerhouse QC Media Holdings or Quality Control, home to acts such as Lil Baby, Migos, Lil Yachty and City Girls. The acquisition was led by HYBE America CEO Scooter Braun.
Jang Cheol Hyuk argued that the takeover bid for SM Entertainment would lead to the monopolization of the K-Pop industry by HYBE.
"If the two companies are integrated, the combined entity would create a monopoly by taking 66% of the total market revenue," the CFO said in a translated text of his video message.
The executive is concerned that SM "will be subject to such weak governance" if HYBE raises its ownership in the company, explaining some issues that could arise if the parent company becomes a business competitor.
"With the optimal album release time limited to 100 times a year, HYBE is already saturated with artists from its labels. As a result, SM artists will have no choice but to be put on a lower priority," Jang Cheol Hyuk cautioned.
The potential merger of HYBE and SM Entertainment has already caught the attention of South Korea's competition regulator, the Korea Fair Trade Commission (KFTC), recently, Reuters reported.
Im Kyeong-hwan, the KFTC's head of international mergers and acquisitions, told Reuters last week: "Though there have been acquisition deals involving small and medium-sized entertainment agencies, a deal on this scale is a first for us."
Music Business Worldwide