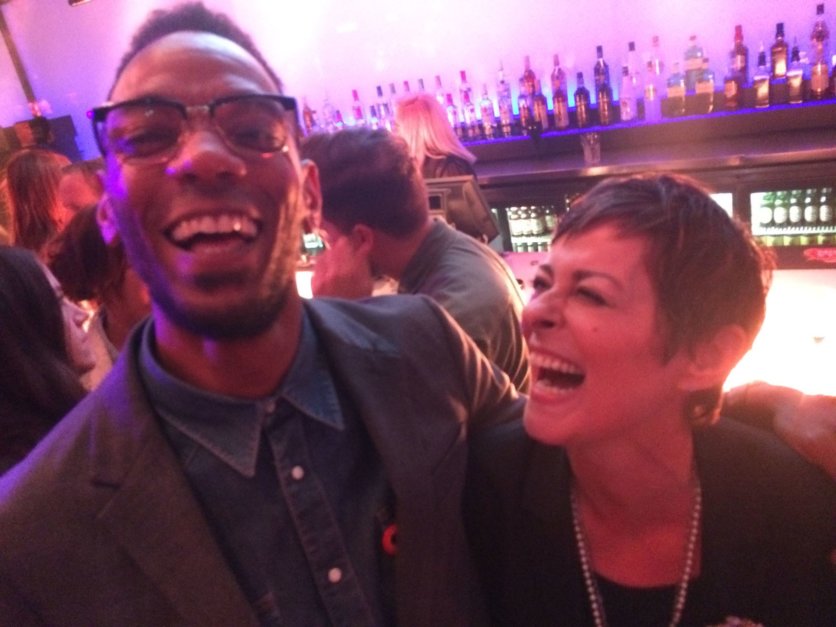 No moping. That was the unspoken rule at a special memorial event for the late Jazz Summers in London on Friday, organised by Big Life Management.
Jazz Summers: A Life Tribute was hosted at Ministry Of Sound and packed with invited industry guests, all there to celebrate the life of one of the most charismatic figures the British music biz ever knew.
It was an occasion to mark the notorious (and effective) fierceness of Summers' personality, but also a chance to appreciate the mogul's passion for music and the artists he chose to protect.
Appropriately, proceedings were kicked off Tim Parry, Summers' business partner at Big Life, who set the tone for the early evening event.
---
Parry noted that Summers' funeral, held on August 25, was "beautiful, sad and very emotional" but that the Ministry event was designed to be "a celebration of Jazz's life".
"We want everyone to enjoy themselves," he said/instructed.
And by 8pm, following a slew of tributes and performances from artists such as Boy George, Badly Drawn Boy, Lisa Stansfield and Nigel Kennedy, the smiles across the room suggested it was mission accomplished.
(Parry's introduction also served as a nice reminder that for Big Life, as Summers would have no doubt demanded, it's business as usual: the company celebrates its 30th anniversary next year with a packed talent management roster.)
---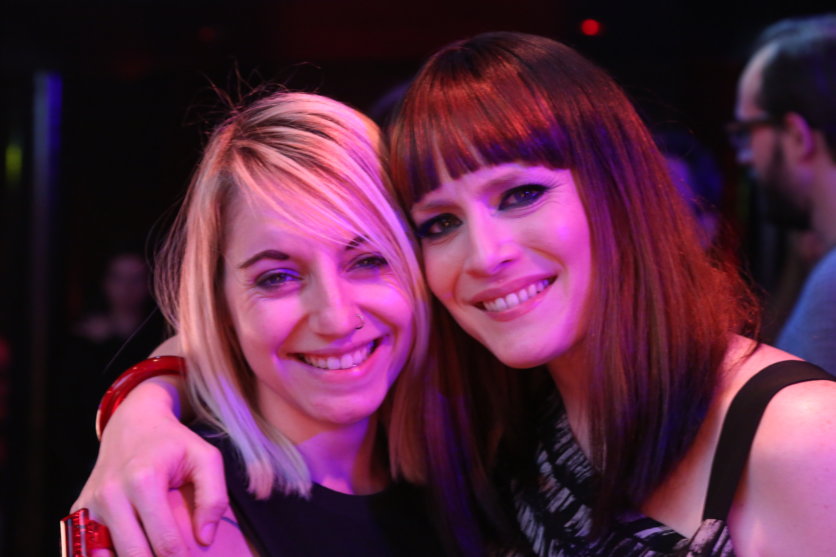 The MC for the Ministry memorial was Ana Matronic, a Big Life client best known for being – as she self-deprecatingly put it – "that bird from Scissor Sisters".
She noted: "We are here to pay tribute to a man who was a son, a soldier, a drummer, a radiographer, a hand model, a shyster, an authority-bucker, an iconoclast, a husband, a father, a manager, a hit-monger, a 'wanker' – his words – a 'genius' – his words – lactose intolerant, 'screaming nightmare lunatic' – his words – macro-psychotic, part-time motherfucker and full-time force of nature, Jazz Summers."
"We are here to pay tribute to a part-time motherfucker and full-time force of nature."

Ana Matronic
That, as you would expect, got a massive cheer from a crowd that included countless well-known music business faces from across the decades.
A small selection spotted by MBW included Darcus Beese (Island), Ted Cockle (Virgin EMI), Jeff Smith (BBC Radio 2 / 6Music), Miles Leonard (Parlophone / Warner Bros), Colin Barlow (RCA), Jim Chancellor (Fiction), Stephen Budd (Budd Management), Lohan Presencer & Dipesh Parmar (Ministry Of Sound), Paul Hitchman (Kobalt Label Services), Sarah Bolshi (Sunday Best), Keith Harris (PPL), Harry McGee (Modest!), Korda Marshall (Infectious/BMG), Janice Long (BBC), Jon Webster (MMF) and many, many more – plus Jazz's family and friends and his team at Big Life.
---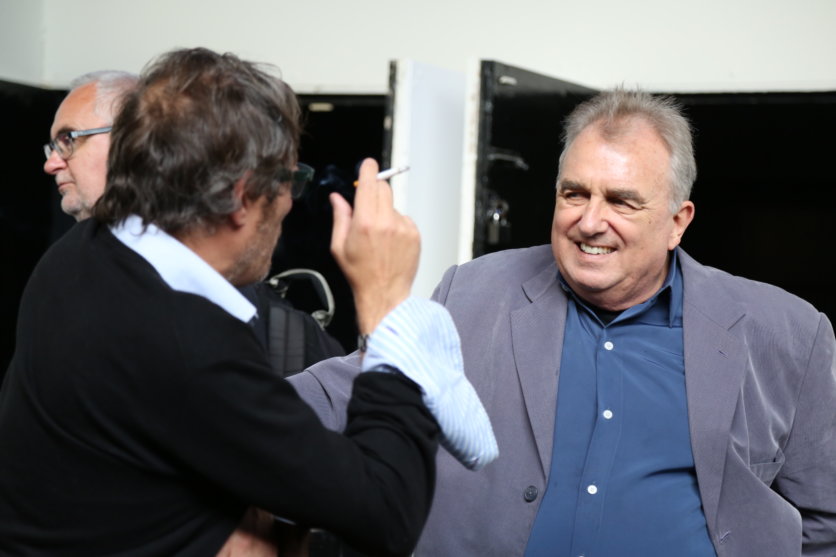 Simon Napier-Bell took the stage to recount the three years he spent managing Wham! with Summers in the 1980s.
"It was quite frankly the best three years I've ever had in the music business," said Napier-Bell, calling Summers "an amazing character".
"Jazz was the most fantastic person to have on your side – an attack dog – and he was a frightening person to have as an enemy," added Napier Bell. "Jazz had an amazing ability to see right to the centre of the problem… He'd go straight at it.
"My way of working was to go round [an issue], to be circumspect and solve it without confrontation. Jazz wanted the confrontation.
"That's not to say he didn't compromise, but Jazz's idea of compromise was to compromise after you'd won."
Napier-Bell raised loud laughter from the crowd when recounting how this direct approach manifested itself during a particularly important turning point for Wham! in the US.
"Wake Me Up (Before You Go Go) was No.1 in the UK but we heard that Epic in America hadn't even scheduled it," he said.
Cue Napier-Bell and Summers jumping on a plane and demanding a meeting with Al Teller, then head of Epic.
"Jazz looked like he was going to bite his nose off."

Simon Napier-Bell
As Napier-Bell remembers it, he and Summers entered Teller's office to be confronted by the intimidating sight of the notable record company boss plus six staff.
"As soon as we sat down, Al said, 'What do you want?' And Jazz said: 'I want to let you know what I think of your company. You're just a bunch of crooks. You're a bunch of scum.'
"He wagged his finger in Al's face, which Jazz had a tenancy to do sometimes.
"He said: 'The way you get English bands to sign is you say you'll give them a shot at the American market. But you haven't done that! That's [in] the contract! This is an illegal operation!'
"Jazz went on and on, and Al Teller, who'd never, ever been talked to like this before, least of all in front of six employees, went a bit blue, a bit red, a bit green… Jazz looked like he was going to bite his nose off.
"Suddenly Al went completely mad and leapt to the floor… before slumping back in his chair and holding the table like he was counting to ten.
"When he got to ten, he'd recovered enough to say: 'Listen guys, write down what you want and we'll do it. Just don't come and bother me anymore!'
Jazz said, 'Oh no Al. You're the expert. You've got the best marketing team in America, the best company… you're wonderful!'
"Eight weeks later, we had a No.1."
---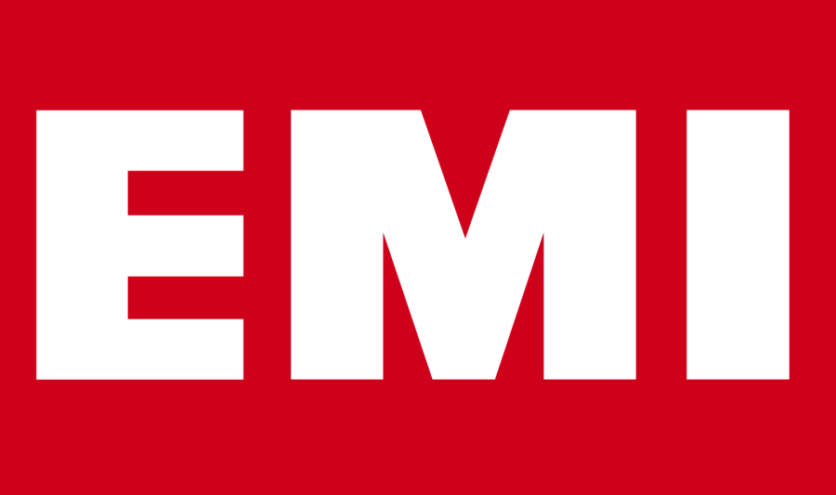 Napier-Bell also recounted the time when Summers took an artist's demo tape off to the office of "a rather middle-grade A&R" at EMI.
"He was a grumpy, surly, chip-on-the-shoulder kind – I don't think he's here today…
"Jazz had no sooner sat down before this guy said: 'You know what? The music industry today is being taken over by blacks and queers.'"
"Jazz banged him him against the wall and said: 'Well my wife's black and my business partner's queer.'"
There was an audible gasp across Ministry at this point.
"Jazz exploded. He leapt to his feet, ripped the man out of his chair, banged him against the wall and said: 'Well my wife's black and my business partner's queer.'
"Jazz threw him in a cupboard, locked it and threw the key out of a window."
---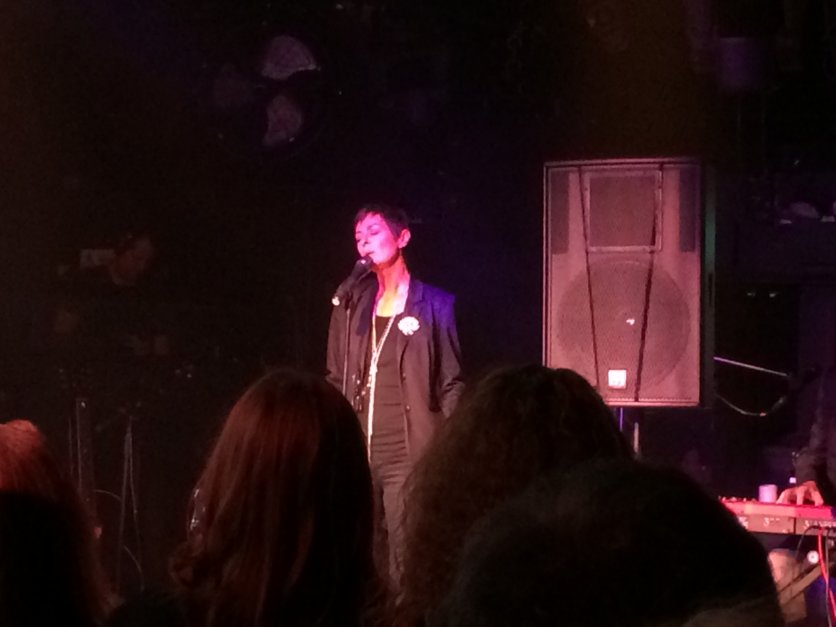 Lisa Stansfield performed a hit she released when Summers was her manager almost 25 years ago – All Woman (1991) – and told the story of when she first played it to him.
"We'd done the first album and it was a huge success," she said. "And with huge success comes shitting yourself about the next album."
She took in a bunch of demos to Big Life, ordered as she expected them to appear on the new LP.
"Jazz and Tim were really knocked out by it. Then we said: 'There is another song, but it's quite cheesy.'
"You know when you think someone's a hard bastard? Jazz just cried."

Lisa Stansfield
"We thought we probably shouldn't play it for you.' Jazz said: 'Get it on!'
"We played him the song and he just sat there. And it's like, you know when you think someone's a hard bastard, right? He just cried."
Nigel Kenny called Summers "a great conversationalist", while producer Youth – who Summers managed throughout his career – recited a self-written poem, Requiem For Jazz.
It contained the line: "The lion who defended their pride to the last. They even kicked you out of the Communist Party, called you an anarchist. And they were right!
"Long after I abandoned my smile, you made me laugh so hard I cried… I didn't know who I was until you told me."
---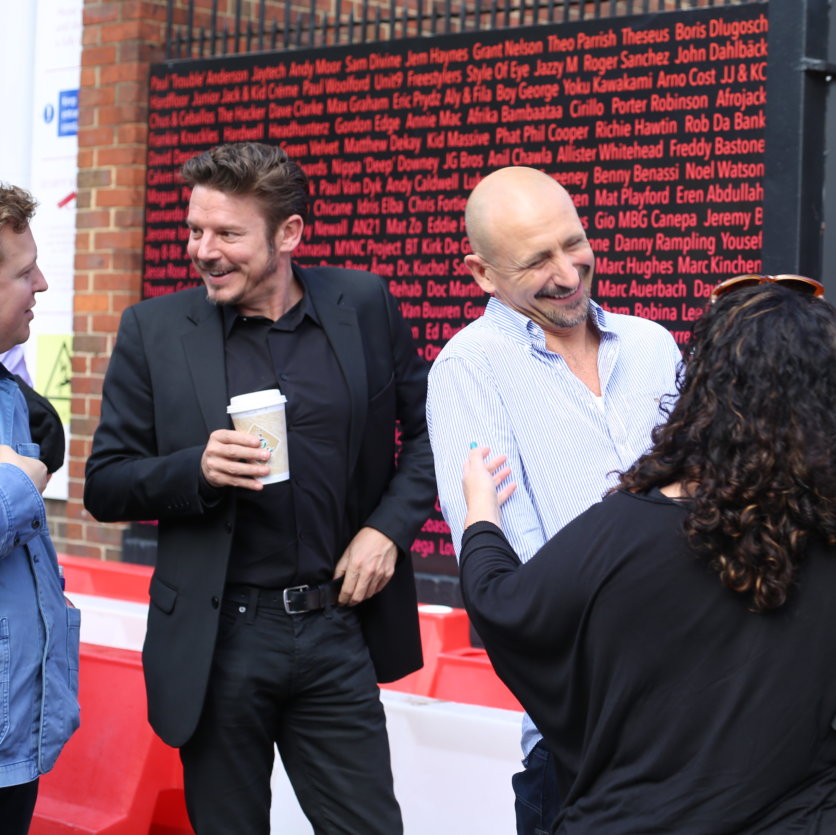 Colin Barlow, President of RCA in the UK, kept things short but heartfelt.
He said: "All of us in this room have a story of Jazz.
"The one fundamental thing I'll always remember about him is passion. He loved music and he loved what he did.
"Jazz Summers wasn't scared to put his balls on the line for what he believed in."

Colin Barlow, RCA

"It's so refreshing when someone can sit there and be so honest and so giving to what they do.
"We don't have enough characters in the music industry. We don't have enough people that aren't scared to put their balls on their line for what they believe in.
"Jazz Summers, you did that, and I love you for it."
---
Before performing in memory of Summers, Boy George broke the emotion with an anecdote that reminded the crowd just how cutting Summers could be.
"When I first starting working with Jazz, I introduced him to my band who I'd been playing with for a long, long time," he said, explaining that his guitarist began arguing with Summers "over some money".
"He said: 'Look, Jazz, plumbers get paid more than this!'
"And Jazz said: 'That's because plumbers are useful.'"
---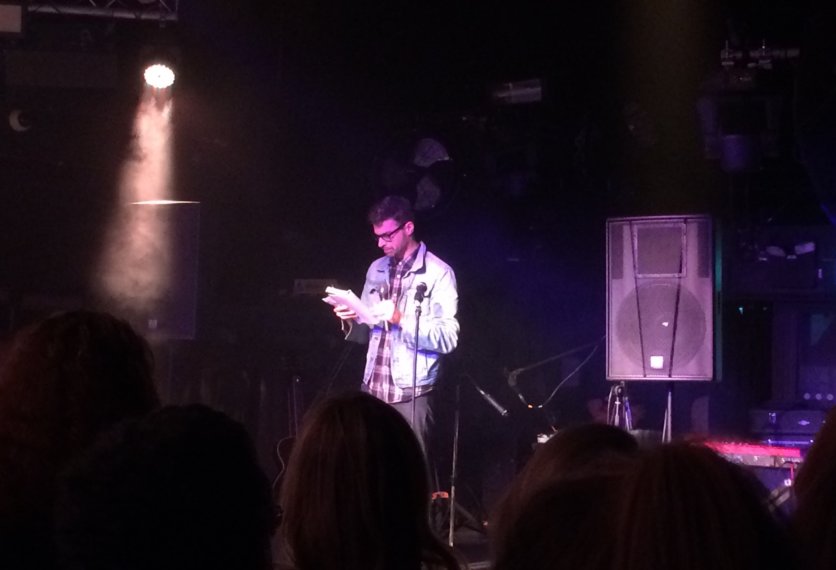 Another tribute came from Joe Stretch, the performer and writer who helped ghost-write Summers' acclaimed autobiography, Big Life.
(Although by Stretch's own admission, the book – which is written verbatim from transcripts of interviews with Summers – was perhaps more painstakingly edited rather than traditionally 'ghostwritten'.)
"I sat down with Jazz in a house in France in winter 2012, and I thought I ought to start with a question – because that's perhaps what ghostwriters did," explained Stretch with a smile.
"Jazz would often end our interviews with tears in his eyes. That's a real man, I think."

Joe Stretch
"So I asked him a question, and he said: 'Shut the fuck up for a minute.'
"It was a long minute. He spoke for 68 hours."
Stretch said it was a "great privilege" to help document Summers' extraordinary life, adding: "As much as he was a wild bastard, a wonderful force of nature, he was also a very vulnerable man in a beautiful way.
"There is never great strength without fragility. It's important we remember him as a rounded figure. He would often end these interviews on the brink of tears. That's a real man, I think."
---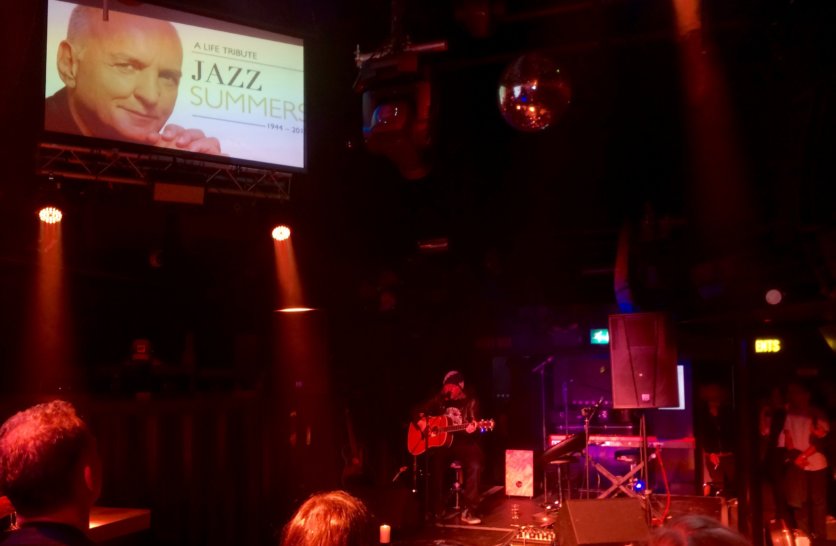 The final musical performance of the evening fell to another long-term Jazz Summers client, Badly Drawn Boy (aka Damon Gough) who performed classic The Shining from his Mercury-winning debut LP, The Hour Of Bewilderbeast.
"Jazz always made me feel good," he told the crowd at Ministry.
"More than just being a feisty manager, which we all know he was capable of, in every meeting I had with Jazz he always made me feel like what I was doing was worth doing."
---
The last word of the day fell to Katie, one of Summers' three daughters.
Clearly overawed by the attendance and the sentiments expressed from the Ministry stage, she offered a very different perspective on the firebrand style of Summers many in the room would recognise – and a reminder that behind it all lay a committed family man.
"This is truly such a testament to our dad, to the life he lived – his very Big Life," she said.
"I know he is absolutely loving this, because it's awesome. There are so many people here; probably people he pissed off!
"I would hear many conversations on his end of the phone and be like, God, dad, you are mean!
"Then he'd be like, right, let's go have dinner…"Music Business Worldwide